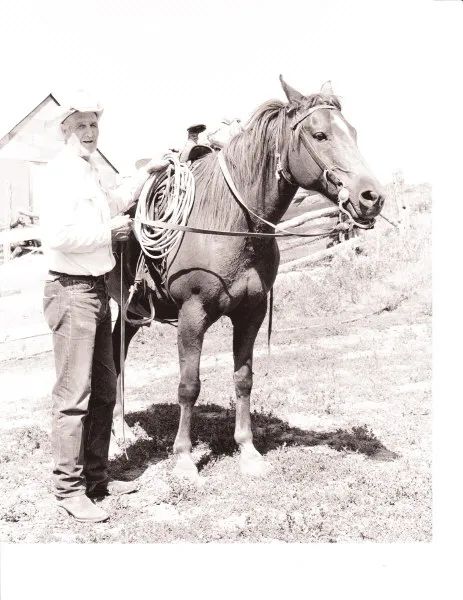 Montana Cowboy Hall of Fame INDUCTEE 2014
Odis Oren Harkins (1913-1986)
Odis Oren Harkins was born March 5, 1913, at Sayre, Oklahoma, the youngest of ten children to Jim and Mary Harkins. When three his parents moved the family to southeastern Montana.
The homestead was on the Powder River side of the Chalk Buttes, south of Ekalaka. In a time when most ranch work was done with horses, Odis was playing with colts, breaking and working horses as far back as he could remember. He finished the eighth grade at a one-room school a couple miles from their homestead, and by age 15, he was a cow hand for ranches in the area. One summer he cared for 1500 head of yearling sheep, camped in a sheep wagon, then delivered the sheep back to the ranch on Powder River in the fall.
In March 1934, at age 21, he picked out a homestead on upper Timber Creek. The government had doubled the size of homestead for 160 acres to 320 acres. One could also apply for an additional 320, which he did. Odis' homestead was 640 acres. That fall he married Helen Parks, a local Carter County girl, and they settled on their claim, as was required to prove up. They owned and operated two other ranches during their lifetime.
Six children were born to Odis and Helen during their 52 years of marriage, "Skip", Jimmy, Twyla, "Corky", Richard, and "Tyke". The Harkins family worked together with few modern conveniences. Public power came to the ranch in 1962 and phone service in 1978.
Odis trailed his last herd of horses to Miles City in 1944, with his oldest son, Skip, who was six years old. They left Ekalaka around noon, staying on Powder River that night at Collin Gilman's Cow Camp, now owned by Pat Phalen. The second night they camped at Government Hill, arriving in Miles City early the third day. After selling the horses, Odis found a ride in a pickup for Skip to return back to Ekalaka. Odis left Miles City horse back in the late afternoon staying the night just east of Miles City near the Mizpah cut-off road, and arriving in Ekalaka the next day, a 65 mile trip.
In 1980, while gathering some mustangs on the Brewer Ranch east of the Powder River, Gary Walker commented, "It would be great to have a TV crew filming Odis and his skill at handling horses, but there was no TV crew that could have kept up to follow him."
In 1983, with six other cowboys, they trailed about 400 yearlings to Buffalo, South Dakota, to scale and sell; this was a five day trail. In 1985, at the age of 71 he helped trail a herd of horses from the Thomas ranch near Albion to Belle Fourche, South Dakota. Every so often he would relate how they had camped near this spot in 1937 with 500-600 head of cattle on the trail to the rail head in Belle Fourche.
Cattle were worked outside hardly ever using corrals, but in later years portable corrals were used for branding, utilizing a mud butte as one side and using panels for the makeshift enclosure. Brandings were always a family affair with Odis expertly roping the calves and teaching the boys "how to catch the hind feet". The branding, castrating, and vaccinating were all done by the children.
Odis loved his horses. A 'hard winter' required particular care of the horses as they were used to make the rounds to small bunches of cattle to feed "cake." Some winters he used pack horses and established a trail through the snow that could be plainly seen after the surrounding snow melted. As he rode year around checking water, cattle, and fences, he could be heard whistling – usually a gospel hymn that he loved.
The kids all remembered how their dad could rope his saddle horse out of a herd. Never swinging the rope around his head, he would wait until the herd of horses would settle down, maybe call out the name of the horse he wanted. When the horse would raise his head, Odis would use the overhand roping method and the horse would never know it had been roped until the loop settled around his neck. They believe he had perfected that style because he did not like the disturbance of horses running around the corral.
One event, in particular remembered by his son, Corky, took place in about 1958. "Dad had purchased 30 head of registered Galloway cows, planning to get a premium for the offspring. By 1955 he had a few registered yearling heifers for sale, and one day a farmer from Minnesota showed up with a 16-foot farm truck to purchase about ten head of registered heifers. Of course, there were no corrals or loading chutes, plus the heifers were a couple miles northwest in a small pasture of about 480 acres. It was rough breaks with a lot of cedar buttes, but on the south side was a small flat acreage, where we could hold up the little bunch of cattle, Dad sent a couple of kids ahead to gather up the heifers and hold them on the southeast corner where he could have the farmer back his truck up to a bank to load the heifers. This was before ear tags and the means to ID a critter was a neck chain with a brass tag about two inches in diameter with each having a different number. Dad had the farmer, in his bib overalls, get on one of our horses and ride with him into the cattle and write down the numbers of the heifers he wanted to buy. They went back to the truck about 100 yards away and Odis took the list back to the cattle. He tied his rope hard and fast and would sit in the little bunch of cattle. He would hold the loop in his right hand, hang it over the left side of his horse, and when the opportune time came, he would make a big swing with one swooping motion over his head and rope that heifer. Odis hardly ever missed. There was some fight and beller, but by the time they got to the truck, most of the fight was gone. A couple of kids were hazing. Odis would flop the rope over the truck cab and when he was given the straight away signal, the heifers led into the truck. The farmer in the bibs was responsible to keep the gate, and he did. In about an hour and a half we had the heifers all loaded and the buyer was headed back home. I've often wondered about the stories he told his neighbors in Minnesota about his trip to southeastern Montana."
In an article published in the March 1986 Western Horseman by Ernest Tooke titled "Then and Now", Ernest tells about the matched bronc riding in the late 1940's, and how successful and crowd-pleasing these matches were. By 1949, they had matched roping events also. In Dickinson North Dakota they matched Louie Pelissier and Odis Harkins in a Wild Horse Roping event. Tooke writes "two outstanding old-time cowboys, Pelissier and Harkins roped four wild horses each. Louie roped his four the fastest time and won the only event of that kind I have ever seen."1
In the 1940's Odis worked for rodeo contractor Chandler "Feek" Tooke and also as a pickup man at the Tooke Stock Rodeos.
Odis was a giver and a Christian, and thought his family could be successful in about anything they decided to do as long as they put God first, worked hard and were not afraid of failure. All his children have largely followed that recipe and have been successful, most of the time.
He had a major role in starting the First Baptist Church in Ekalaka. He sent many kids to summer camp, and has had a considerable input on the beginning of Trails End Ranch, where thousands of kids have experienced summer camp since its beginning in 1978. He also loved to help teenagers with the sport of rodeo, and was involved with eight Rodeo Bible camps from 1977 to 1985 where several hundred kids perfected their skills in all the rodeo events. Brad Gjermundson and Wayne Herman came several successive years and went on to the National Finals Rodeo. Brad qualified for the NFR eight straight years and won the world bronc riding title four times.
The results of Odis' giving will be remembered for years to come. He was horse back almost every day until his death. Cancer took his life in July 1986. The memorial service was held outside, where neighbors came on their horses, and later led the horse drawn hearse to the cemetery.
Although we, Odis' children, all living in 2013, are pretty good cowhands, none of us would pretend to be the cowboy Dad was.
Resources: Western Horseman: Then and Now by Ernest Tooke (1) March 1986