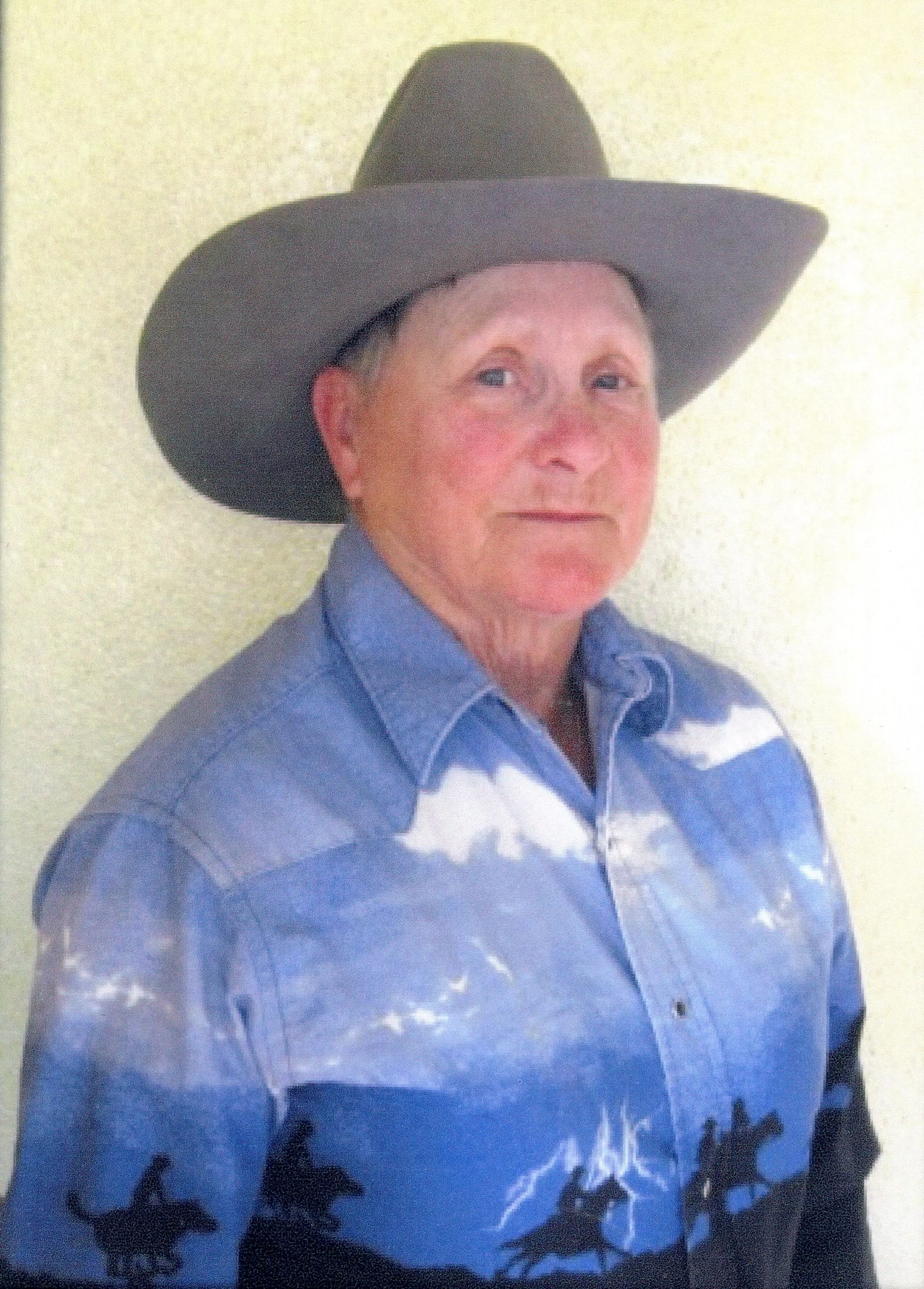 Montana Cowboy Hall of Fame INDUCTEE 2014
Mary Margaret (MacKay) Ketchum
Mary Margaret (MacKay) Ketchum was born January 1, 1941, in Baker, Montana to Arthur "Bud" and Mary (Collie) MacKay. She was the first child born in Fallon County that year and the oldest of six siblings. She was raised on her paternal grandparents' homestead, the William MacKay ranch, along Lame Jones Creek in the Willard Community. Being mostly of Scottish heritage, she is no stranger to hard work. She developed a life-long love of horses from the time she was very small. The first time Mary rode a horse was when her aunt and uncle, Babe and Bill Billingsley put her on a horse before she could walk. Developing the early experience of good horsemanship, she went on to compete in county fair pony racing. During this time she also trained horses for family and neighbors and assisted with the haying, milking, calving, branding and sorting cattle from the Red Butte Grazing Association before it was fenced.
She either walked or rode horse back while attending the Gregerson School her first eight grades. She moved into Baker during the week where she attended four years of high school, graduating in 1959.
Mary's first barrel race was in Baker the fall of 1959 on a horse owned by a World War II Calvary man, Billy Pratt. She won fourth in the average and the barrel racing "bug" was entrenched. It was at this time; Stanley Ketchum walked up to her and told her he had some horses that she needed to try. His action started a romance and on September 2, 1960, they married. They lived on Stanley's dad's homestead on Milk Creek next to the Carter/Fallon County line, only a few miles from her maternal grandmother's homestead on O'Fallon Creek and only ten miles from her parent's ranch. Some of Mary's first experiences of winning on the Ketchum horses were the 3-horse relay races held at the local fairs.
"In 1964, they purchased the Earl Ketchum ranch and together they raised Herford cattle and a few good quarter horses," and Mary became a life time American Quarter Horse Association member. Stanley had a couple of mares sired by Punkin Smith (back to Tommy Clegg) and Mary really liked these mares. The first barrel horse owned by Mary was out of one of these mares so in 1969, she found Punkin was for sale in Michigan in a Quarter Horse Journal ad. Stanley and Mary traveled to Michigan and purchased the aged Punkin and brought him back to his native state of Montana. The Punkin Smith/Tommy Clegg influence proved to be priceless in the bloodlines of the future Ketchum horses and their breeding program. It included horses to work on the ranch with a good confirmation, a level head with versatility, athleticism, speed and good cow sense. If they had a lot of run, Mary rode them as future barrel prospects.
During the summer months Mary was kept busy training her own barrel horses in her modest gumbo barrel patch, competing in barrel racing, training outside horses and opening their home to anyone who wanted to learn the art of training or barrel racing. Mary is of generous genes and loaned good barrel horses to more unfortunate horse owners. Along with these activities, she was raising her sons, being a house wife, cooking for extras, assisting with the calving, haying, and checking the cattle.
Barrel racing involves both horse and rider being highly skilled, taking advantage of all conditions to shave precious seconds off their time. Mary believes in being the best you can by training yourself hard and keeping your horse fit and well maintained combined with a good feed program. When she was relatively a novice, Mary had the good fortune of going to one of Connie (Stinson) Price's clinics. She will be forever grateful for the inspiration that Connie gave her in a few short days and their continuous friendship.
Stanley passed away suddenly in July of 1977, at the age of 48, leaving Mary with two young sons, Loyd and Bruce, and a ranch to run. Life was challenging, but she got by. Mary ran the ranch, with no intention of doing anything else. She instilled a love of rodeo, ranching and the land in her boys.
The small 3,000 acre ranch with 80-90 head of producing cattle would not have sustained the operation if not for Mary's rodeo winnings and the income of training horses and students. She gave numerous 3-day barrel racing & pole bending clinics. One memorable time she was giving a clinic out east of and one of the gals was having trouble with her horse, so she got on it and it started bucking. She rode it out of its buck and then continued with the lesson. The students just couldn't believe she stayed on!
Mary operated the ranch from 1977 until 1994 at which time Bruce gave up his high school teaching career and moved his family to the ranch where they run commercial and registered Red Angus while Mary maintains the horse breeding program.
Mary never spent more than she could afford. One of her students said, "Mary by no means came to a rodeo in the fanciest rig or had the newest saddle on her horse. She would pull in and just take everyone's money!"
Mary was a member of local/regional/national associations NDRA, MRA, NRA, NWRA, WPRA, NRCA, NWCA, NPRA, SDBRF, SSC, MBRA, EMHSC, NRCA, and NOTRA. She served as a NRCA and MBRA Director. She was crowned 1972 NRCA queen. From 1966 to the present Mary has won multiple championships in Montana, South Dakota, Wyoming, North Dakota and Oklahoma in these associations. She has collected more than 50 championship buckles, four saddles, and numerous other awards. In 1993 at the NPRA Finals, Mary posted the fastest arena time of 12.656, which held for many years.
On September 10, 1998, Mary was kicked in the head while looking over a potential barrel horse prospect for a friend. She was life-flighted to Billings where she hovered between life and death for nearly two months. She was finally able to return home where the first thing she wanted to do was get back on a horse. One year later, at the Belle Fourche, South Dakota barrel racing futurity, Mary took three prospects. Needing absolutely no introduction when she rode into the arena, you could have heard a pin drop as the crowd watched. Following her run the crowd gave her a loud ten minute standing and cheering ovation. This was a solid tribute to her recovery from a terrible accident and for a very well-liked lady. Mary now wears a helmet when competing and all photos sporting one are dated after her accident.
Making the effort to compete years ago when the event was fairly new, Mary was instrumental in paving the way for prospective barrel racers. Her dedication to the event has influenced beginners to professional barrel racers throughout a four-state region and beyond.
At age 73, though her competition days have slowed, she rides daily on the ranch and still actively supports future generations of barrel racers and mentors where she can.
"Mary Ketchum is the genuine article and one of the unheralded heroines of her country." Rick Jackson, Montana Big Sky Country.
References:
(1)-Karen Leibee, Country Neighbors, (2)-Dwight Hanson, Champion Steer Wrestler, (3)-Ali Miller, Barrel Racer