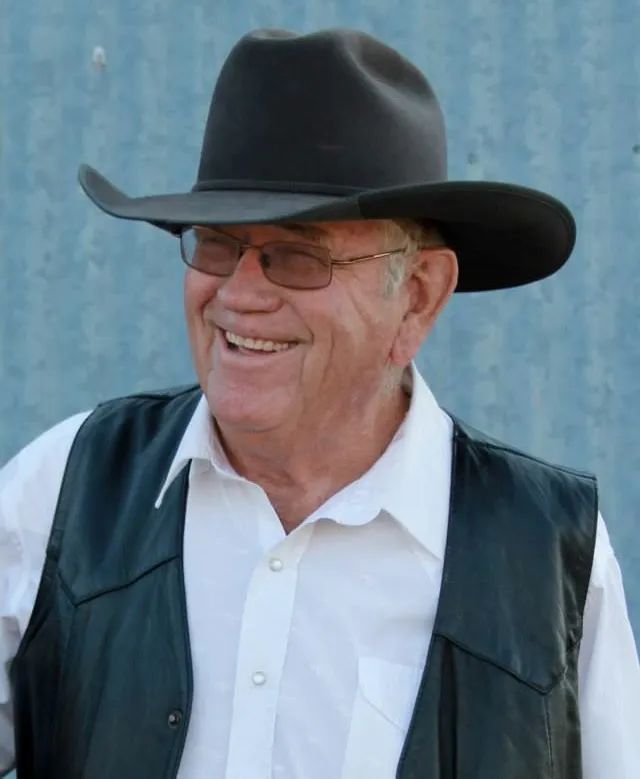 Montana Cowboy Hall of Fame INDUCTEE 2014
Donald Glen Weeding
Donald Glen Weeding was born to Ishmael and Cora (Trotter) Weeding in Jordan, Montana on April 25, 1938. His parents and grandparents both homesteaded in Garfield County.
Donald grew up on the Weeding Ranch in Garfield County. His father died when he was eleven years old. After that he spent much of his time helping his mother with the Weeding Ranch cattle business. He continued to raise cattle on the Weeding Ranch after he graduated from the Garfield County High School. He started out raising polled Hereford cattle and then switched to Black Angus cattle. He took great of pride in raising Weeding Ranch cattle and built up an outstanding commercial herd.
Donald married Betty Lou Rogers on March 16, 1958. They have been married for 56 years.
Donald is an outstanding rider and has always been passionate about raising and training horses. He has been involved in many horse related activities in Garfield County. He served as an elder in the Presbyterian Church for many years and organized church trail rides during this time. He trained his horses to pull wagons, buggies, and sleds. He often took kids for rides at the fair on the little buggy built by his son-in-law. During the month of December he would drive his wagon around town full of carolers and take kids for rides in his Santa Sled. His buggy made many appearances in the local parade and is now on display at the Garfield County Museum.
Donald loved the sport of team roping. He provided roping cattle for many team roping's in Montana over the years. Everyone was always welcome to come to the Weeding Ranch to rope. Donald has been very active and involved in youth and high school rodeo, starting when his son and daughter began competing at very young ages. He was a local advisor to the Jordan High School Rodeo Club during the 1970's and at that time, he and fellow rancher, Phillip Murnion, purchased a bucking machine for the local rodeo kids to practice on. He still helps the rodeo club at the Jordan High School rodeo every year. Donald was also active in the Cohagen Rodeo Club and the Jordan Horse Show.
The local Garfield County Fair was something that he has also been very involved in. He served on the fair board for 15 years. Donald helped many kids with their 4-H horse projects. While on the fair board, he started horse classes for adults. These classes included showing horses, riding etiquette, and trail courses. The Garfield County Fair Board honored him by dedicating the fair to him in 2010. They featured his picture and biography inside the fair book.
Since his retirement, Donald has been very involved in horse cutting. He is currently a member of the Montana Cutting Horse Association, where he served 2 year term as a director from 2008-2009. He is also a member of the National Cutting Horse Association and the Arizona Cutting Horse Association. Many cutting events have been held at the Weeding Ranch in Jordan. High school kids and adults are always invited and welcome to practice cutting at the Weeding Ranch. He currently shows his horses at cuttings and also helps take care of the cattle that are used at the cutting shows. He has achieved many awards in the cutting arena.
Donald is a true cowboy who is hardworking and honest. He has taken pride in every aspect of ranching life while staying true to the western ways. He has always worked his cattle from horseback and brandings at the Weeding Ranch are done the old fashioned way with horses dragging calves to the branding iron. In 2013, at the age of 75, Donald was among those traditional ropers.