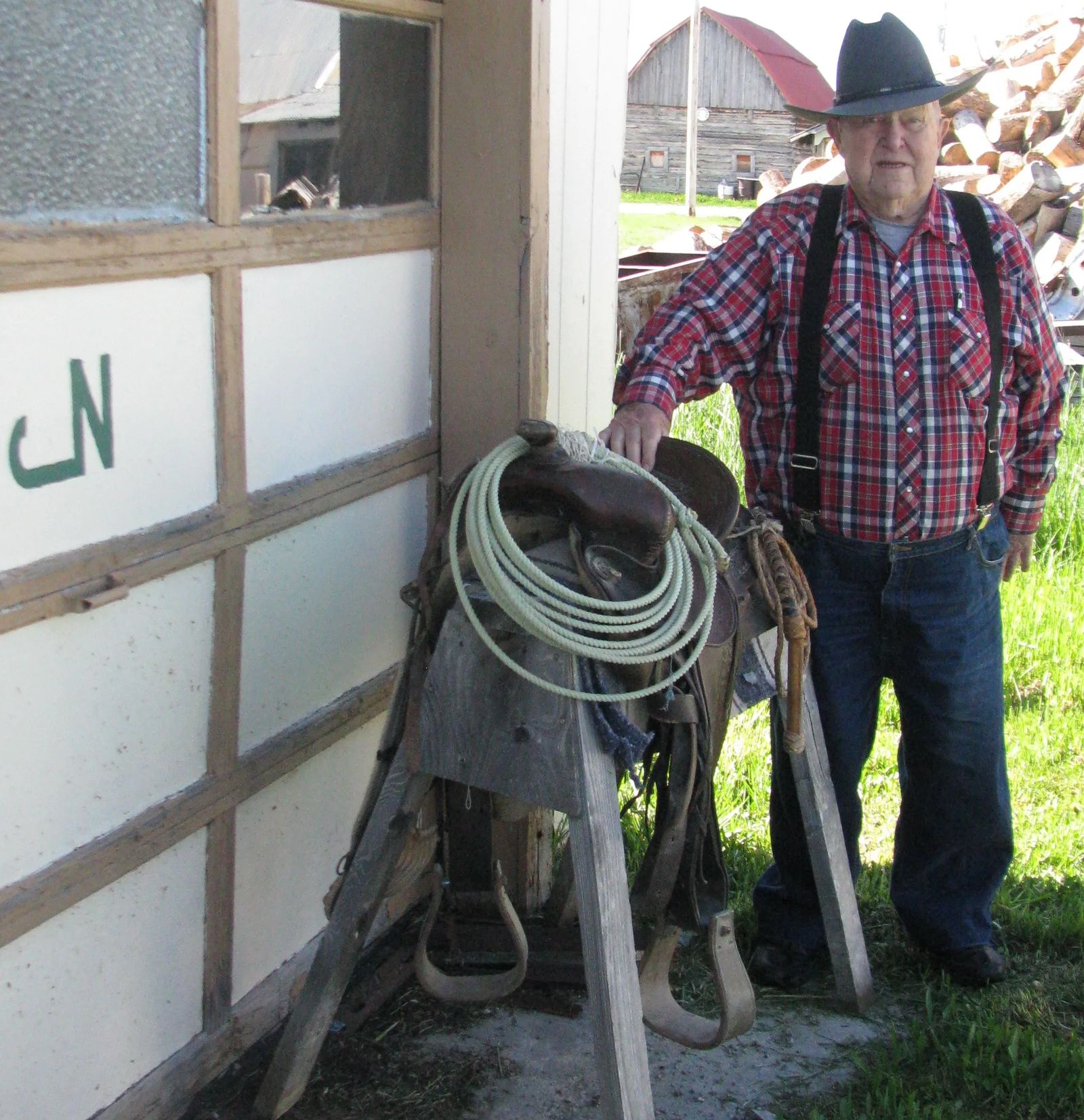 MONTANA COWBOY HALL OF FAME INDUCTEE 2014
Jay Frederick Nelson (1923-2016)
Jay Frederick Nelson was born in Butte, Montana, July 3, 1923, to Fred L. and Margaret (Woolaghan) Nelson of the Big Hole Valley in Southwestern Montana. Margaret's father was an Irish Miner in Butte who died of "miners' lung" in 1907, leaving her mother with four daughters to raise on her own. She cooked at the Daly Mansion in Hamilton for the hired men to earn a living. Fred's grandparents, Fred and Cecile Hirschy were Swiss immigrants who came to the valley as cheese makers but soon went into cattle ranching. Fred's father, Soren P. Nelson, was a Danish immigrant who walked into the valley with a quarter to his name but soon filed on a homestead when he could qualify and then bought his brother's homestead and several others and was ranching full time raising Hereford cattle. He married Lena Hirschy in 1899 and they raised three children, Fred and sisters, Stella and Isabel. The original barn on their home place was built around 1907 and still stands today looking much like it did back then. They lived in the cow barn while the two- story home was being built.
Jay was the oldest of three sons, John Thomas and William Peter "Bill". When Fred married Margaret she was the school teacher at the East Fox School and his dad had just bought the Joe Kramer Ranch about two miles from the home place. It was here that they began their married life which lasted over 65 years. Jay and Jean also began their married life at the Kramer Place. Electricity didn't come to the valley until about 1947 so the cooking was done on a wood cook stove. There was an artesian well for water and Miner Creek ran just down the hill from the house. Jay's early job was milking the cow; feeding the chickens and helping his dad make the family cheese. Jay and his brothers spent their summers riding horses all over the mountains on the west side of the valley and would camp out days at a time cooking over a campfire. They knew every lake and creek and climbed many of the mountains during their childhood.
Haying was done with horses and the teams were changed at noon so they had a considerable horse herd. Jay always liked mowing and was soon the lead mower-he put up hay for over 70 years before he gave it up. The Beaverslide hay stacker had been invented in the Valley in 1910 by two men about ten miles down the valley, Dade Stephens and Herb Armitage, so it was used to build the 20 ton haystacks that fed the cattle in the winter. Jay spent his winters pitching hay onto a hayrack and feeding the cattle. All the hay in the Valley is native grasses and the animals thrived on it.
He trailed cattle for his dad to the railroad at Armstead from the time he could ride and was joined by other ranchers who helped watch out for him. He and his brothers rode horses to school, with the exception of bad winter days when they rode in a covered sleigh built by their Dad. Many days they trapped along the way and would arrive at the Jackson school with skins on their saddles-much to the dismay of their teacher.
In 1941, Jay married Jean Renz of Dillon and they raised six children - Jenny, Ruthie, Sherry, Kathy, Mary and Bob whose occupations were: Teachers, School attendance clerk, US Forest Service Budget Analyst, Jewelry store bookkeeper and mechanic. In 1943 he joined the Army and was sent to train in Texas. He shipped overseas in 1944 and landed in England and then on to France and spent the winter in Belgium near the German border. He was a member of the 99th division and one of the last to cross the Ludendorf Bridge at Remagan before it was blown up. It was here that he was wounded on March 13, 1945, and was soon flown to England to recover. They finally got him back to Texas to finish his recovery and he came home for good in November by hitchhiking to Dillon where he called his folks and wife and was met with thankful hearts.
He has spent the rest of his 90+ years in the Big Hole building beaverslides, barns, homes and whatever the ranchers needed to keep the cattle moving out of the valley. He built the family home in Jackson in 1950, when his children started school and still lives there today. He logged all the material and cut it at his dad's sawmill on the ranch, and used his GI monthly income to pay for it.
He has built over 50 beaverslides for ranchers and has built 7 scale models for area museums- Beaverhead County Museum, Granite County Museum and Grant-Kohrs National Park in Deer Lodge to name a few. For over 20 years he took his beaverslide and two-pole derrick to Bannack Days at Bannack to demonstrate how they work and was used. He loved having the children do the demonstrating. He served on the school board, fire department, sewer and water board and spent 41 years as a REA director of the Vigilante Electric in Dillon, taking over for his father. In 2013 he was honored for having served 56 years as the Post 9040 VFW Commander. In the Montana Centennial Cattle Drive he and Jean gathered up all the family pioneer clothing and headed out in a covered wagon to celebrate Montana's 100 years. Their wagon was one of three chosen to represent the trip when they reached Billings.
Jean passed away in 1997, after 56 years of marriage, but Jay still lives at home. He has written two books about his life in the valley- A Scrapbook From the Big Hole and Big Hole Memories. Family reunions are held every five years with about 100 family members camping at Miner Lake where most of the swimming, rafting, hiking, snipe hunting, storytelling, and fishing has been a family pastime for over 100 years.