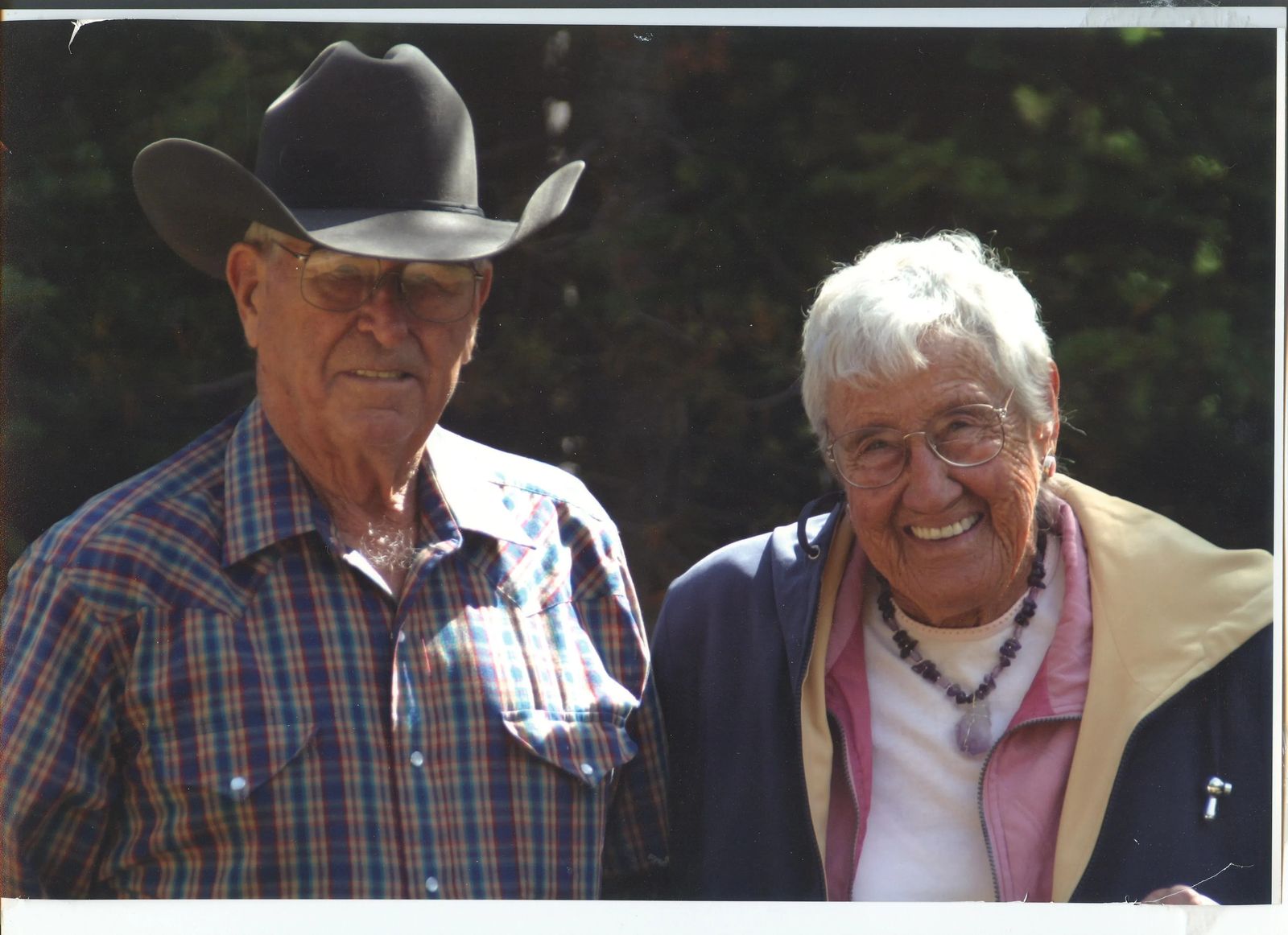 Montana Cowboy Hall of Fame INDUCTEE 2014
Jack and Ann Hirschy (1921-2012) (1921-2006)
When Ann Hirschy moved up over the pass from Salmon, Idaho, to the Big Hole Valley, she fell in love with the place and never left. Of course, it helped that she had fallen in love with Jack Hirschy, a man who would become one of the largest cattle ranchers in the Big Hole, a high mountain valley in the southwest corner of Montana. It's a place where winters are long and summers short, but living is good if you take it all in stride. And that's exactly what Jack and Ann did for over 62 years, taking cattle business in stride and building up on the cattle trade that Jack's grandparents began in the Big Hole in 1894.
Jack's grandparents, Frederick Louis Hirschy and Cecile Wenger, were both born in Switzerland. They traveled to the Big Hole Valley of Montana from a Swiss Colony in in 1894. Jack's father, Frederick Lewis, was born in in 1884.
In 1910, second-generation Fred Hirschy borrowed from an area bank to buy a neighboring ranch so that he could begin his own ranching operation raising beef cattle. He was an extremely good businessman and a tireless worker, and over the years, other ranches were added to the original property.
In 1916, Fred Hirschy married Flora Shaw, born in 1892 in Hawarden, Iowa. They raised four children: John Frederick "Jack", born April 21, 1921; Frances Lee "Jill", born in 1923; Cecile "Joyce", born in 1927; and Ernest Richard "Dick", born in 1928.
Jack's mother always said; "Jack was born old", meaning he never acted like a kid, he was always working. He went to grade school in Fox, Montana. It was a one-room school down the road about two miles from the home ranch. He also attended two short term business schools. He worked on the family ranch, and in 1941, he bought his own neighboring ranch adding to the family ranching operation.
In 1944, Jack married Josephine Ann Carl who was born June 27, 1921, to Fred and Alice Carl. Fred was working in Winnemucca, Nevada, for the railroad at the time of Ann's birth but moved back to Salmon, Idaho, within a year.
After their marriage, they moved on to the ranch that Jack had bought and lived there the rest of their lives. They ranched side by side, with Ann riding, haying, logging, feeding and cooking for the hired men. Many of the men that worked for them came and stayed for over forty years. These men were like family. In 1950, Cecile Jann was born and Frederick Carl was born in 1953. They worked alongside their parents.
Jack was a Master Mason and a member of the Bagdad Shrine, and the longest standing member of the Shrine at the time of his death. He was very active in Montana Stockgrowers for many years. Jack was also on the boards of Metals Bank in Butte, Montana and State Bank & Trust in Dillon, Montana for many years. He was very proud of the fact that he still owned the ranch that his grandparents had homesteaded in 1894 and it was still in the family.
Ann followed in her mother-in-law's footsteps and was very active in politics. She was appointed by President Nixon to the OSHA committee in Montana. She was the first Montana State Cowbells president in 1953 and was the Montana Director for the Miss Rodeo America Pageant for many years. Ann also was on the committee that put together the history book. She wrote many family stories for those families that couldn't write themselves. She was on the and enjoyed helping out the school in many ways.
Both Jack and Ann were members of the Order of the Eastern Star. They were "good" Republicans and attended the Inauguration of Ronald Reagan and George H.W. Bush in 1985.
Ann passed away in 2006. A friend wrote:
Smile – Ann had a million watt smile – as big as Montana. She could light up a room from 100 feet away. It drew people to her like a magnet.
Make everyone feel special – Ann had that unique gift of making everyone feel as if they were one of her favorites. She went out of her way to do acts of kindness. More than one time, I have seen people gathered around her waiting for their chance to speak with her. She lifted everyone up.
Be a lady (or a gentleman) – at a ball or a branding – Ann was every inch a lady. She was full of grace, making introductions and always taking time to be polite – making everyone feel included.
Wear out – not Rust out! – She lived her life to the max. She spent each day fully immersed. Going here and there – having lunch – seeing friends – keeping deeply involved in her community – never missing a chance to see any of her grandchildren's activities. Being in the know and in the thick of things kept her vibrant and interesting. Buying an airplane ride over the at 85 is proof.
Jack passed away in 2012. He had been out to the corral weighing cattle the day before.
In 2006, the United States Board on Geographic names officially changed the name of "Squaw Mountain" in the Bitterroot Mountain range on the west side of the Big Hole Valley, to "Hirschy Mountain".