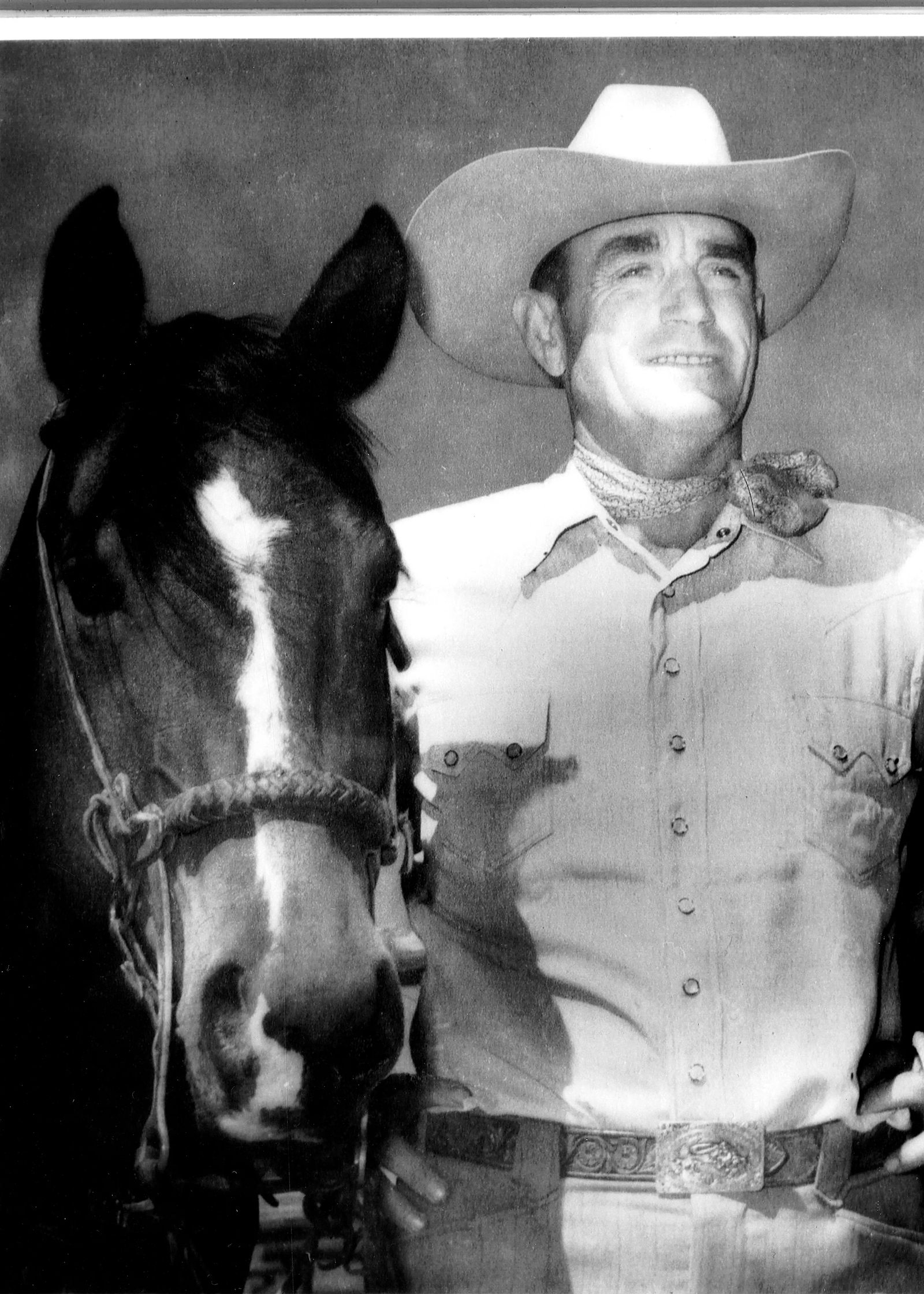 2014 LEGACY INDUCTEE DISTRICT 11
Oral Harris Zumwalt (1903-1962)
Oral Harris Zumwalt was born August 26, 1903, in Morenci, Arizona. His family lived in Arizona and Texas, before moving to Roundup, Montana when Oral was a young teenager. Oral began his rodeo career at age 13, winning a saddle bronc contest at a farmer's picnic on Swimming Woman Creek, north of Roundup.
Oral rodeoed hard from 1926 through 1932, competing in all the rodeo events, winning many of the largest rodeos in the country in several different events. He was a calf roper, bulldogger, saddle bronc rider, and wild cow milker, among others. When he was younger, he specialized in saddle broncs, but eventually gave that up to rope and steer wrestle. Good records were not kept in the early days, but some of Oral's rodeo accomplishments were:
1930, Billings, Montana: Won Calf Roping
1933, Nampa, Idaho: Won the Saddle Bronc, Steer Wrestling, and All Around.
1933, Calgary, Alberta: Won Steer Decorating. In other years in Calgary, he won the Calf Roping and Steer Decorating.
1935, Portland, Oregon: Won Steer Wrestling.
1937-1938, Australia: He was a member of the U.S. Rodeo Teams. Won the All Around both years, and also holds the record for roping a kangaroo, though he got two-barreled with its hind feet when he tried to tie it.
1939, Palm Springs, California. Set a world record of 2.2 seconds in the Steer Wrestling. Still stands as the fastest time.
He won Saddle bronc events in Miles City and rode for the 101 Wild West Show. He was an excellent pick-up man working for McCarty & Elliot, and Leo Cramer. While working for Cremer, he sometimes was Arena Director or Chute Boss. He also worked for W.T. Johnson. This led to a career as a rodeo producer himself, a career starting in 1944, with partner Julius Peters, of .
In 1948, he partnered with Bud Lake, and they formed the Zumwalt-Lake Rodeo Company in Missoula, Montana. In 1949, they leased the McCullough Ranch, in , and ran their stock there, and used it for their headquarters. They bought out Sorenson Rodeo Company and took over a lot of the Sorenson Rodeos. They put on rodeos in , , , , and .
In about 1955 they built the KO Rodeo Arena outside of Missoula and hosted a very large rodeo there every year. The arena sat in a natural bowl, and spectators lined the hillsides to watch. This was the most profitable and well attended of Zumwalt's rodeos. It was the first rodeo of the season; the horses were gathered off the adjacent range and run in—fat and sassy. The hillside held up to 13,000 spectators.
In 1958, Oral Zumwalt bought out Bud Lake, and ran Zumwalt Rodeo Company with the help of his wife Mae, and son in law, Bill Lawrence, who later ran the business.
As a contestant, Oral sustained some serious injuries—a broken neck at Shelby, and a broken leg in Livingston, but was back in the rodeo game as soon as he healed up. As a horseman, he donated a finger to a stallion who resented being "altered".
He is described as being a heck of a cowboy, and a real horseman, knowing good horses, and breeding and training good horses both for rodeo performance and for the racetrack. He took on and helped foster a number of rookie cowboys and was an active contributor to Father Cassidy's Boys Ranch in North Dakota, often stopping there to visit.
He was also known for his keen wit, colorful speech patterns, and for his honest and forceful personal opinions. He ran a fast, well run, and organized rodeo. He is quoted as saying, "I always start on time, and finish when I damned please."
His rodeo company was before the "Born to Buck" programs were in force, and it was kind of a "luck of the draw" deal to find good bucking stock. Word of mouth information and killer-canner yards were the main sources to get bucking horses, but Oral was lucky, and horseman enough to find some of the best. Ex-pack horse "Trail's End" was one of his most famous, but he had plenty of good ones in the likes of Centennial, Brown Bomber, Chief Many Wounds, Black Gold, Badlands Shorty, and others.
His stock was always well represented at the NFR, and in 1959, Trail's end won Bucking Horse of the Year, and was presented with a silver mounted halter—an accomplishment of which Oral was very proud. In an exhibition bronc riding in that year, Trail's End bucked off Casey Tibbs, the Champion Bronc Rider for the year.
Oral was not feeling well but pulled a flank strap for ex-son-in-law Bill Lawrence at a rodeo in Big Timber, in 1962. He died of a massive heart attack from the exertion, right behind the chutes, doing what he loved.
After Oral's death, a young Bill Lake delivered the nine horses and two bulls which had qualified for the NFR to Los Angeles. His stock kept rodeoing for him.
Oral Zumwalt's rodeo company was dispersed in 1964.
Information from:
National Cowboy & Western Heritage Museum, Oklahoma City, Oklahoma
Rodeo, The Suicide Trail by Lee Hames
Interviews with:
Dwain Rennaker, Darby Montana
,