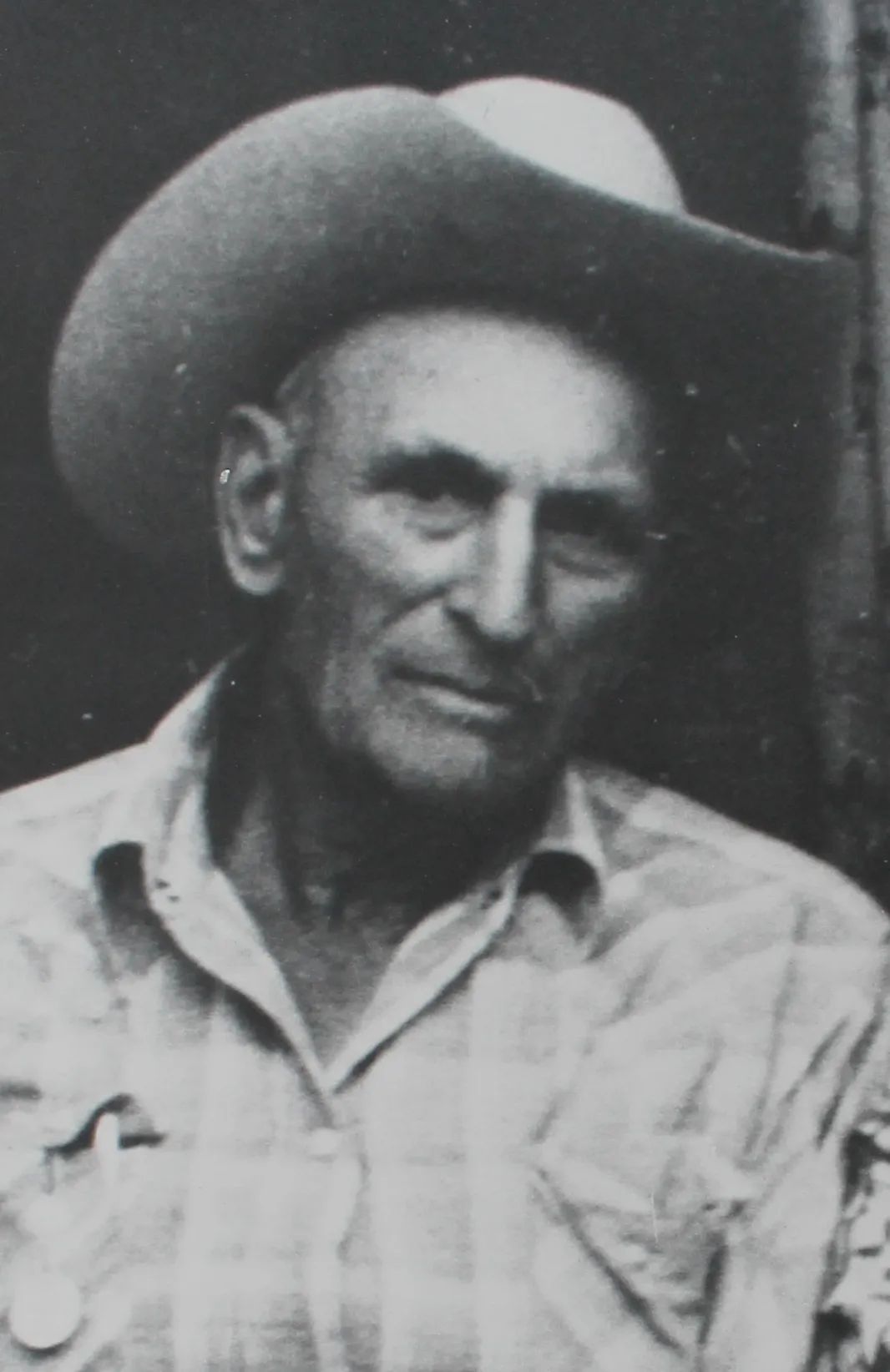 Montana Cowboy Hall of Fame INDUCTEE 2014
Hartley Lee Lambert (1894-1974)
Hartley Lee Lambert was born in Benton County, Indiana, May 12, 1894. When he was a young man, he moved to Sand Springs, Montana. He freighted with string teams, then worked in the oil fields and used the money to develop a cattle and horse ranch as large as a couple of townships.
On December 25, 1917, he married Della Cooper, at Moore, Montana. They ranched in eastern Montana for 33 years, where he ran cattle — mother cows and yearlings. He had so many cattle that some of his yearlings went wild and became hefty, old, wild steers. They were still rounding up those wild steers, sometimes shooting them on the hoof, for several years after Lamberts left the area.
He had a reputation for owning and raising exceptional working quarter horses. His whole family rode and rode well, including all three children, Ethyl, Richard, and Ed.
He had a really good spring on the ranch, the Bone Creek Spring, which provided an abundance of water to the range. Jack Drew says Hartley ran a "real Western outfit" and that Hartley was "damned sure a rough old hand." The Lamberts sold their ranch to the Browns before they left.
In 1950, Hartley and Della moved to Stevensville, Montana, and began ranching there. They had black baldy and Hereford cows which they crossed with Brahma bulls, ran some buffalo, and raised and bought performance and race horses. Hartley was an excellent horseman and used the horses on the ranch, showed them, and competed in O-Mok-Sees with them. He also did a little team and calf roping, and judged many shows and horse events
One of his good mares, Flying Twister, foaled in 1959, received grand champion at halter eight times, and won four reserves. She was lost, along with a number of Hartley's other good horses, in a tragic barn fire, which occurred during the mid-1960s at the Missoula County Fair, held in Missoula, Montana. The fire was started by fireworks landing on the barn.
In the late 1950s, Hartley began to race his horses, traveling extensively to do so. He bought a place near Tucson, Arizona, and stayed down there in the winters, while hauling his race horses to tracks in Arizona, New Mexico, and Florida. He had an outstanding stallion, Ponder, who won many races and sired many colts for Hartley. The colts were used both for racing and performance. Ponder received a Register of Merit Award in 1950, and had 45 starts for the American Quarter Horse Association, with nine wins. People who knew the horse say he had many more lifetime wins than that.
Hartley was also owner of and guide for an outfitting business, which operated during summer and fall in the Blackfoot area, near Monture in the Lolo National Forest. In conjunction with this, he packed, to the top of St. Mary Peak in the Selway-Bitterroot Wilderness, all the building materials with which the U.S. Forest Service constructed the fire lookout, which remains today.
Hartley and Della's son, Richard, passed away in 1963.
The Lamberts were modest people, who did not seek any spotlights but were both accomplished horsemen whose horses had splendid showing and racing careers.
Hartley has been described as a hell of a hand who knew and loved his horses and was known to treat them well. He died doing what he loved best, watching his horses. He was found slumped in the feed trough where he had been sitting, admiring his latest crop of colts, on August 18, 1974, at age 80.