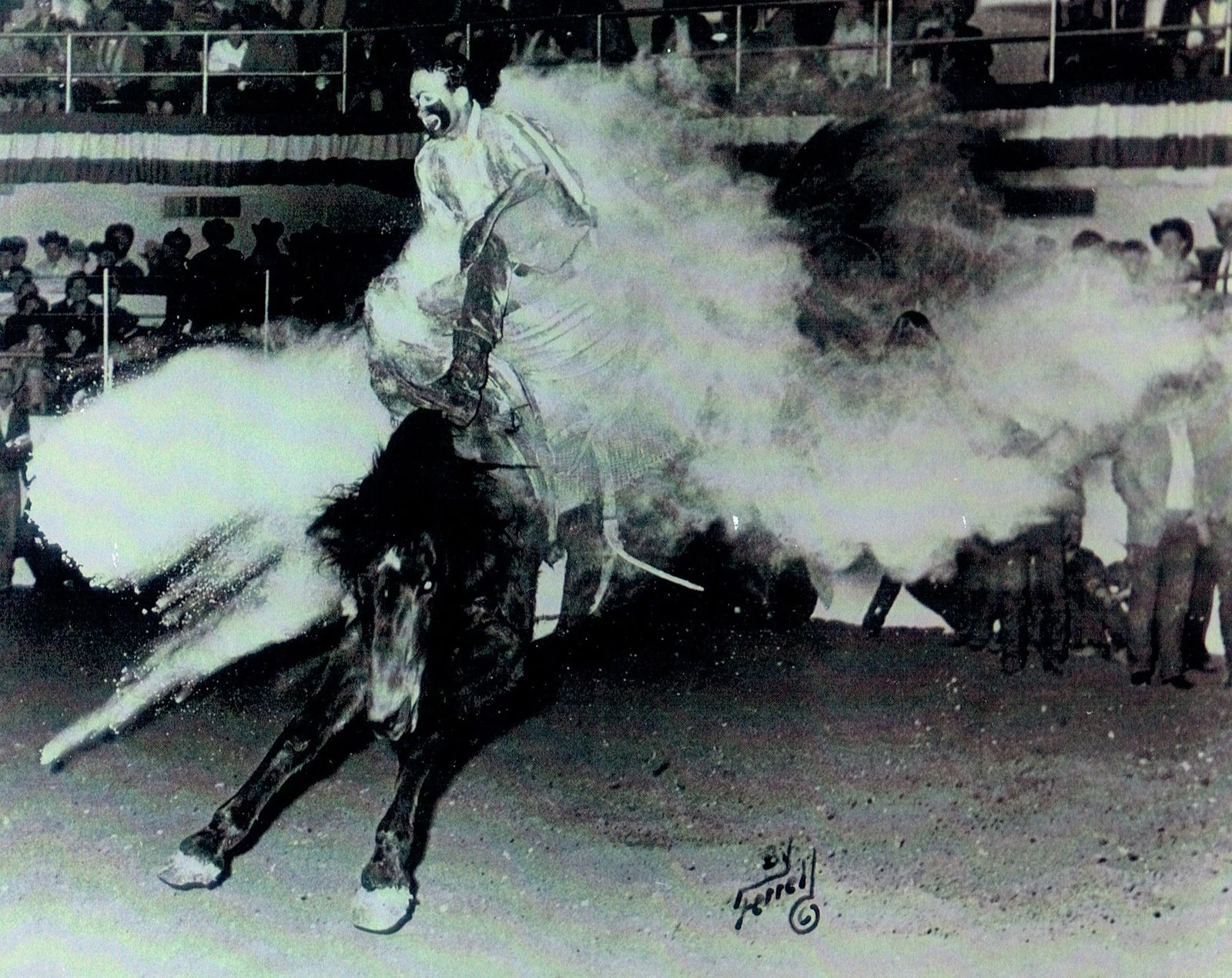 Montana Cowboy Hall of Fame INDUCTEE 2014
Charles E "Charley" Lyons
Charles E. "Charley" Lyons was born in Milliken, Colorado on February 9, 1938, to Ed and Vera Lyons. He grew up in the suburb of Arvada, Montana and was active in 4-H and FFA which led to his interest in Rodeo. At age fourteen, he entered his first rodeo as a bull rider in the Little Britches Rodeo in Littleton, Colorado.
After graduating high school, Charley was the clown in a few amateur rodeos and a passion was born. That same year he was invited to help clown and bull fight a professional rodeo in Dickenson, North Dakota. Being a Rodeo Cowboys Association rodeo, they couldn't pay Charley until he paid his $25 to join the association. This was the start of a professional career that lasted 25 years. His life saving ability was evident despite the fact that he fought bulls in slick soled cowboy boots. A nervous contractor asked him to get some athletic shoes with cleats. He did, sort of, by buying cleats and attaching them to the soles of this cowboy boots.
In the years to come, Charley would build his reputation with his many unique clown acts. He had a pure white trick horse named Soapy that would crawl on his knees like an Indian Scout, play dead, and sit like a dog. Another popular act was Roberto, a half Brahma steer with foot- long horns. He was broke to ride, but not ground broke, as he had to be snubbed up to something every time Charley got on him. Besides riding Roberto in parades, Charley would slip on a dress and wig, call himself Charlotte, and run Roberto in the barrel races. It was not a pretty sight but the crowd loved them. During the bull dogging event, Charley would dress as Batman, ride a good looking Palomino Shetland pony named Dandy, and bull-dog a miniature steer named Pistol. Charley's solo acts were always a hit, but he didn't stop there. He had acts where he would recruit the town children to join him in the arena. They would participate in such things as milking the donkey, Ruba, or be a part of his very large family stuffed into a hollowed out car.
He was an ambassador for the sport of rodeo, visiting nursing homes and hospitals, raising the spirits of those who needed it most. It is his behind the scenes easy smile and out-reached hand that touched the public. Charley is the positive approachable symbol of a Professional Rodeo Cowboy, and a cowboy he was! While working as the rodeo's clown he regularly entered the bare back riding and the bulldogging himself. If the rodeo was short on contestants, sometimes he would enter all five events.
It was his daredevil washtub saddle bronc act that made him a legend. Charley bolted a #3 washtub to a saddle tree that was then mounted on a bucking horse. He would sit down in the tub with his legs over the broncs neck, fill the tub with flour, and explode from the chute. Words can't explain the calamity that entertained the crowd. This was such an unequalled spectacle, that it catapulted Charley into celebrity status. He worked many big rodeos such as Fort Worth, Texas; Dodge City, Kansas; and Pendleton and Portland, Oregon to name a few.
After much traveling and working in some 30 different towns across the country it was Montana that Charley fell in love with. It was his washtub act that allowed him and his wife Carol to purchase a ranch in the Mission Valley two miles east of St. Ignatius. Charley and Carol named their 80 acres the TUB Ranch and incorporated the TUB brand on their Simmental Cross Cattle, which yielded 900 pound weaning weight steer calves. They retired from the cattle industry in 2008. They raised three children, C.J., Annie, and Katie on their ranch. Charley enrolled all three of his children in 4-H and FFA, and volunteered his own time to those same organizations that embraced him in his youth. Today you can still find Charley on the TUB Ranch putting up hay and willingly helping his neighbors.
In 1972 Charley held a bullfighting school in Billings, Montana. His past experience and travels have helped him mentor young cowboys on the ins and outs of the sport of rodeo.
Charley attends a Rodeo Clown Reunion every two years at different rodeos around the country. Charley and some 30-40 retired clowns paint their faces, don their baggy pants and continue to bring smiles and awareness to the sport of rodeo.
Charley Lyons is a Gold Card Member of the PRCA and has attended the National Finals Rodeo in Las Vegas for the last 30 years. In 2001 his washtub act was recognized and honored in the opening ceremonies of the NFR.
According to Carol many have tried to duplicate his famous washtub act, to no avail, for there is only one Charley Lyons and if you know Charley, only one is enough.