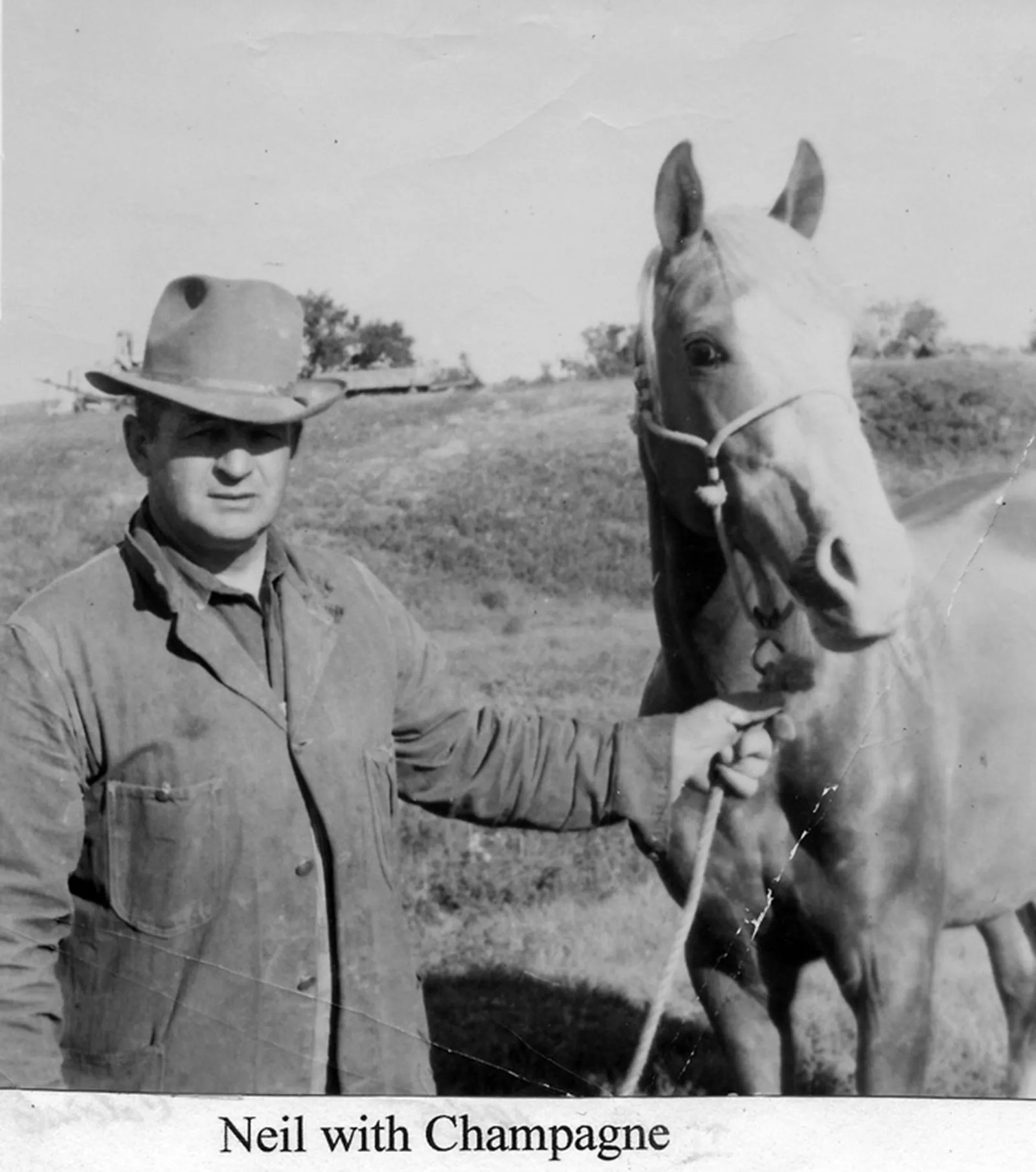 Montana Cowboy Hall of Fame 2014
Edmund N. "Neil" Taylor (1897-1964)
Edmund Neil Taylor known as Neil throughout his life was born on September 7, 1897, at Mount Moriah, Missouri. He was the third, but second living son of Charles Denver "CD" and Essie Louise (Schooler) Taylor. The family farmed near Mount Moriah until 1907 when they sold out and purchased a small dairy farm near Unionville, Missouri. Neil received his elementary and high school education in Unionville. He and his brother Reid had to milk cows and deliver milk with a team and wagon every morning before going to school. His public education did not extend beyond his sophomore year.
CD decided to explore the possibilities of claiming a homestead in Montana. In the spring of 1914 when Neil was 16, CD and his sons Neil and Reid traveled by train to northeast Montana. They came as far as Culbertson on the train bringing only the bare necessities to establish a place to live which included a couple of milk cows and a team of horses. The remainder of the Taylor family stayed in Missouri until CD was ready to move them north. Neil's first job that summer was riding for Charlie Evans on his established ranch south of the Missouri River. He gained cowboy experience riding and handling range horses. Horses were a valuable commodity at the time, as well as plentiful, so the family began to buy, break, and sell horses to the other newcomers. Neil's Dad, CD also returned to Missouri and brought back carloads of dairy cows to sell. During this time, CD and the boys filed a homestead claim on the western edge of the Fort Peck Indian Reservation. The two brothers and their Dad began working to fulfill the requirements of the U.S. Government's "Homestead Act" to "stake their claim" on the land. Always looking to expand C.D. found an opportunity west of Saskatoon, Saskatchewan. A large wheat farm was available for lease in a productive area. The whole family, including those still in Missouri located there. However, the weather didn't cooperate, so when the lease expired in 1919, most of the family returned to the homestead in Montana. While in Saskatchewan, to supplement the family income in winter, Neil and his brother kept busy using their many horses freighting for the Hudson's Bay Company. They established a headquarters near Big River. They freighted using sleds and teams of horses to haul food and supplies to the fishing and trapping camps along 200 miles of the Canadian countryside. Even after returning to Montana some of the Taylors returned to Canada to freight during the winters.
Neil Taylor recorded some of his favorite memories including the Reservation Roundup: It was the spring of 1919 when I was privileged to ride on that big Indian "horse roundup" for the first time. It is hard to believe now, but at that time we would handle 20,000 to 40,000 horses during the roundup. For the roundup the Indian Agency would supply the chuck wagon, the boss, the grub and the wranglers to herd the saddle horses. The ranchers who wanted to gather their own branded horses would send riders or "reps" to do most of the riding to round up those usually wild range horses. I was always the rep for our ranch. On my first day of my first roundup my horse, Morgan, after bucking me off at Kirn's Corral, settled down and began to establish his reputation, and my own." Morgan was known to be a challenge as a horse. One time Neil's Dad asked him, "Why don't you sell that mean bronc before he kills you?" And Neil replied, "Well if I did, some other cowboy would be better mounted than I am".
Neil married Florence Kennedy on June 26, 1923, in Saskatoon, Canada. The honeymoon for the happy couple was a train trip to Scobey, the county seat of Daniels County in northeastern Montana. From there they made their way to a place that Neil had rented the fall before. In early 1925 Neil and Florence rented a place in the Line Coulee community. In 1925 their first daughter Margaret Louise (Taylor) Gebhardt was born and in 1927 their second daughter Florence "Fae" (Taylor) Phillips was born. Neil then built his ranch by leasing Indian Lands near his place and buying land as it became available. Neil's dream of raising white faced cattle and good horses became a reality.
Neil was an innovator and during the dirty 30's it became necessary to figure out ways to survive. Using his experience from his early day freighting with horses he adapted. Neil and his brother built themselves semi-trailers for their trucks to do long distance hauling. They would haul their cattle to Minnesota and then return with commodities that they could buy and resell at a more reasonable price at home.
Neil believed in giving to his community. He was a member of many organizations such as the Montana Stock Grower's Association and the Farm Bureau. He helped organize the Big Muddy Hereford Association and the Scobey Saddle Club. In 1955 Neil began the Taylor Calf Chain in Daniels County. He gave away two heifer calves to 4-H members with the understanding they in turn would give their first heifer calf to another member. This chain ran for over 50 years.
In 1945 Neil ran for and was elected to the Montana Legislature. He served six 2-year terms. His house colleagues called him the "Iron Duke" for standing on his convictions that expenses be cut and the budget balanced and presented him with a meat cleaver.
Neil passed away on May 2, 1964, at age 67 after suffering a severe heart attack while tending cattle with two neighbors. He is buried at the Scobey Cemetery. Neil spoke fondly of the horses he owned throughout his life and his days as a cowboy, "When I was a kid in Missouri I had a pony—half thoroughbred and half Shetland. I was broken hearted when I had to leave her behind when I went to Montana with my Dad. However, in 1914 that first summer I was out here in Montana I got a wonderful two year old, broke him and spent all my affection on him. Over the years I have ridden literally hundreds of horses. A few of them were tops." Neil would later buy a Horse named Champagne II who was the 1945 Denver Stock Show Grand Champion Stallion in 1945. He was a great Grandson of Peter McCue II and a Steel Dust mare. Old timers in the community still talk about Neil Taylor's Champagne. Neil Taylor was truly a Montana cowboy.
References: (Taylor) Phillips, Fae. A Determined Destiny Determined by the Flight of a Wild Filly - A Family History by Fae Taylor Phillips