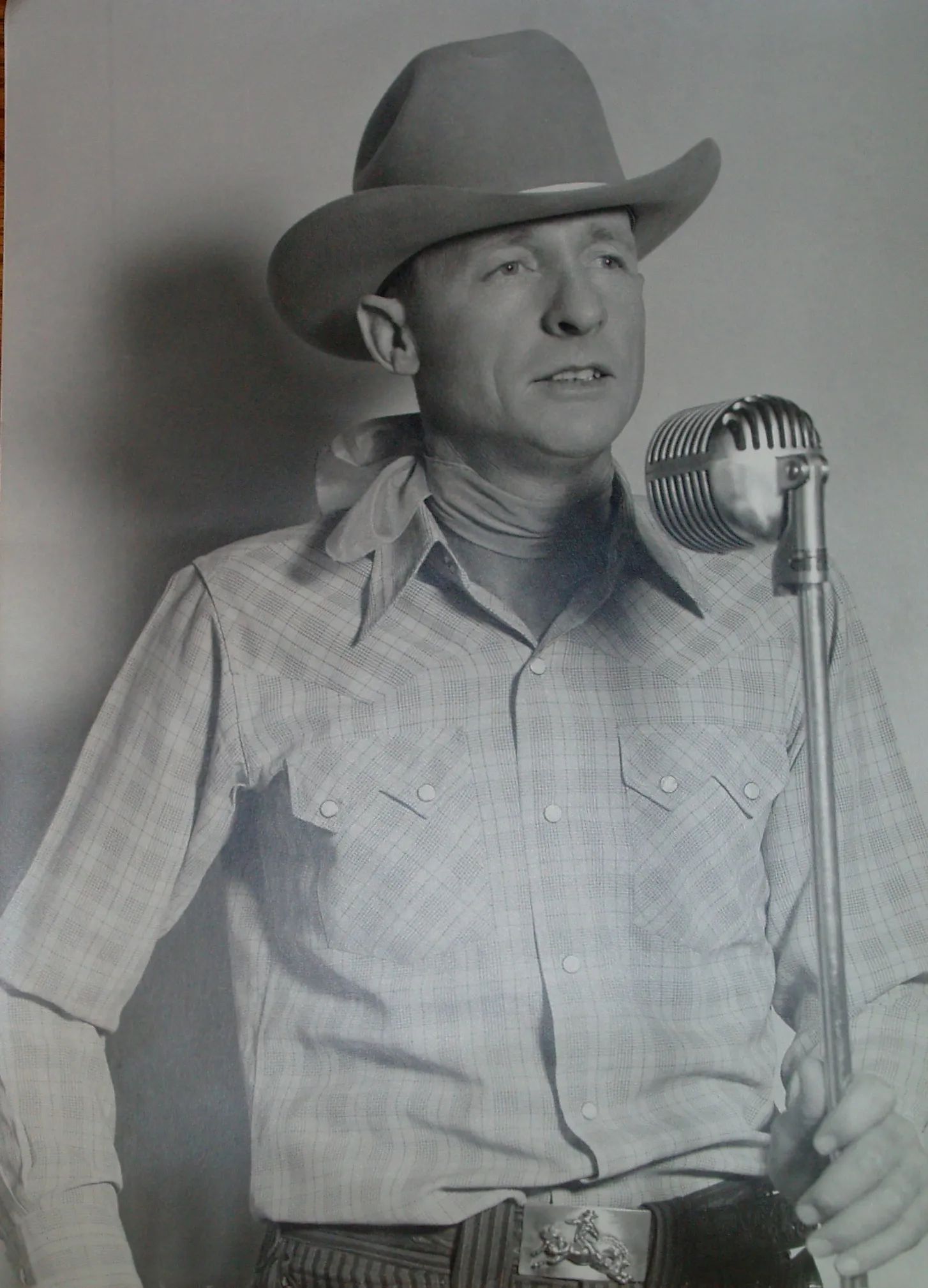 Montana Cowboy Hall of Fame 2014
Don H. Lee (1912-1996)
Don was born in 1912 southeast of Dodson in Phillips County, Montana, on the family homestead to Edgar and Julia Gertrude "Gerty" (O'Riley) Lee. He grew up on the homestead along with an older sister, Frances.
He attended public school in Dodson and graduated in 1932. During his childhood and young adult life, he worked on the home place in the Milk River Valley.
The home place was a combination farm/ranch. The main crops were hay, sugar beets, and other grains. The family also kept cattle and horses.
It was during these years that Don learned to appreciate and love horses. He was involved in youth horsemanship programs; he jockeyed during race meets, and participated in riding broncs during the local rodeos. Later in his life Don trained and owned several race horses.
It was in the summer of 1932, at the Phillips County Fair and Rodeo, that Don got his start in announcing rodeo and race events. He and a friend were awaiting the start of the rodeo as it had been delayed. Soon it was broadcast over the public address system that the scheduled announcer could not make it due to unfortunate circumstances. Don turned to his friend and stated, "I bet I could do that." He then walked to the booth and offered his services and thus began his career as a rodeo/race announcer.
Don was well suited to the task. He not only had been a contestant in rodeos and races; but he personally knew most of the people involved in the rodeo/race circuit. Don soon became a familiar figure in the announcer's booth throughout Montana.
He announced up and down the Hi-Line of northern Montana, North Dakota, and Canada. He also announced races at Sportsman's Park in Phoenix, Arizona, during the winter months.
Because the county rodeos at that time were Rodeo Cowboy Association approved, a number of the nation's top hands could be seen competing in any number of these events. Some of these people that Don came to know during this time were Morey Gibson, Pete Crump, The Linderman Brothers, Casey Tibbs, Alice Greenough, Buck Rutherford, Whirlygate, Scrap Iron Patch, and Billy King, to name a few.
Don's only time away from the rodeo was during World War II when he served in the U. S. Army. He saw action in the South Pacific and was part of the occupation forces in Germany.
Due to health issues, Don retired from announcing in 1953, and eventually moved to Prescott, Arizona.
Don kept his hand in rodeo during the filming of the movie "Junior Bonner." He was asked by Casey Tibbs (one of the technical advisors for the movie) to participate as an extra at the rodeo and during a bar fight scene. It was rumored that the cowboys in the bar fight scene didn't need much rehearsing.
The history and knowledge of rodeos during this time period is becoming lost to us. Many of the old hands have had their last "go around" and are not with us any longer. It was only possible to locate and contact two former contestants who knew Don: Jerry Nordland and Fred Eller. Both in their younger years had been contestants when Don was announcing. They were quick to describe Don as a top-rated rodeo announcer. To paraphrase their comments, "He (Don) was always generous in his positive comments towards all contestants. He made an effort to know them all and considered them his friends."
Don was a good ambassador to rodeo. He was an active member of the Rodeo Cowboy Association and was awarded recognition in the Pro Rodeo Sports News. He was also a member of the Veterans of Foreign Wars and Disabled American Veterans.
Don's signature opening for the Phillips County Fair and Rodeo was "Welcome to the biggest little fair and rodeo in the world." He was truly an early Montana rodeo personality.
Don H. Lee passed away in 1996.
Resources:
Phillips County News 8-11-1949, 8-9-1951
Prescott Daily Courier circa 1972