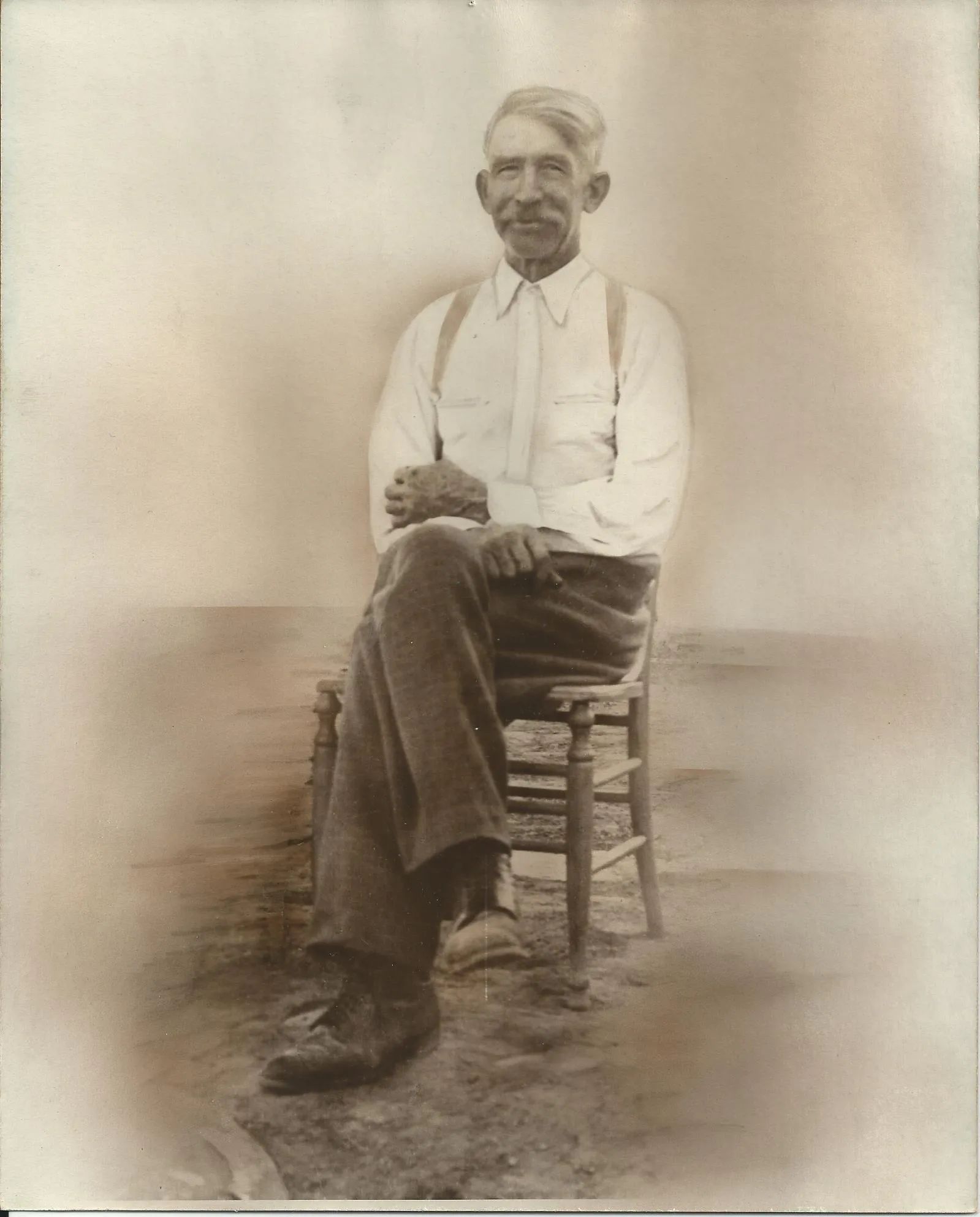 2013 LEGACY INDUCTEE DISTRICT 3
Daniel M. "Dan" Gaskill (1873-1943)
Daniel (Dan) M. Gaskill was born , in Butler County Nebraska to Joseph C. and Mary Hurley Gaskill. Dan left Nebraska in 1893 on horseback to visit his sister at Stacey, Montana, located in what is now Powder River County.
Prior to Dan's arrival in Montana, Southeastern Montana had already been used for several years by big cow outfits as open range. The first old brands used in Powder River County were mostly initials or numbers. Dan Gaskill used the initials WG as his brand. In the early 1880s Levi Strauss and a relative named Charles Strauss established a cow outfit under the 54 brand. They branded a 54 because their first bunch of cattle purchased was just 54 head. The 54 Cow Outfit settled a quarter of a mile from where the Gaskill ranch buildings are located today. Levi Strauss, 1829-1902, founded Levi Strauss & Company, a textile business in San Francisco in 1853 credited to be the first company to manufacture blue jeans in the United States. In 1873 he received the US Patent for the copper rivets to strengthen the back pockets and the "arcuate" double arch pocket stitching which are still features of the "levi jean" today. Though the 54 put up hay, it wasn't nearly enough for a large heard. When the 54 Outfit lost most of their stock in the hard winter of 1885-86, the Strauss' gave up ranching and returned to their more lucrative blue jeans living.
After arriving at Stacey, Gaskill quickly put his ranch hand/cowboy talents to good use. He went to work for a cowman named Charles Daly on Little Pumpkin Creek with the idea of becoming a cowman himself. Dan soon acquired 20 head of cows, filed by squatters right on land originally known as Gaskill Creek, and started his life as a rancher. Later Gaskill Creek became known as Starvation Creek.
In 1896 Dan Gaskill went back to Nebraska and married his sweetheart, Ellen Hassey at Chadron, Nebraska. After their marriage the couple came back to Montana and lived on Gaskill Creek while Dan established their home place on Big Pumpkin Creek. Did Dan's sense of humor cause him to change the creek name from Gaskill Creek to Starvation Creek to better remind him of why he moved from Gaskill creek to Big Pumpkin Creek? In 1901 he built a log house, a corral, and dug a well. Dan and Ellen moved to the new ranch site in 1902. During the first summer a blanket served as the door of their one-room log house. Dan chose Big Pumpkin Creek because of the abundance of water, grass, coal and wood. The Big Pumpkin Gaskill ranch is still at this same site as of 2013. The rugged colorful bluffs and pine trees make it one of the most beautiful in Powder River County.
Gaskill's parents Joseph C. and Mary came to Stacey in 1904 to be near their children. Four of Dan's five sisters and his brother lived in the Stacey, Mizpah, and Miles City area while the Dan Gaskill Ranch was being established.
Not long after moving to Big Pumpkin, the Gaskill's experienced a severe drought so Dan, along with several other ranchers from the area, moved their cattle to winter at Wibaux. After moving home again, he ran his cattle on open range east of Big Pumpkin while building up his herd, adding land, and adding buildings to his place. In 1916 Dan Gaskill built a big, picturesque barn, which is likely the biggest old barn in Powder River County. While building the ranch, the family as Dan and Ellen had seven sons. Their sons were Joe, Tom, Dan Jr., Andrew, John, Charley and Bill. Some of their sons filed on homesteads and all of the sons eventually had ranches of their own and raised their own families.
The year 1919 was a disastrous year with a dry summer. The winter started in October, which took its toll on cattle, so they lost many. The Gaskill ranch holdings included open range and land owned by either squatters or homesteaders and was acquired when or after the settlers left the land. Original owners included the names Daniels, Strauss, Johnny Wegner, Bill Flannery, Frank Snerdle, Nels Pearson, and Janet M. Gould. By 1940, Dan Gaskill's ranch included five and a quarter sections of land.
According to page 1104, History of Montana, "the Gaskill ranch was one of the best in the locality and was carried on intelligently and profitably. Mr. Gaskill served on the local school board for the school established near their ranch where his sons attended school. In 1914 six Gaskill boys attended school there." The History of Montana book also reported "Mr. Gaskill raised Durham and Hereford cattle, his political affiliation was a democrat and the family was consistent members of the Roman Catholic Church."
In 1945 Bill, Andrew and Charley Gaskill purchased the Dan Gaskill Ranch Estate and divided it three ways. Bill, Andrew and Charley Gaskill have all passed on; however, their sons are or were all ranchers who ranched in the area. Bill and Marty Gaskill lived and raised their two sons on the original Pumpkin Creek ranch. Doug Gaskill has retired to Miles City and Dallas Gaskill and his wife Karen ranch and live on the original Pumpkin Creek ranch.
In the early 1940s, Dan Gaskill's health was failing so he and Ellen moved to Miles City. Dan Gaskill died in 1943 and Ellen passed away in 1965. Both Dan and Ellen Gaskill are buried in the Cavalry Cemetery in Miles City. Dan and Ellen Gaskill, through hard work, dedication, and foresight put together a remarkable ranch.
References:
History of Montana, Article prepared by Wanda Gaskill for the Century Old Ranch book, Miles City Star, & Powder River County Examiner page 1104
Echoing Footsteps, Powder River History Book, pages 266, 295, 360, & 379-382,
Faded Hoof Prints: Bygone Dreams, Stories from Montana's Greatest Livestock Frontier, Powder River Country
Family Interview: Dallas Gaskill