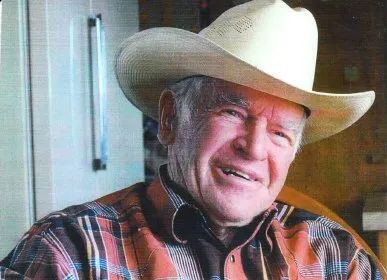 2013 LEGACY INDUCTEE DISTRICT 9
Wendell Lovely (1925-2015)
At 7:00 a.m. every morning, Larry Lovely calls his dad, Wendell, to see what is on the agenda for the day. Wendell usually says, "Putting out salt, haying, baling, checking cows and of course coffeeing-up in Wilsall."
Wendell was born on September 27, 1925. He grew up on the family ranch with two brothers Orvis and "Kenny" and two sisters Joan and Patsy. Their home was just seven miles from Wilsall where Wendell and his siblings created years of good, interesting, exciting and cherished memories. The kids would ride two per horse to the Cottonwood School where four generations of Lovely's have attended.
Aside from their daily ranch chores, the boys would cut logs in the mountains, load them on a sled and drag the sled seven miles from home to Wilsall. The logs would season, and then in the spring the community of Wilsall would have a sawing bee to process the logs.
In a snowstorm, the trip from home to town could take up to three hours on horseback. Wendell took to boarding with friends in Wilsall because being late for school or supper was not something that he fancied.
After graduating he enlisted and served during World War II in the Pacific Theatre. Wendell joined the United States Army at the same time his brothers signed-up with the Navy. At one point during the war, all three brothers were fortunate to be united in Pearl Harbor for a short visit. Wendell returned home to the ranch and land he loved. There he traded his military uniform for his jeans.
Shortly thereafter, Wendell met his wife, Norma Busby, a school teacher who became the love of his life. They were soon married and had three children. Jan, Larry and Cheryl grew up on the ranch. There they lived, learned and cherished ranch life, as their family had done for generations. All three went on to become ranchers. Wendell's son, Larry, has remained on the home ranch, and with his wife, has raised two more Lovely boys. The Lovely Ranch is 121 years old. Wendell has the original deed signed by Theodore Roosevelt.
Wendell has long been involved in his community, church and lives of the people of Wilsall and enjoys a good game of Pitch twice a week down at the old post office now known as the PO Liquor Store. He is active and served as Secretary of the Montana Shorthorn Association, and to this day continues to buy, sell, judge and show cattle. Wendell looks forward to spring's work where he still farms with his son.
A competitor to the core, Wendell, does not care for losing. Whether in the show ring, watching his kids and grandkids compete in sports or enjoying his favorite NFL team on television losing always seems to make the feisty competitor in him come to life. You can see him shaking his trademark bent pointer finger at referees, judges, and any other so-called deserving person.
After his years on the ranch, experiencing the highs and lows of the business, one of Wendell's most noted sayings is, "Ranchers live somewhere out in next year country." Apart from raising his family, he says of life, the reward is watching calves and planted seeds grow.
At 88 years young, Wendell volunteers, by taking meals on wheels to the elderly in Shields Valley, remarking "I gotta' take food to the 'old people'."