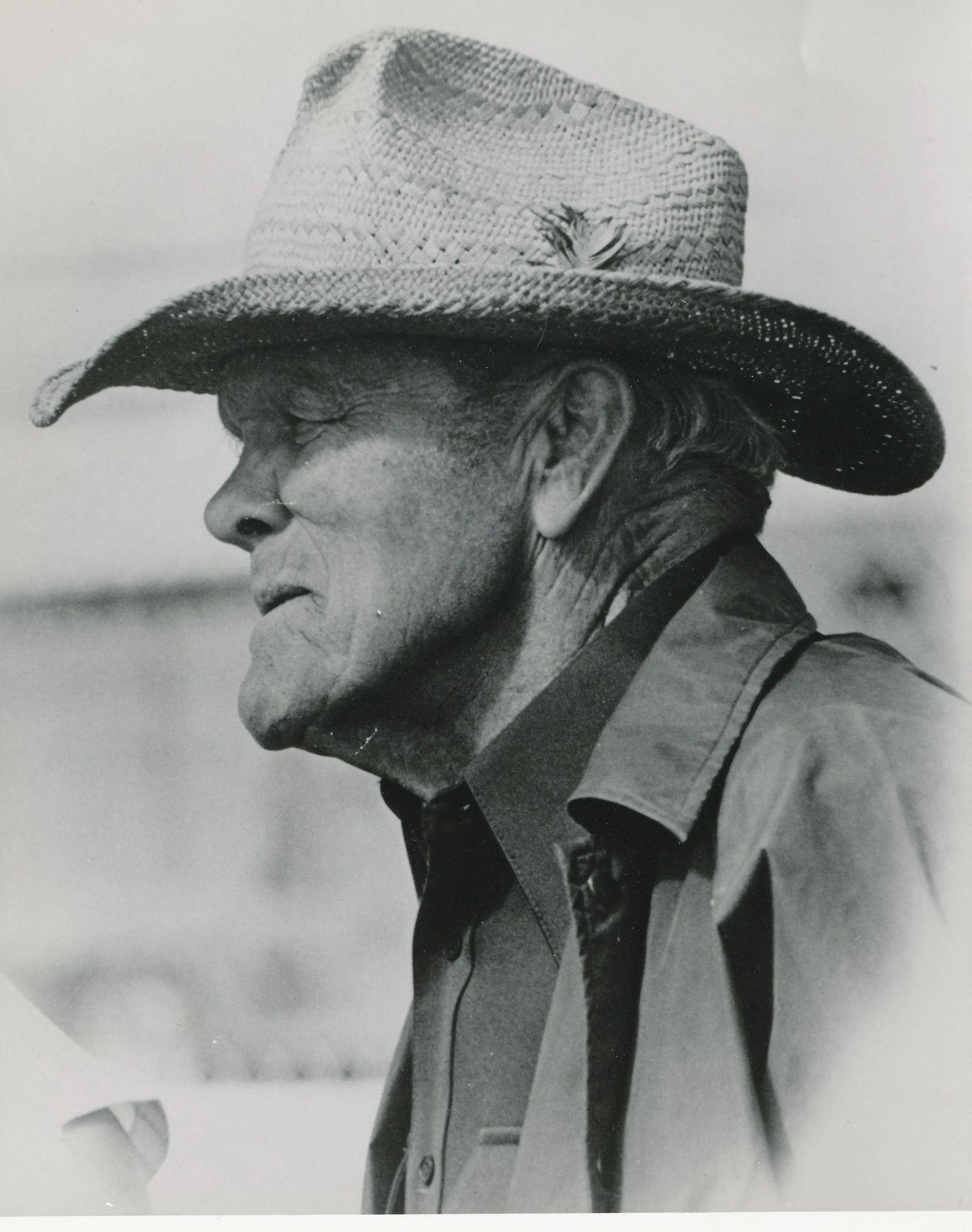 2013 LEGACY INDUCTEE DISTRICT 9
Earl Presley (1899-1980)
Born near Clintwood, Virginia in 1899, Earl Presley came to Montana in 1901 with his mother Clementine and other family members in a boxcar. Earl settled in Paradise Valley with family members who had contracted with the Army to break horses. He spent early years with his paternal grandmother on a ranch in the Mill Creek, Montana area. His Grandmother and his brother Charles died in the flu epidemic of 1918. While in Paradise Valley, they had neighbors, previously from West Virginia, up the Yellowstone by the name of Counts. Earl fondly referred to them as, "the West (by God) Virginia Counts."
Earl went to work in a livery in the Flathead Valley of Montana when he was very young, wrangling horses on the Blackfoot Reservation. He left the Flathead with two pair of jeans, the clothes on his back, his saddle, a bedroll and 50 cents; rode the train to Hardin and went to work riding for the Tscherge Ranch.
In 1923, Jack Dempsey came to Shelby for the fight with Tommy Gibbs. Earl was summoned to be a sparring partner for Jack Dempsey. They needed a left-handed boxer and Earl was ambidextrous. It wasn't Earl's first or last bout.
Later, he married a lovely lady by the name of Henrietta Rew. Earl and "Hen", as Earl affectionately referred to her, had two children, Kenny and Pat. Kenny went on to become an internationally-known geologist. Their daughter, Pat lived in California until moving to Dillon, Montana.
In the late 1930's, Earl managed the OTO Ranch in the Yellowstone Valley for the Libbey family. He was in charge of the dude ranch operation as well as raising cattle and horses. Earl broke all the horses at the OTO and was in demand to break outside horses. He had every skill necessary for life without electricity.
Earl also worked at the Buffalo Ranch in Yellowstone Park and put up hay with teams of horses to feed the buffalo. An expert teamster, Earl drove a six-horse hitch stagecoach in Yellowstone and later, drove a horse-drawn Fresno scraper during construction of the highway between Big Timber and Livingston.
Earl enjoyed taking cattle to the high country around Island Park, Idaho where he basked in the solitude. Earl appreciated living close to beaver, bear, elk, deer and moose.
In the late 1960s, Earl and Henrietta went to Beaverhead County where Earl rode for the Vipond Association and the Hagenbarth Ranch, a sheep and cattle operation. When Dave Hagenbarth, Sr. died in 1970, his boys, Jim and David were 21 and 23. Jim credits Earl with teaching him to manage the ranch and the livestock and providing him with a work ethic. Earl let him make his own mistakes, notably learning about a cinchy horse. Earl told Jim "If you're going to ranch, you have to learn to rope" and "What's easiest for the cow is easiest for you." When Jim spoke at Earl's funeral, he said, "Earl experienced an era that most of us only dream about. He was like a father to a young man who took over an outfit." Jim described Earl as a decent man who believed in truth and accepting responsibility.
After attended a branding where Earl headed and heeled 400 calves, he danced until the establishment closed at 2 in the morning. He was in his late 70's at the time.
In later years Earl rigged up a "drop stirrup" for easier mounting. He had a "hand-hold" attached to his saddle and fellow cowboys said that he could ride about anything. He had a double hondo in his ropes - "if you can't rope 'em, knock 'em down".
An accomplished cowboy, Earl was a calf roper, steer wrestler, and a team roper. He could rope right handed and tie left handed - however the calf fell. He was in Madison Square Garden at the rodeo when the cowboys formed the Cowboy Turtle Association and then became a gold card holder for the Professional Rodeo Cowboys Association. He continued his rodeo activities and enjoyed the likes of many fellow contestants. When he had a horse fall with him, and he couldn't raise that shoulder high enough to rope, he switched hands and continued to enjoy success at roping.
He shared his rodeo and ranch horses with many. However, if you were borrowing too often, he had a ranch horse that would buck. After the horse bucked a few borrowers off, Earl's reply was, "I just don't know what got into him."
While in his late 70's, Earl flew into Butte after visiting his son in Spokane. When he found his car in the parking lot, he noted two fellows were siphoning his gas. A scrap ensued as Earl defended his property. Earl later said "It had to be an inside job. They were stealing my gas but I had blood all over my white shirt, was arrested and taken to jail." After getting bailed out by a friend, Earl returned to his car in time to find the thieves removing the tires and the rims. He barely escaped "a re-run" back to jail.
In 1979, Earl traveled to Great Falls for radiation treatments five days a week. By Friday night he was exhausted, but on Saturday morning he was up and on his way to a rodeo or a roping.
Earl Presley died in 1980 and is buried in Dillon, Montana. In 2002, his son commissioned Brendon Thomas to create a bronze bust honoring Earl. The inscription on the back is inscribed: "Rancher, Cowboy, Horse Trainer, Patient Teacher, Respected, Admired, Always His Own Man." He was blessed with a gentleman's mannerism, had an active sense of humor, and was always considerate of others. He was noted for his big square jaw, muscular athletic build and a kind heart. Children and ladies loved him, men admired and respected him.