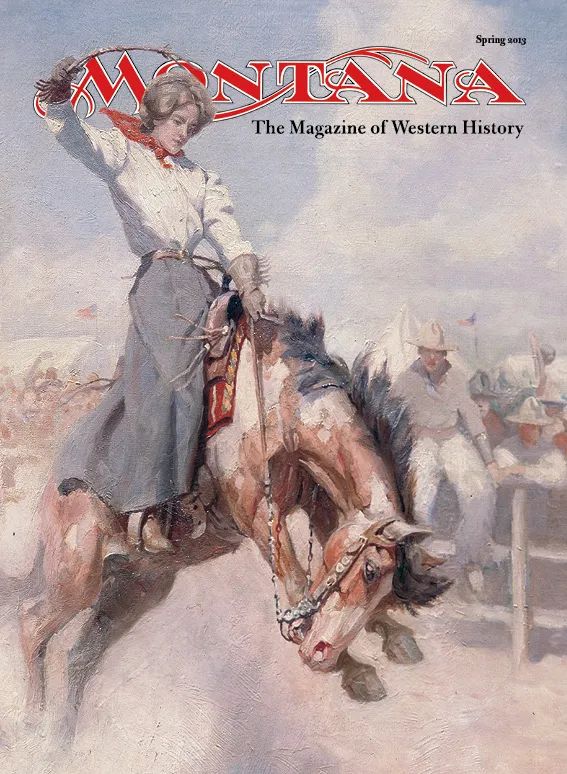 2013 LEGACY INDUCTEE DISTRICT 8
Montana The Magazine of Western History (Est. 1951)
Montana The Magazine of Western History, published by the Montana Historical Society, just celebrated 60 years in print. Having served Montanans since 1951, the magazine deserves a place in the Montana Cowboy Hall of Fame and Western Heritage Center.
Montana's nativity dates to April 1950 when the MHS Board of Trustees decided that a "living magazine" ought to be published. With its first issue in 1951, the magazine carried the motto "to preserve, to publish, and to promote interest in the history of Montana."
The cover of that first January issue in 1951 reflected Montana's timber resources with a wood-grain cover. In like manner, the April cover drew attention to the sheep-raising industry, July the cattle industry, and October the mining industry. Some of these earlier issues have been known to sell for $100–$250 each in today's market!
For 60 years since those first issues were published, Montana has carried on what those folks set out to do. The magazine contains articles that showcase the people, places, and events that shaped our state and the western region. Today, Montana circulates to nearly 10,000 Montana Historical Society members and newsstand customers. Because it publishes more than just Montana history, it's also a membership benefit for those who belong to the Western History Association, currently based in St. Louis. Many Montana readers take pride in owning complete sets.
Four issues a year keep readers current on issues, controversies, and new discoveries involving the history and future of Montana and the West. Articles are peer reviewed to ensure accuracy; and the magazine is used around the world by educators, authors, filmmakers, genealogists, and researchers in almost every field imaginable. Each issue of Montana is illustrated with historical maps, drawings, and photographs—some from the Society's own archives, others from any number of public and private sources. In addition to the fascinating articles, the magazine features book and movie reviews, commentaries, Montana episodes, and a limited amount of advertising confined to rare and new books, art objects, and other products and events appealing to our readers' interests in Western history.
Today, the magazine staff continues to find ways to make Montana more accessible. The MHS web site offers a free searchable index online, and the magazine is available online at hundreds of libraries and throughout the world on JSTOR (journal storage).
Montana's contributions over the years have been recognized by a growing list of awards from such organizations as the Mountain-Plains Museums Association, National Cowboy Museum and Western Heritage Center, Western Writers of America, Westerners International, Wild West History Association, Forest History Society, Army History Foundation, Wyoming Historical Society, and Envirotech.