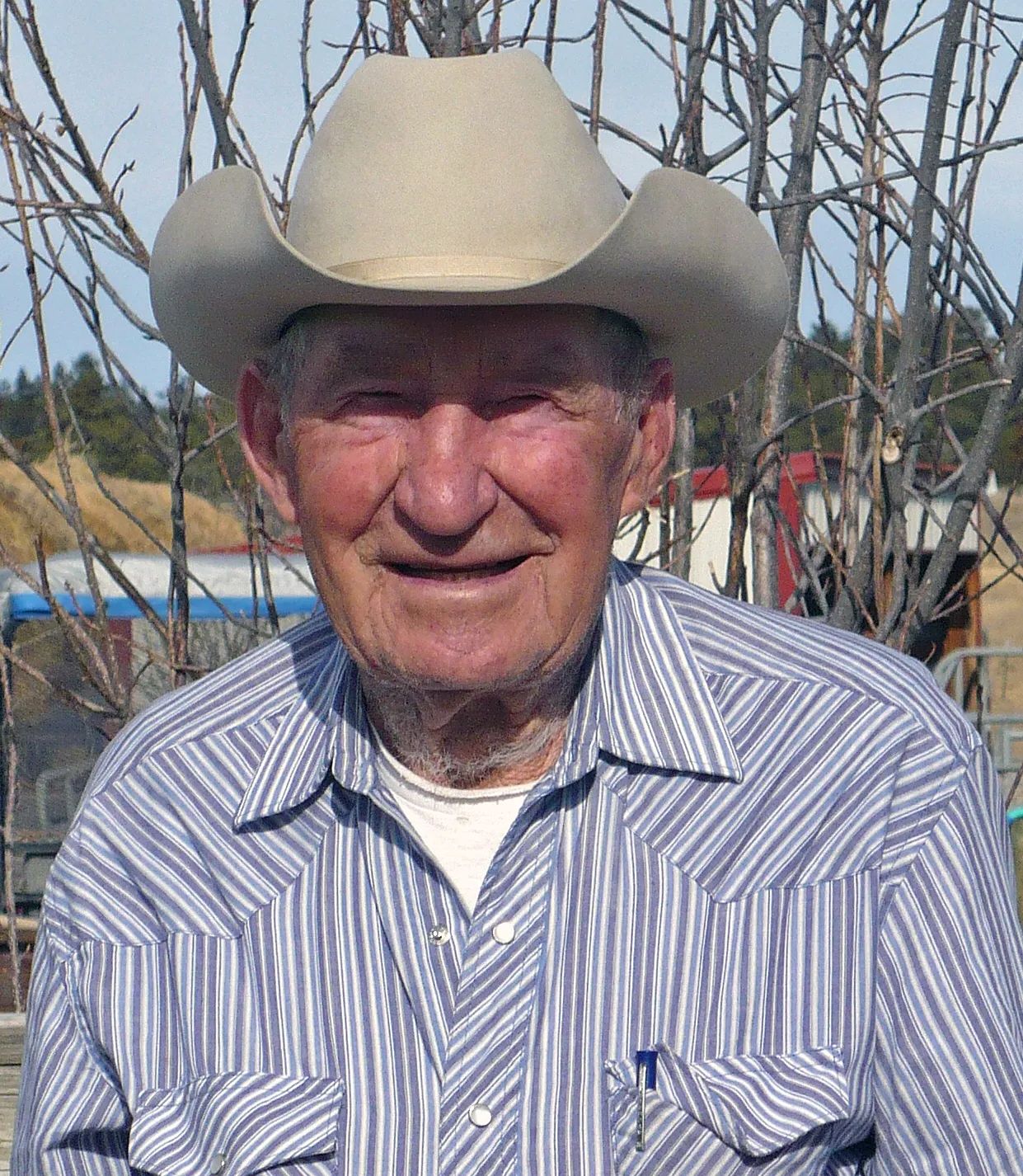 2013 LIVING INDUCTEE DISTRICT 7
Peter Christian "Pete" Harms (1918-2013)
Peter Christian Harms was born May 10, 1918, in an 8'x10' shack to the German immigrant family of Peter G. Harms and Minnia (Frost) Harms in what was Musselshell County, Montana and is now Golden Valley County. Pete's two older siblings, Margaret and Charles, were born in before the Harms settled in on 160 acres they purchased for $3200 in 1916. Pete and his six younger siblings, Arthur, Isabel, Gertrude, Minnie, Jurgen, and Mary Ann were born and raised Montanans.
Pete attended small country schools in . After first attending , he attended where he completed the 8th grade. On the two mile walk each way, Pete carried his younger sister on his back tucking her feet into his pockets to keep them warm. Once, Pete and a friend played a prank and plugged the school stove pipe with a gunny sack and an old post causing the school to fill with smoke. Thelma Bakken, the teacher at that time, sent everyone home for the day. In 1932, at age fourteen, Pete joined Boy Scouts "Flying Eagles Troop" under Ryegate-area Scout Master D.J. Rorabeck. Scouts learned survival skills, tracking, and how to sustain oneself on the land—all things Pete experienced growing up in the wilds of 's big sky country.
While still living at home, Pete worked on the Harms' farm and ranch. They raised oats, barley, and winter wheat. When he was not mending fences, trapping, and tending the crops, Pete worked the livestock. They raised cattle, pigs, goats, sheep, and horses. His father bred Thoroughbreds, Quarter Horses, and Percherons. Pete naturally took to breaking horses at a young age, learning from his father and books he ordered. Eventually, he took to bronc riding in amateur rodeos and served as a pickup man on many occasions.
After elementary school, the girls of the Harms family left home to attend high school in larger towns. Pete, and the other Harms boys, began working after elementary school. At fifteen years old, and in the middle of the Great Depression, Pete left home to make his mark on the world. For a short time he worked various farms and ranches in the area, working for Elliott Quinn in the and also for Tony Berger breaking colts. He signed on with the Jensens, north of Lavina, and lambed and herded sheep. The pay was $30.00 per month plus room and board, and Pete had to furnish his own bed roll.
Pete settled working for Snyder Sheep Company herding sheep on the Crow Reservation near Pryor Creek. He was responsible for flocks as large as 2000 head. Keeping the sheep safe from coyotes and other predators was a nonstop effort. In those days, trapping was critical to ranching success. Without skilled trappers, a rancher's livelihood was at risk. Pete took to the art and further developed his skills while tending sheep.
At a young age, Pete developed a strong moral compass, likely from the deep faith his mother instilled in the children. His word and handshake were an unbreakable commitment. He was loyal and had strong work ethic. In 1938, Mr. Robert E. Bateman hired Pete as the youngest government trapper, for the United States Department of the Interior Fish and Wildlife Service, at the time. He was only twenty years old and the job was a testament to Pete's early maturity. Mr. Bateman dropped Pete, two horses, saddle and tack, bedroll, and a couple of pots and pans in the Bison Range near Ronan, Montana. He worked 365 days a year trapping coyotes and other predatory animals and rodents for the government and earning $90 per month and three cents per mile.
While working as a trapper, Pete began building his own life in Ronan. He acquired some cattle of his own, along with other material possessions, intent on becoming a rancher. Then in 1942, he was called into service by Uncle Sam. He sold his cattle and all his belongings and left Ronan to join the military. In an unexpected twist of fate, Pete was rejected from the military. With no job, no cattle, and no possessions, Pete started over in his dream of becoming a rancher.
Pete fell back on his trapping skills and worked setting lines in and surrounding areas. He eventually landed in a line camp owned by Leo Cremer near Big Timber. Cremer was a Montana Senator and rodeo producer. His first winter at the Cremer's produced a major snow storm that stranded a flock of sheep. The snow was too deep for the hay wagon. Pete suggested using the tarp he used for bedding as a solution. Mr. Cremer and Pete each pulled one corner of the tarp behind their horses, creating a sled for the hay. The two men drug the makeshift sled miles into the sheep. Realizing Pete likely saved his herd, Mr. Cremer invited Pete to move into the bunkhouse from the line camp.
After a time with the Cremer's, Pete was back on his feet. Mr. Cremer leased him some land to get started and Pete put his heart into building his own ranch. He raised registered cattle and continued breaking horses. He worked as a farrier for Mr. Cremer, built pole corrals on the Gibson and Medley ranches, fed rodeo bulls in the winter, and generally took any work that helped him get closer to his dream. Mostly a solitary man, he often put up hay on his own, impressing visiting nephews who came for short stays.
Pete never hesitated to do whatever had to be done. One particularly bad winter, Pete had herds miles apart. He would feed his cattle at one place, and then saddle up with a bedroll and canned food in his pockets, riding to the other location to feed and spend the night sleeping in an old granary. The next morning he would feed that bunch and ride back to the first location and repeat for weeks on end.
Pete purchased a property called the "Wildcat" from his older brother. The land and one room log cabin were located near Big Timber. This was his home in the early 50s. When he was able, he bought a frame house and a barn; this new place became his ranching headquarters. He eventually switched to commercial cattle breeding. Pete finally accomplished his dream of being a successful cattle rancher. Pete was married for a short time in the late 1970s and 1980s.
Pete was one of 93 wranglers participating in the 1989 Montana Centennial Cattle Drive. It took six days to drive the 3,000 head of cattle from Roundup to . He is mentioned in the book "EPIC TRAILS—Endless Tracks Across Centuries" by Conrad "Connie" Cox and Dr. Jim Scott. The cattle drive included 3,500 horses and mules. It was surely the largest cattle drive Pete ever participated in. He was seventy-one at the time.
Pete kept working well into his 80's. In 1998, he broke an arm and lost a lot of blood in a ranch accident, but it did not slow him down. Pete was touched by the one and only birthday party in his life. His family threw a celebration in honor of his 80th birthday, renting the Legion in Big Timber. The party décor was work gloves and bandanas, symbolic of the man Pete was—a hardworking, multi-talented, independent, and classic Montana cowboy. Pete cooked for himself, and never left camp with dirty dishes, or his bed unmade. Two forest fires nearly destroyed his ranch. The 2003 fire came within a half mile of ranch buildings, he was ordered to evacuate. He moved cattle just before the pasture grass burned, saving the herd.
Still ranching at 86 years old, Pete was trotting across a pasture when his horse stumbled and rolled over him. He broke his neck, nose, and cheek bone but refused to be taken to the hospital by ambulance. He referred to the halo he wore as his "horns." He bounced back from a hip break in 2011. That is Pete—tough as a boot and gentle as a baby. He knows his way around a horse, a ranch, a farm, a rodeo, and a trap line. Trappers like Pete are the unsung heroes of western ranchers, ensuring the protection of their livelihood. Pete is now retired from ranching and resides in Big Timber, Montana.
References:
United States Department of the Interior Fish and Wildlife Service & Montana Livestock Commission Works Progress Administration Extension Service Grazing Service and Forest Service
Epic Trails: Endless Tracks Across Centuries by Conrad "Connie" Cox & Dr. Jim Scott, Published by Silver Sage Impressions, 1991
Personal interview