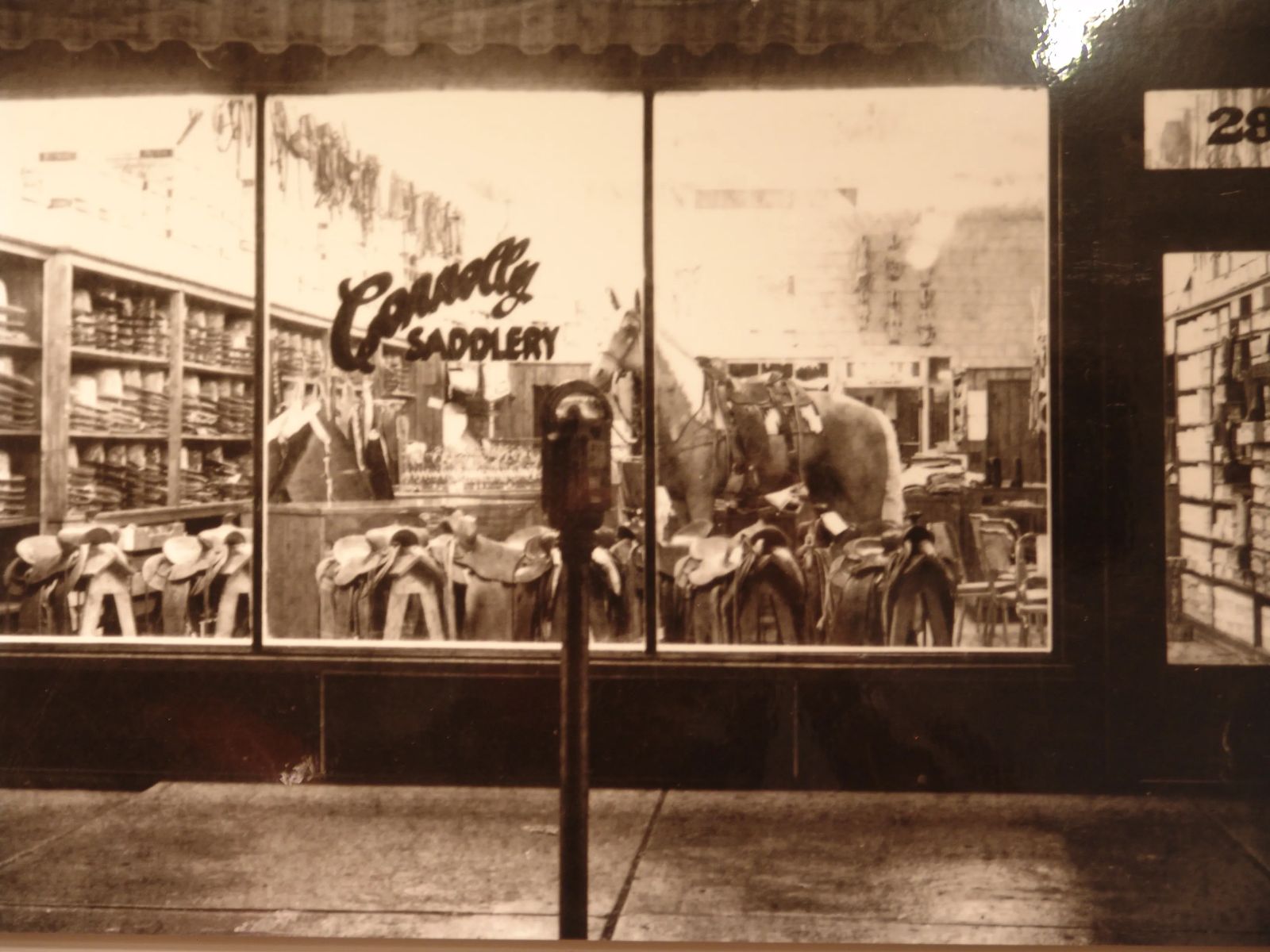 2103 LEGACY INDUCTEE DISTRICT 7
Connelly Saddlery (Est. 1912)
The early Montana cowboys could not have endured without good stock saddles, which were one of the tools for surviving the harsh lifestyle. Montana, a state with notably capable cowboys, by necessity had to have at least one saddle and horse harness shop with skillful craftsman of that trade. Although Connolly Brothers were not the first in Montana, they arrived at an opportune time to be in demand for their leather-working abilities.
In 1870, John Bradley Connolly set foot on U. S. soil, fresh from the Emerald Isle. He was born of a long line of Irish saddle and harness makers, and he had learned both trades from his father and associated kin in County Down, Ireland. John, amateur craftsman, found a job in New Jersey making patent-leather horse collars, but he soon moved to Baltimore, where he continued to make horse collars. Later, he moved to Chicago and bought his own harness shop, specializing in custom-made collars.
John married and he and his wife had six children. The boys: Jack, Andy, and Pat worked as apprentices under their father's tutelage. Jack's specialty was saddle making, but Andy and Pat liked both saddle and harness making.
In 1907, the three brothers opened the Connolly Brothers Horse Collar and Harness Shop in Butte, Montana. The Butte region did not have the big cow outfits of other areas, but there was some saddle trade and the extensive freighting businesses of the mines required a lot of harness and horse collars. From this store he Connolly stock saddle became the most-used stock saddle in Big Sky Country.
In 1912 Jack, the saddle maker, and Pat, the harness maker, moved to Billings, Montana, opening the second Connolly Brothers shop. Andy had remained at the Butte harness shop. In 1919 they purchased lots at 2911 Montana Avenue and remained there until the business was sold and moved in 2000 to 24th Street West.
Many fair-sized spreads were located between the Judith and Musselshell rivers to the north, and the Bighorn and Powder rivers in Wyoming. Connolly saddles of Billings became very popular among cowboys of that region, along with other noted saddle makers who worked in the West, including Miles City's Al Furstnow and Charles E. Coggshall. There was demand for perfection in design and quality of construction, which Connolly Saddlery accomplished.
The Connolly Brothers had such great craftsmanship that within a few years their saddles appeared in roundup camps from the Wind River to Saskatchewan. Perhaps Will James was one of the most noted owners of Connolly saddles. He bought his first one, secondhand in southern Alberta, and his last one when he started his ranch on the Crow Reservation at Pryor, Montana, and rode it until his death in 1942.
When the Connolly Brothers came to Billings, the swell-fork saddle was a new style the Western cowboys were riding. These saddles offered a little more security than the old slick-forks. Jack Connolly designed a rodeo bronc-rider saddle that came quite close to the Association saddle. This saddle became part of the Connolly stock-in-trade. Later, Jack also developed the Free Wheeler style stirrup leathers, which did not go over the bars of the saddle, but hung on the rigging, giving the rider more freedom. This also proved to be a successful concept.
With the Butte and Billings shops getting so well-established, John B. Connolly sold his business in Minneapolis and moved to Montana. He spent time in both shops working on saddles and harness until his death at age 86.
About the beginning of World War I, Andy closed the Butte business and opened Connolly Saddlery in Klamath Falls, Oregon. Knowing the area had saddle-making competition, he implemented modifications of several saddle styles, which seemed to please a number of cowboys from widespread areas giving his saddles a good reputation. Andy retired after 40 years in Klamath Falls.
Meanwhile, from 1912 to 1929, Pat and Jack worked together in Billings creating steady growth of the Connolly Brothers Saddlery in Billings. Like most other saddle shops, they printed catalogs, which were mailed to distant cowboys, and these saddle catalogs became bunkhouse Bibles for many widely scattered outfits. At those isolated ranches, one could always find a catalog from Connolly Brothers Saddlery in Billings.
Then in 1929 Jack Connolly decided that two widely separated shops would function better, with changing business conditions. Pat was capable of handling the Billings shop. He had a reputation for fair dealings, great consideration for working ranchers, and loyalty to his employees, which assured him the best help available. Jack moved to Livingston and opened Jack Connolly Saddlery. The venture was quite successful, and with the Connolly name having been associated with quality work, even the depression years did not harm the business. Jack remained in Livingston until retiring when he sold out to Miles City Saddlery in 1946.
When Jack established the Livingston shop, the Billings shop was renamed Pat Connolly Saddlery. In 1937, Pat's son, John, joined him and in 1940 daughter Alice, "Allie," also began working there. During the early 1940s Pat's health forced him to retire and John took over the business end. Allie helped with many phases in the shop and was a very personable salesclerk, liked by all. In 1946, son-in-law, Chuck Harris, husband of daughter Catherine, became the store's main saddle maker. The business had expanded to selling jeans, hats, boots, and other clothing and cowboy gear. In 1951 the shop incorporated and was renamed Connolly Saddlery Company. They had several noted, faithful, long-term employees. After Allie and Chuck retired in 1982, John sold the business to his son, Pat. The saddle shop area was utilized for several years by two succeeding saddle makers. For many years Connolly Saddlery was a great "meet-up location" when ranch families were in town shopping. It was a good friendly place to stop by to make a purchase and to chat with the Connolly's.
Dave and Barb Wagner, both ranch-raised Montana natives with professional rodeo and accomplished horsemanship background, purchased Connolly Saddlery Company August 15, 1995. The passage of ownership was a process linked by mutual respect for each other as the heritage was passed from one family to the other. The meeting-place tradition continued, even after the move from the shop's 88-year location on Montana Avenue to 485 South 24th Street West in 2000. In 2012, to commemorate Connolly's 100-year anniversary, and after a 34-year absence, the Wagner's reintroduced the hand-crafted, built-to-use cowboy's saddle. The future of Connolly Saddlery remains remarkably similar to its past. In the words of Dave Wagner, "Being a good neighbor is valuable in the West. Connolly Saddlery understands the responsibility, it takes to meet the needs of today, in the same tradition that they did when the saddlery was founded over 100 years ago."
References:
They Saddled the West, by Lee M. Rice and Glenn R. Vernam, Published 1982
Billings Gazette, September 26, 1997, August 4, 2000, June 16, 1982, June 22, 1982, January 10, 2008
Agri-News, June 13, 2003.
Dave and Barb Wagner Connolly Saddlery – Western Wear & Tack, 2012, 2013.
Alice "Allie" Connolly