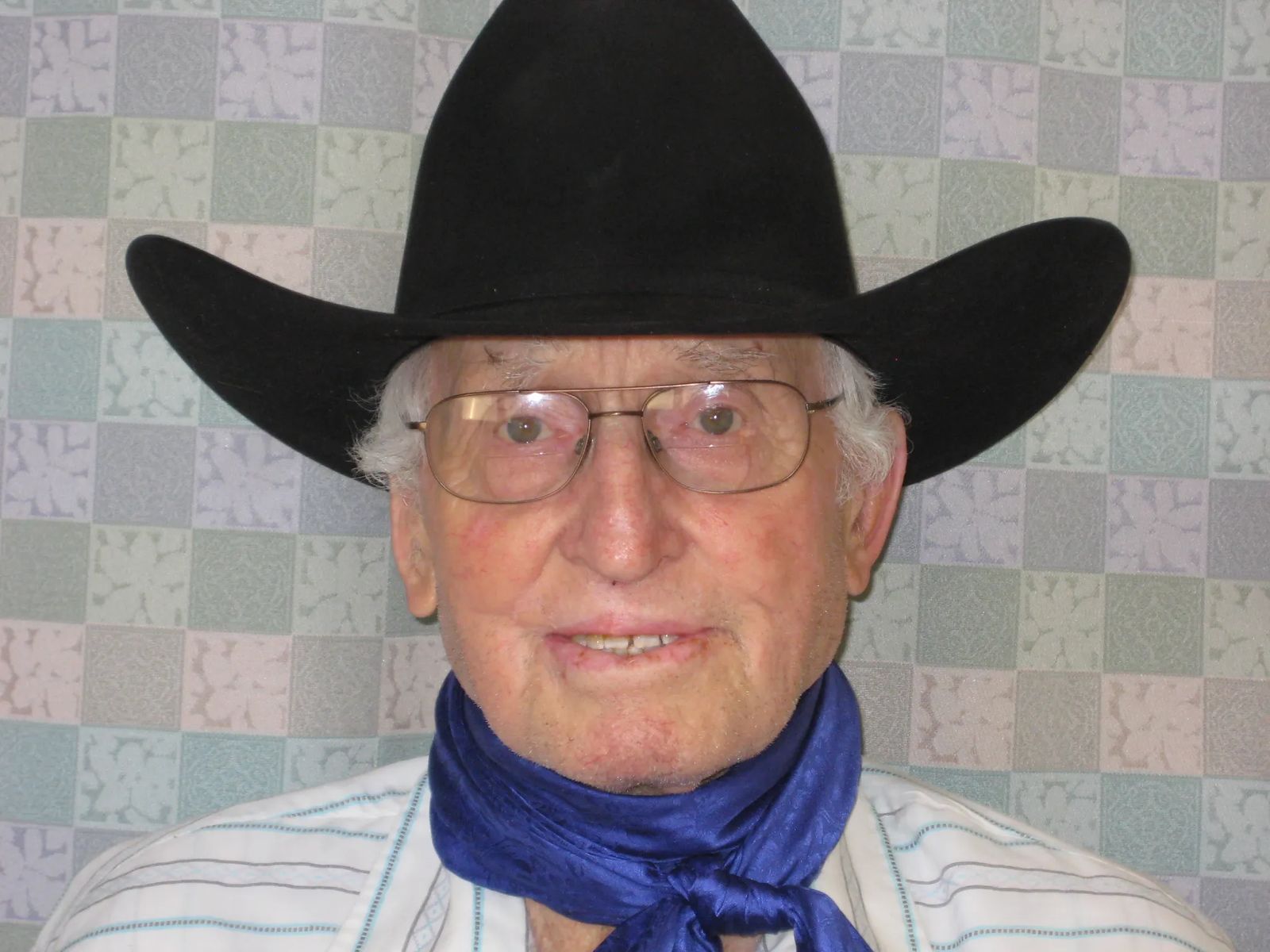 2013 Legacy INDUCTEE DISTRICT 6
George W. Griemsman (1924-2017)
George W. Griemsman was born February 22, 1924, at Roundup, Montana. His parents Albert and Angeline (Harms) Griemsman raised four boys and four girls. During his early years, George attended schools at Goulding Creek, Klein and Horsethief Creek. He vividly remembers living with his family on Horsethief Creek during the cold winter of 1935-36.
At an early age, George began working during the summer months on ranches in the Roundup area. Some of his employers included the Jimmy Robson, Jack Jarrett and Tony Rouch ranches. At age 19 George traveled to Parkman, Wyoming and worked for the Birdhead Ranch. George then worked for the N Bar Ranch under Jack Melborne.
In July 1944 George entered the armed services where he found duty in the South Pacific. George served as a light machine gunner and combat infantryman. His distinguished service resulted in an Army of Occupation Medal (Japan), a Philippine Liberation Service Medal, one Bronze Service Star, an Asiatic-Pacific Service Medal, a Good Conduct Medal and a Victory Medal.
After the service, George returned to the N Bar Ranch to work again for Jack Melborne. He later went back to work at Parkman, Wyoming, for the Gill Cattle Company which was earlier known as the Birdhead Ranch.
George developed, at an early age an intense ability to interact with livestock. His many mounts through the years have shown George's inherent ability to train and become one with his horse. He is always gentle and kind. "A good horse is developed not purchased," he says. The art of working cattle is another of George's great assets. While teaching his children and grandchildren, his motto was "Take it slow, quiet and precise." George also says, "When working with cattle you have to think like a cow."
In 1948 George married Frances Malloy in Roundup. They began their married life working for Clarence Songer on the Pronghorn Ranch. George later worked for W. B. Johnson and H. N. Ekern in the foothills of the Little Snowies. In July 1953 George took over management of the Johnson Ekern Ranch for the absentee owners. In 1971 Walt and Shirley Taylor purchased the Johnson Ekern Ranch and renamed it the Snowy Mountain Ranch. George managed the Snowy Mountain Ranch until it was sold in the fall of 1978. During the period between 1948 and 1978, George and Frances raised three children and incurred a lifetime of precious memories.
Not ready to retire, George and Frances traveled to the Big Hole Country where George managed the Beaverhead Partnership Ranch. After a few years away, George and Frances decided to return to their home in Roundup to be closer to their family of three children, eight grandchildren, and nine great-grandchildren.
As George continued his love of ranching, 1989 found him honored to be a drover in the Great Centennial Cattle Drive. George was riding a Montana Territorial Saddle which has been and continues to remain in the family's possession.
Not willing to hang up his saddle and spurs or stable his horses, George, at the age of 89, continues to work part-time in the livestock business for local-area ranchers.