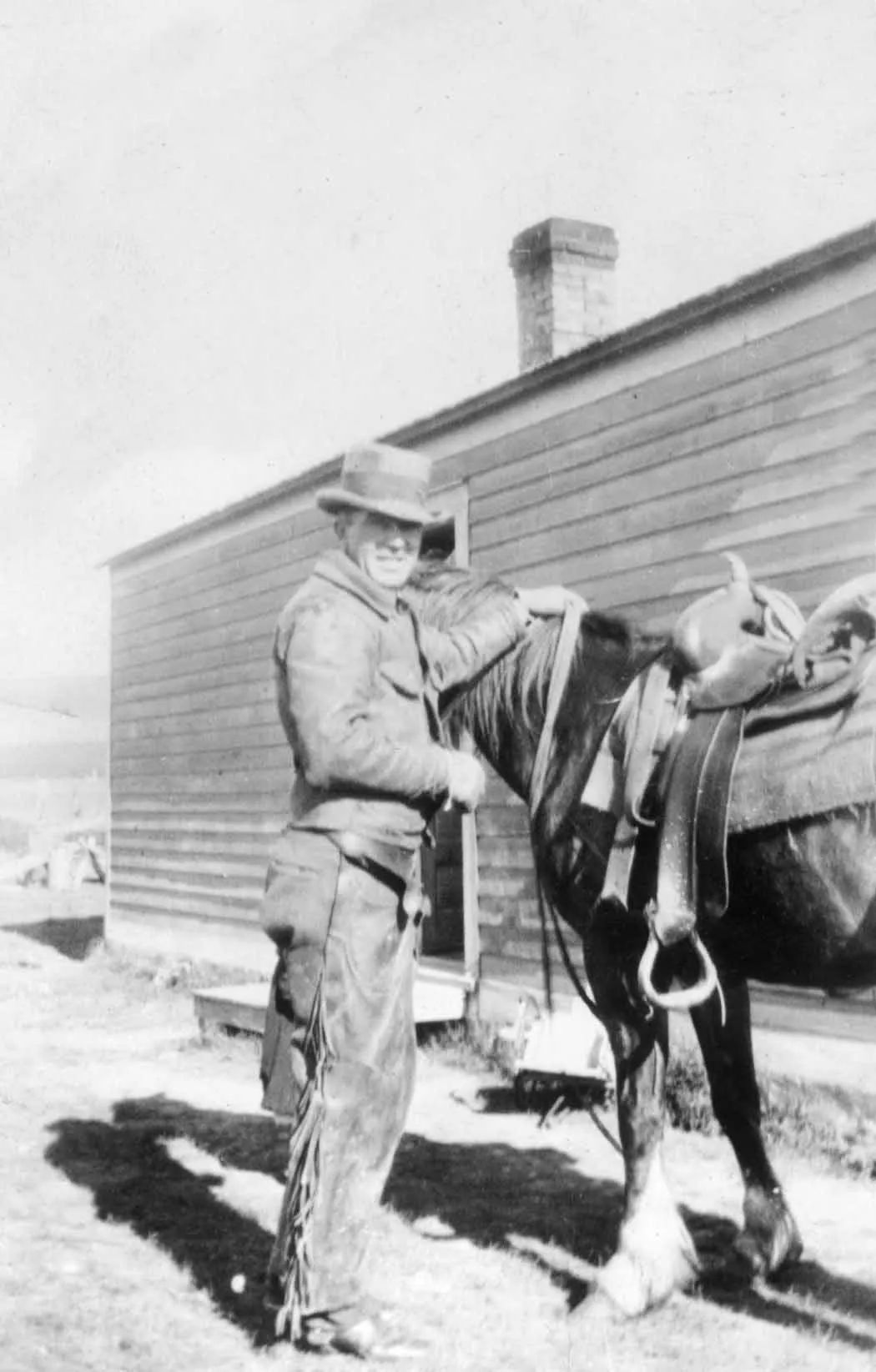 2013 LEGACY INDUCTEE DISTRICT 4
Elmer Weaver (1895-1952)
Elmer Weaver was born August 7, 1895, to William and Phoebe (Thornber) Weaver in Chinook, Montana. Elmer grew up around horses, and horses and ranching proved to be his major passions throughout life.
Elmer's father owned a saloon in Chinook and was a part of Montana's race horse community. His father and uncle both cowboyed in Montana in the open range days. Both rode with Charlie Russell and became good friends. Elmer visited Charlie several times when Charlie was living in Great Falls, Montana. At the age of 16, Elmer was riding as many as 19 horses at a time for the public. His two older sisters also broke horses, and Elmer would handle the money in their business venture. At the age of 17, Elmer moved to Geraldine, Montana and bought a livery stable. Over the next few years he traded horses, purchased a cattle herd, and bought and leased land in the area for his cattle.
In 1914, at the age of 18, Elmer overnighted a group of horses he was trailing to Chinook from Geraldine at the ranch of Nels Hokanson. Hokanson's ranch was about halfway between the two towns and beyond the Missouri River, which Elmer had to cross with his herd of loose horses. Hokanson later told the story of how Elmer roped a horse the next morning before heading out. Elmer's hired man Frank Smith eared the horse down while Elmer saddled him and got on. The horse blew up and bucked around the corral. After the horse settled down, Elmer turned to Hokanson and said, "I guess I am ready to go." Hokanson let the rest of the horses out of the corral and Elmer and Frank Smith trailed them the rest of the way to Chinook. When Elmer reached Chinook, his horse was broke. According to family and Hokanson, Elmer used this technique many times and would break the horses he was trailing as he went along. Elmer made several trips between Chinook and Geraldine over the next few years. He also trailed broke horses to Canada and traded them for unbroken horses which he would bring back to the United States to break and sell.
Along with breaking horses to ride, he also trained them to drive carts and buggies or to pull plows and work. Elmer smoked a pipe every day of his life, and one time when he was starting a driving team the horses ran off with him. Elmer worked so hard at getting them stopped that he bit clean through the stem of his pipe.
April 26, 1916, Elmer married Vona May Thomas in Fort Benton, Montana. Vona had ridden the train out from Missouri with her mother and brothers in the summer of 1915. Four sons were born to Elmer and Vona: Roy in 1917, Howard in 1923, Earl in 1927, and Arthur in 1929.
The year 1925 proved to be monumental for Elmer and his family. His livery stable in Geraldine burned to the ground. He then heard of a ranch for sale in the Bears Paw Mountains close to the ranch of Nels Hokanson, the same man whom Elmer had overnighted horses with 10 years earlier. Elmer had always liked the country over there, so he sold what land he had acquired and took his family across the Missouri River to the old Murphy Ranch at Warrick, Montana. Elmer handled his horses and cows, and Vona drove the team with her two little boys in tow.
Elmer and Vona worked hard to put their ranch together. The 1930s were hard years for everyone, and the ranching community was no exception. In the fall of 1936, cows and calves were selling for $35 a pair. Since no one had any feed for cattle, Elmer was able to purchase several of these pairs. Then, along with his other cows, Elmer trailed the entire herd to Chinook, 70 miles away, and wintered them on beet tops. In the spring of 1937, Elmer sold his dry cows for $70 each, which was double the amount he had paid for the pairs. Because of this business decision, Elmer was able to hold his cow herd together during the dry years.
Over the years, Elmer bought several local ranches and his land ownership grew. In 1942, Elmer brought the first tractor to the neighborhood. In 1946, He bought a place outside of Chinook with hay ground. By this time Elmer had made his reputation as a good stockman, and he bought this place to winter his calves. Elmer and his sons would wean the calves at the home place and then trail them to Chinook to winter. They would also trail all the yearlings and dry cows they were going to sell. Elmer would then ride the train to St. Paul, Minnesota, and sell his cattle, like a number of ranchers in the Bears Paw Mountains did.
When Elmer passed away suddenly June 16, 1952, he had succeeded in building up a large ranch with hard work and determination. His purchases around the country also made it possible for each of his four sons to own their own place, each of them ranching. He made a notable western heritage contribution by being a good businessman, horseman, and cattleman. He was able to do all these things even though he left home at a young age with little in his pocket. It is men like Elmer, who left a legacy by settling and improving the land that made it possible for those who came after to continue in the ranching lifestyle.