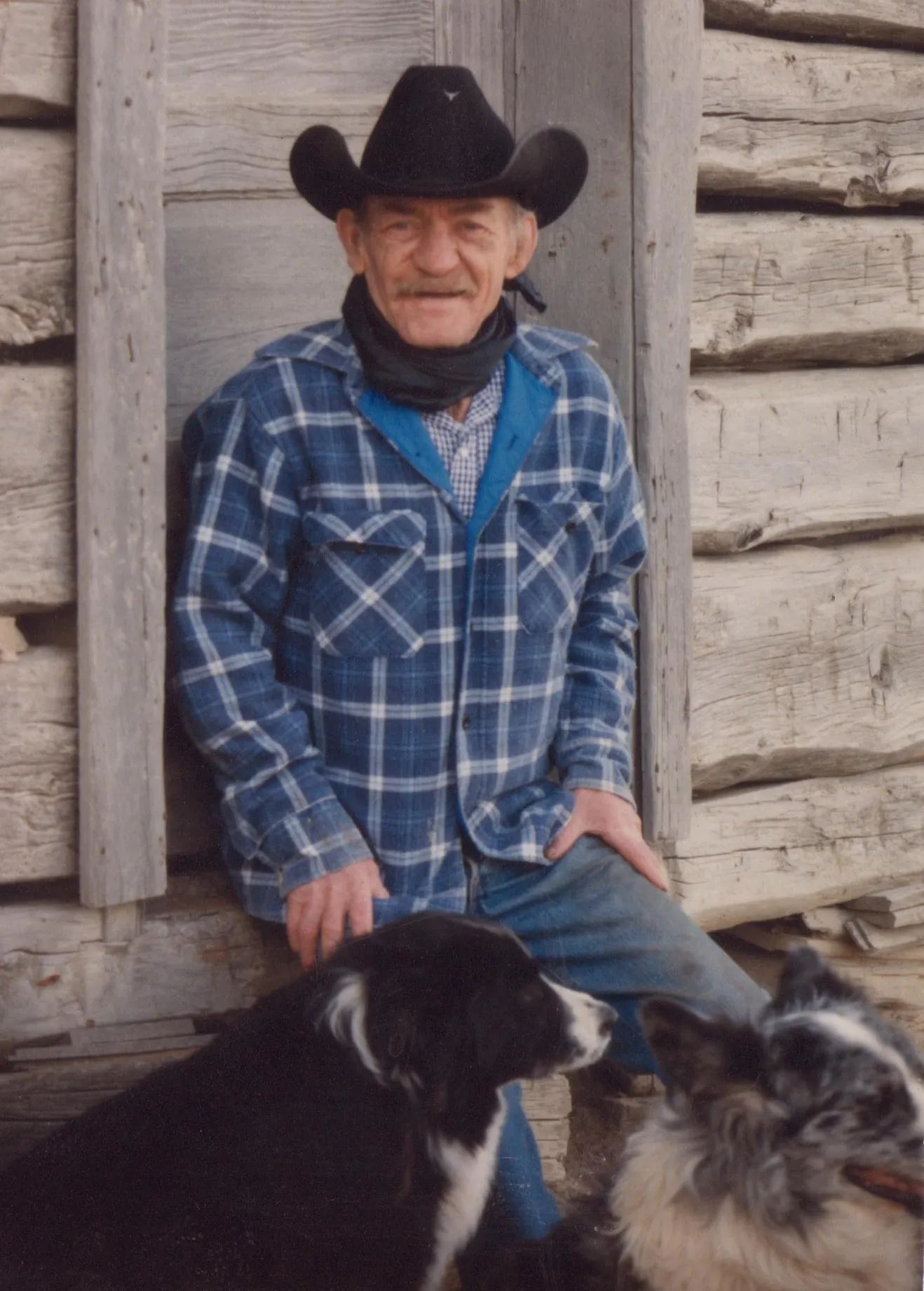 2013 LEGACY INDUCTEE DISTRICT 3
John Henry Haughian (1909-1993)
John Henry Haughian, known as Henry, was born February 24, 1909, to Irish immigrants, Dan and Susan Quinn Haughian. He was the third oldest of ten children. Their ranch was located north of Miles City on the head of Custer Creek near Little Sheep Mountain. He and his family worked hard to hold the ranch together, especially after his father passed away of cancer in 1931. Henry had many stories of moving cattle sheep and horses throughout the state in pursuit of leases for pasture. Even though it was a hardship, education was also very important to the family. He told of taking his younger siblings to school pulling them with a team to various places near the ranch.
He survived many accidents during his life. One major accident occurred when he was haying with a team. The young team spooked and ran away, and he was thrown off the buck rake. When his brothers Dan and Jerome got the team under control, they realized the rake had pierced Henry's neck. They packed dirt on the wound to slow the bleeding, and got him to the hospital. By the time they arrived, he had blood pooling in his boot. Henry got lucky. The doctors were amazed that the rake missed his jugular and his windpipe. There was residual scar tissue for the rest of his life, which just added to his character.
A few years later, in 1951, his saddle horse fell on him while he was out chasing horses. He was unable to get up, but the horse went to the top of a hill and was circling when a Basque sheepherder discovered it. Cassie, the herder, knew something was not right, so he went to tell Henry's wife, Lorraine, that something was amiss. They went looking for Henry and found him badly injured, so they loaded him on a mattress in the back of the pick up to take him to town. He sustained several breaks in his pelvis; the doctors said he would not ride horse back again. He recovered, and rode "another million miles."
Henry's mother, Susan, wanted her sons to support the country during WWII. She did not appoint, but rather left the decision to her sons as to who would enlist in the service. The five of them decided that Henry, Leo, and Nander would go. Henry left Terry August 14, 1942, with his brother in-law Charles Roos, Gayle Taylor, Darold Bennett, Ronald McMillan, Frank Fjermastad, and Clarence Crystal. He first went to Fort Bliss in El Paso, Texas; to join the 1st Calvary 8th Regiment which was the last mounted Calvary. Henry was in conflict many times with the training of the horses since it was not the "ranch" way, and he did not always think it was compassionate.
Being in the service was a significant part of his life. He was discharged December 16, 1945, after 30 months of Foreign Service. He participated in the battles of Bismark Archipelaga, New Guinea, Southern Philippines, and in the Luzon Campaigns. He was awarded the Good Conduct medal, Asiatic Pacific service medal, Purple Heart medal with a bronze Oak Leaf cluster, Philippine Liberation medal with one Bronze star and the Victory medal. He also had a sharpshooter Badge with Carbine Bar and an Expert badge with Rifle and Pistol bars.
Henry's mother received word from the Army and then received a letter from Henry that he had been wounded for the second time. Henry wrote, "When the Japs got me, they stripped me, took all my possessions, even my pocketbook. I guess they like souvenirs too. I played dead until the enemy left, and then was rescued by a fellow soldier who hid and then came back for me." He also wrote that he and Leo had arranged a meeting in the Philippines and enjoyed a short reunion there. He enjoyed his R & R time while he was in the service by going to Australia, where he enjoyed some bronc riding. He placed in the International Allied World Champion Rodeo. He always said, "I showed them how it was done."
Henry was a great bronc rider here in the states as well. Among the prizes he won was a pair of spurs in Broadus, which are now owned by his eldest son. He took pride in taking his bucking horse string to local rodeos. He loved gathering them and getting them to town, especially when the family helped trail them in. He loved to watch bucking horses until his last days. He attended every Bucking Horse Sale in Miles City until he simply could not physically attend.
When Henry returned from the war, he met and married Lorraine Wood and raised four children, Lauralea, Gary, Elaine, and Dale. They resided on the home ranch at Little Sheep Mountain where they raised cattle, registered quarter horses, and sheep. He was a great stockman, caring for all his animals, but, above all, he loved the sheep and the dogs that worked them. His three favorites were Ginger, Pinto and ie. They respected him and would do almost anything he asked of them. Besides working on his own ranch, he spent time helping his brothers on their ranches and the neighboring Billing, Devlin and Reed ranches. Henry welcomed many people to the ranch, one such lad came one night and stayed two years!
Henry had quite a sense of humor, though not always appreciated. One such event was when the "boys" got ready for a dance, and then realized there was only one saddle horse in the corral. Henry said he would go bring the other horses in, but instead rode on to the dance!
He acquired the gift of Irish story telling and many of his stories live on today through the fourth generation. One is the "little man on a green bike who lives in the badlands". The kids watch for him as they travel through the winding road. He also created the "side hill dodgers" and the "one-eyed rooster." There are many other stories his grandchildren, nieces, and nephews retell in true Henry fashion.
In the book They Came to Montana, his nephew Dennis Haughian, described Henry: "How do you describe a meadowlark chirp or the smell of dust after a sprinkle? If you know how, you know how to describe 'Hank.' Darned if I know what it is about him, just feels better being with him and listening to his palaver. I guess he might be the best stockman I know when it comes to handling horses, cattle, or sheep easy."
John Henry Haughian passed away July 25, 1993.
References:
Miles City Star
Terry Tribune
They Came to Montana
John H. Haughian discharge papers.