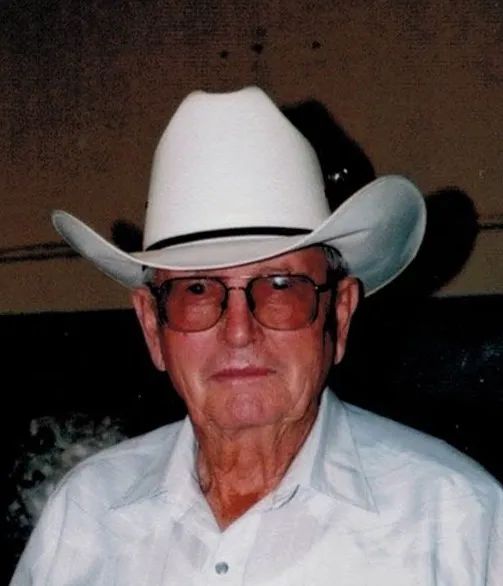 2013 Legacy INDUCTEE DISTRICT 3
Frank P. "Bob" Robinson (1918-2014)
Frank P. "Bob" Robinson was born April 13, 1918, in Douglas, Wyoming, the fifth of eight children born to George & Myrtle Robinson. When Frank P. was just a youngster he was nicknamed "Little Bob" after a neighbor. The nickname stuck and everyone has called him Bob all his life.
The Robinson family moved from Wyoming in 1937 to the Wilbur Place located near Biddle, Montana in Powder River County. With his brothers, Bob first came to the county trailing livestock. Later George Sr. and sons George Jr. & Ken moved to the Rising Sun Ranch near Malta, Montana. Of the original Robinson family, only Bob and his youngest sister are still living. The hard times of the "dirty thirties" forced Bob to quit high school. Bob developed a keen interest in livestock, especially good saddle horses during his youth. He became adapt at maneuvering the salty ones into an attitude of cooperation rather than of confrontation. Bob contends that was a necessity because he didn't want them bucking as his two brothers could stay on the rankest horses much better than he could. Bob recalls a winter day that he and his older brother, Ken, had to move a bunch of horses about forty miles. The temperature never got above -20 F, which they didn't realize until later when they found out some people traveling in a car had gotten stalled and had frozen to death in their vehicle. Ken was riding a horse that bucked every time he got on him all day and that helped warm him up. Bob was around 17 years old at that time.
Frank P. "Bob" Robinson & Virginia Rumph were married September 15, 1942. They met at a country dance at the Butte Creek School and dated two years before marrying. Bob reports that Virginia is the best wife in the world, that she has stuck with him for 71 years, and that she cleaned out a bunch of old cow-camps for the family to live in over the years.
When the U.S. got involved in World War II, Bob enlisted in the Army. Due to his interest in and ability with horses he was chosen to be one of about 20 soldiers permanently stationed at Fort Robinson, Nebraska, to train horses and mules for the army. They had up to 11,000 horses and 7,000 mules there at one time, creating a lot of excitement for soldiers. He made many lifelong friends there and stayed in contact with them over the years. Bob picked up valuable horsemanship information from the army and soldiers at Fort Robinson. Bob's captain later said of Bob that "he wasn't the best when a horse bucked, but the best to keep one from bucking." Bob has a photo taken a few years ago of one of the buildings at Ft. Robinson. The sign imprinted above the doors reads "Through these portals passed the world's finest horses." During the war, the soldiers would participate in the local rodeos around Crawford, Nebraska. Bob would participate in all the roping events. He was particularly proud of winning the wild cow milking at one rodeo. It happened that Virginia was there with their new daughter, Anita, who was sucking on a bottle of milk. The soldiers saw an opportunity for an advantage if their bottle (in their back pocket) had milk in it ahead of time so that all that was needed from the cow was the appearance of milking her. Virginia gave several of the soldiers a little milk but when Bob came for his she said, "No," that she wouldn't let her husband cheat. As luck would have it, Bob won the Wild Cow Milking in spite of having to get his milk from the cow. Bob's discharge papers, dated December of 1945, reported him as a Horse Breaker and Stable Sergeant.
After the army, Bob pursued his ambition of ranching, first working for the LO Ranch, 45 miles north of Broadus on the Mizpah Creek where he rode and broke horses for four years. He acquired a good Australian Shepherd/Border Collie cross dog that he had exceptional success training during the winter of 1949. Three more kids were born while Bob worked for the LO. Sadly, Bob & Virginia experienced the ultimate tragedy and sadness as three of their four children pre-deceased them. They lost Gordon first when he was just six, Gwynne when she was ten and Anita when she was 53. Their only remaining offspring is Dennis who lives at Lewistown. They are fortunate to have six grandchildren, 12 great grandchildren, and two great-great grandchildren some of whom participate in rodeos today.
When they left the LO, they leased "the prettiest little place in the country" 10 miles north of Hammond, Montana. where they "nearly starved to death" ranching. He raised cattle and trained horses for extra income. The Robinson family's recreation was primarily attending the local rodeos. Bob and Virginia purchased a place on Lightning Creek just across the Powder River County line in Carter County and moved there in about 1960. There he continued training horses and raising cattle. Bob had an opportunity to work with a cattle buyer, Cecil Hurley, and took advantage of that to supplement his income by buying cattle.
Bob has been active in Powder River County rodeos throughout his life. He was an original member of the Held Foundation selection committee, which honors local cowboys each year.
Bob says that the only way he could afford to rope at rodeos was to train a horse and sell it at the roping. Bob's "trained horses" are known in Montana, Wyoming, South Dakota, Nebraska, and Kansas. Through one of his army friends he got to know an especially good horse trainer in Nebraska. This man, Rolly Glouse, worked in a feedlot and trained many horses that Bob liked, bought, brought home and sold in Montana. Bob last competed in rodeos in 1990. At a Stacey Rodeo that year he won the average riding Pointer a horse he bought from Glouse for more than he wanted to pay. Bob's granddaughter, Branda rode Pointer several years later in a Broadus High School rodeo.
Since Bob has retired from riding and roping he has taken up woodworking which has included the refurbishing of some yesteryear horse-drawn buggies. Though everyone finds his woodworking beautiful, he refers to himself as a "wood butcher" rather than an "artist who works with wood".
Surgeries, time, and the knocks from some rough horses have curtailed his hands-on horse training but not his interest in horses. Bob explained his interest in horses to Joe Stuver, the owner of the Powder River Examiner newspaper in 2009. He said, "I don't work with them much anymore, and I don't get on 'em anymore, but I've got a little brown horse out here that is just as gentle as can be. He pert-near talks to me. I think everyone should have an animal."
References:
Beyond Echoing Footsteps, Powder River County History Book, Copyright 2010, Bob Robinson- from Horses to Buggies, Powder River Examiner, March 18, 2009, pgs. 623-626
Tri-State Livestock News, Saturday, November 10, 2012, by Carrie Stadheim
Information supplied by Dennis and Linda Robinson, January 2013