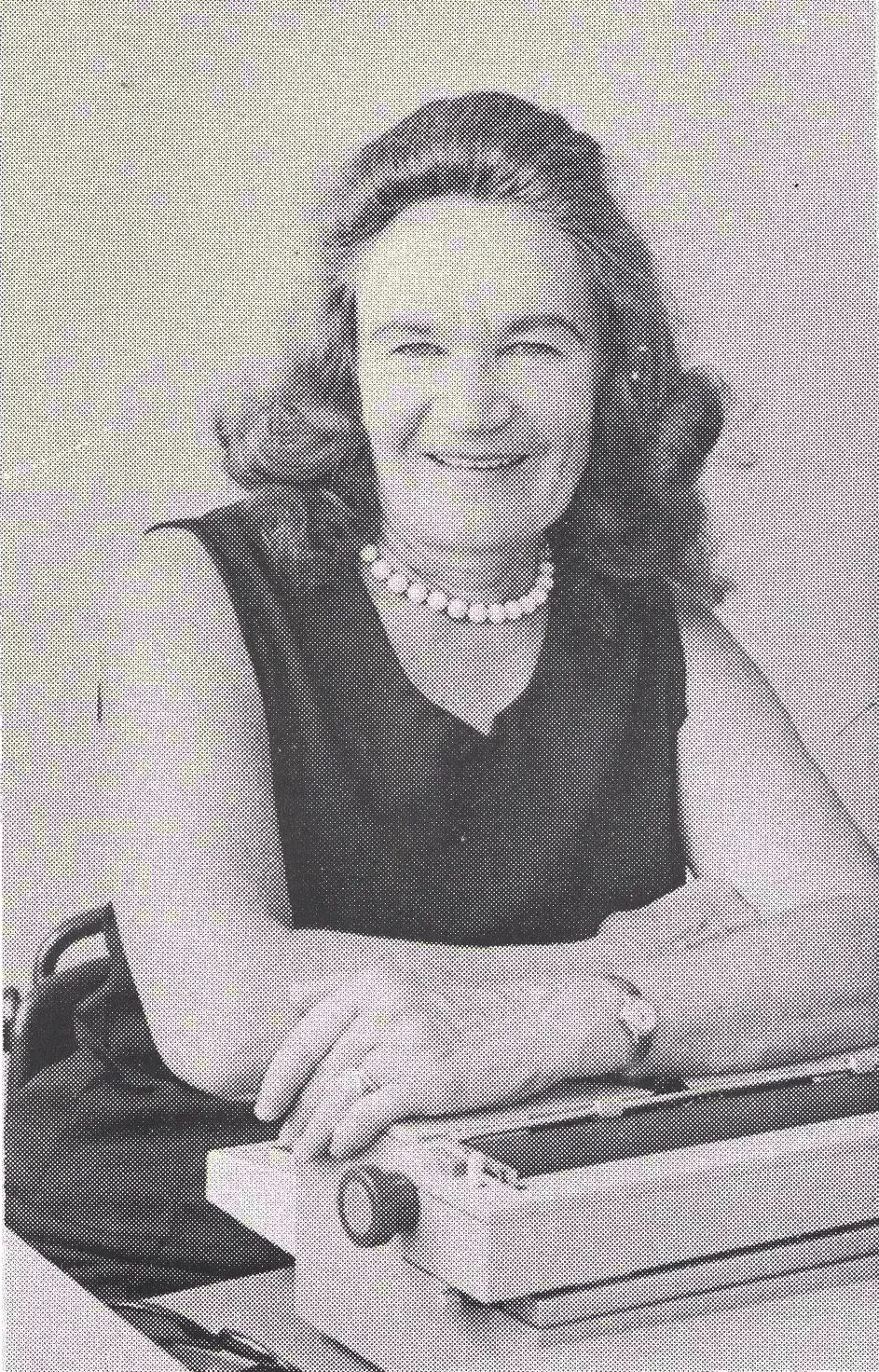 2013 LEGACY INDUCTEE DISTRICT 2
Mary Rose (Kasten) Haughian (1925-2013)
Mary Rose (Kasten) Haughian was born in 1925, to Richard A. and Mary Ellen (Dwyer) Kasten of Mildred, Montana. Richard had moved from a dairy farm in Wisconsin to Mildred in 1910. He worked several jobs around Mildred before settling on a homestead, gradually purchasing more land and raising some cattle. Mary's mother was a teacher in Chicago. She had visited cousins near Mildred and fell in love with the country, so she moved also out West and taught school for several years. After they married, they lived at several places, the last being on the banks of Fallon Creek, a mile from Mildred.
Mary and her brother Joe walked the mile to school. They rode across Fallon Creek using a hand-operated ferry that ran on a cable hung between two trees and then crossed the railroad tracks to reach school in Mildred. Their mother would keep an eye on them as far as she could see them, and then another family would watch them cross the railroad track. Mary remembers that every time she and Joe did something wrong, news travelled quickly back to her mother. When the creek was high, they would have to walk through the badlands until they reached the Mildred railroad bridge to get into town.
Life was good along Fallon Creek and in Mildred. Mary and Joe played in and around the creek; the family had a few relatives and close friends that they socialized with, and they attended local dances. Mary remembers playing with kids who had different national customs, like Mary Kotsonaros and her lunches that had real olive oil in them as her father came from Greece.
When Mary was in the fourth grade, their house burned down. Neighbors helped them build another house out of timbers from the old ice house at Whitney. Later, during the dry years, the family moved to the Kircher community, just outside of Miles City. Mary and Joe attended Kircher School and graduated from Custer County High School. She continued her education by attending Junior College in Miles City and taught at the Hartwick School, north of Miles City. She rode out with the mailman on Mondays and back on Fridays. The neighbors and parents of her students were good to her, inviting her to supper and such.
While teaching at this school, Mary met and married Daniel Haughian in 1945. Daniel's ranch was at Saugus, which was a Milwaukee railroad station on the Yellowstone River. Mary felt at home living by the railroad again; she found it to be a good means of transportation as it was a long way to either Miles City or Terry until a tramway was built across the river in 1961; she was accustomed to traveling across waterways by cable.
Mary had come from a small family setting where her mother did most of the kitchen work; therefore, she didn't have much experience cooking, much less for a big crew. Some of Dan's brothers were working and living at Saugus, so she cooked for them as well as for other hired hands. To add to her duties, she started having babies, nine in all: Cecelia, Susan, Theresa, Donna, Quinn, Nora, Jodette, Terry, and Patrick. Life was busy at Saugus, but good. Dan's other brothers got married, so Mary had sisters-in-law close by. They and neighbors attended local dances and rodeos. Mary learned in a hurry to cook and bake. Her dad had been a good gardener, so she naturally raised big gardens herself and preserved the harvest. She sewed for her girls and sometimes their cousins.
Mary was very artistic: she painted and drew, she played the piano, and she liked to write. She grew up in very historic times. People were moving west, the weather had extremes of very lush, wet years to catastrophic dry years and grasshoppers; changes in government programs and wars added to the history. Her family and Dan's family both had interesting pasts and presents. It was only natural that she would become involved with preserving this. Since Dan's father had died when Dan was so young, he had to work with the generation before him; therefore, his experiences added to Mary's knowledge of the western ways, even the times before the turn of the century.
Once her children got a little older, she started compiling histories of the Haughian family. She was scrapbooking way before it became the thing to do. She had one more challenging parallel from her younger years that she had to face: her home burned down in 1970. Seven kids were still living at home. All of their belongings went up in smoke, including all her photos and stories too. This event motivated her to compile the stories into a book. Her first book was Wheels Across Montana's Prairie, which was a collaborative effort by her and Terry community members. Other books followed. She gathered old and new recipes from family and friends and published a cookbook called Home on the Range, which also included history and photos. Because Mildred and Ismay were becoming ghost towns, she was driven to preserve the rich history of the westward railroad movements of the people who settled there; Ismay, Little Chicago and Mildred Memories were published under her name. Another publication called By the Banks of the Yellowstone told the histories of the people and places along the Milwaukee Road between Miles City and Terry. Mary assisted the organizers of the history books about the Marsh and Crow Rock neighborhoods.
They Came to Montana is a book about the combined history and genealogy of the Haughian and Billing clans. She helped compile the histories of Prairie County veterans for The War Years and Terry Does Exist. Twenty-five years after the Wheels book was published, she felt a need to update the histories of the next generations; therefore, the sequel, Wheels Keep Rolling Across Montana's Prairie, was published. Several of these books are out of print; some have been reprinted.
She is working on her next book about the Custer Creek train wreck at Saugus that happened in 1938, which was the most tragic of any railroad accident to date. Over fifty people lost their lives after the railroad bridge weakened during a spring flash flood and many cars plummeted into the fast-moving water. Mary's husband Dan brought over help to save people who were trapped in the water-filled cars. She was inspired by several survivors who, in their late 80s, have come back to the place of a childhood event that changed their lives. Maybe they lost a parent or a sibling way back then and needed closure on it. Mary recently noticed a renewed interest in this event. People have sent her written accounts of their story, original black and white photos, newspaper articles, railroad documentation, and more. She feels an obligation to document this important moment in history.
Mary Haughian has always been involved with her community. She has belonged or is currently involved in the following organizations: Catholic Church, Republican Women, Range Riders Reps, Farm Bureau, Convent Keepers, Prairie Manor, and the Prairie County Museum. She has held office or board positions in many of these organizations. Because of her health she has focused mainly on her dedication to the museum in Terry. During the open summer months, she works at least one day a week in the museum. She lights up when a visitor comes from afar to see the unique artifacts and reads about the history of eastern Montana; it keeps her young. She supports the preservation of the Evelyn Cameron photos and history. In 2010 she was selected as the Grand Marshall of the Miles City Bucking Horse Parade in recognition of her achievements as an historian. She has been interviewed by nationally known historic authors, and several of these interviews are referenced in their published works. People in Terry consider her one of Prairie County's greatest historical resources.
Excerpts from Mildred Memories, Wheels Across Montana's Prairie, Fanning the Embers