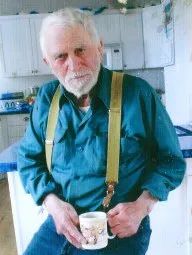 2013 LEGACY INDUCTEE DISTRICT 2
Harley Everett Abarr (1924-2012)
Harley Everett Abarr was born September 7, 1924, in Bismarck, North Dakota to Carl & Lillian (Jones) Abarr. His father, Carl Emmett Abarr was born in Redding, Iowa in 1894. After Carl's honorable discharge from the Marine Corp he married Harley's mother, a nursing student, in October of 1921. They made their home in Parshall, North Dakota. Harley had three brothers Don, Robert and Lorin and two sisters, Anna May and Edith.
Carl and Lillian moved to free land that was available for homesteading in Carbon County. 160 acres were available to those who could prove up the land and build a dwelling on the acreage. These young pioneers settled in the community of Dryhead, Montana with 65 other families in the surrounding area.
Because of the Great Depression, it was a struggle to find food for family as well as livestock. At that time, many boys did the work of men, as did the Abarr boys. They had a good pair of riding horses and work horses. At a very young age Harley learned how to saddle, ride, break and wrangle horses. He learned how to harness a work horse and repair all necessary tack. During the depression nothing was thrown away, and if boots wore out, every little scrap of leather was saved and carefully stored away for future use. Harley knew from a very young age that frugality meant survival in tough times.
Because of his early training with horses and livestock he was able to leave home as a teenager and find work as a cowboy. Harley treated all animals with great care and respect throughout his lifetime.
Harley enlisted in the United States Navy in 1943, during World War II. He was in the thick of the war at the Battle of Midway in the North Pacific Ocean serving as a gunner on a naval destroyer. Harley was injured in the war, honorably discharged and returned to Montana to the life that he loved that of a working cowboy.
Harley met the love of his life, Doris Deibel, on the Valley Dude Ranch in Cody, Wyoming. They were married on August 6, 1969. To this union one son was born, named John.
Harley worked on several different cow outfits in Montana & Wyoming during his life and kept a personal record of some of them to include:
Miller Outfit 1941-1942 25,000 Cattle
Q.B. Frayers 1942-1943 1,500 Horses, 12,000 Cattle
Pickford 1946 5,000 Cattle
Harvey Willcutt 1947 7,600 Cattle
Hoo Doo 1948-1949 4,000 Cattle
Two Dot 1950 2,000 Cattle
Miles City, MT 1951 2,000 Cattle
Antler Land Cattle Co, 1951-1954 Wyola, MT 120,000 Cattle
Arapahoe Ranch, Thermopolis, Wyoming, 10 round ups 1952-1965 4,500 Cattle
IL Elko 1957 10,000 Cattle
K4 Prescott, AZ 3,000 Cattle
Padlock Ranch Co, Dayton, WY 1952-1961
Ben Roberts, Alcova, WY 6,000 Cattle
John Graves, Sweetwater 1964 10,000 Cattle
John R. Scott, Hardin, MT 1963-1964 10,000 Cattle
LB Binion, Jordan, MT 1959-1969 2,000 Cattle, 500 Horses
Kramer Horse Ranch, Cohagen, MT 1955 2,500 Horses
Harley continued to work on ranches and feedlots into his early 80's. He retired from the Dave Dutton place, where he had worked for several calving seasons, when his health no longer allowed him.
The closing chapter of his life was written when Harley Everett Abarr died December 9, 2012, at the age of 88 at the Eastern Montana Veterans Home in Glendive, Montana.
References:
Montana & Wyoming Ranches that he worked on: Information obtained from personal written history and timeline of Harley Everett Abarr, unpublished.