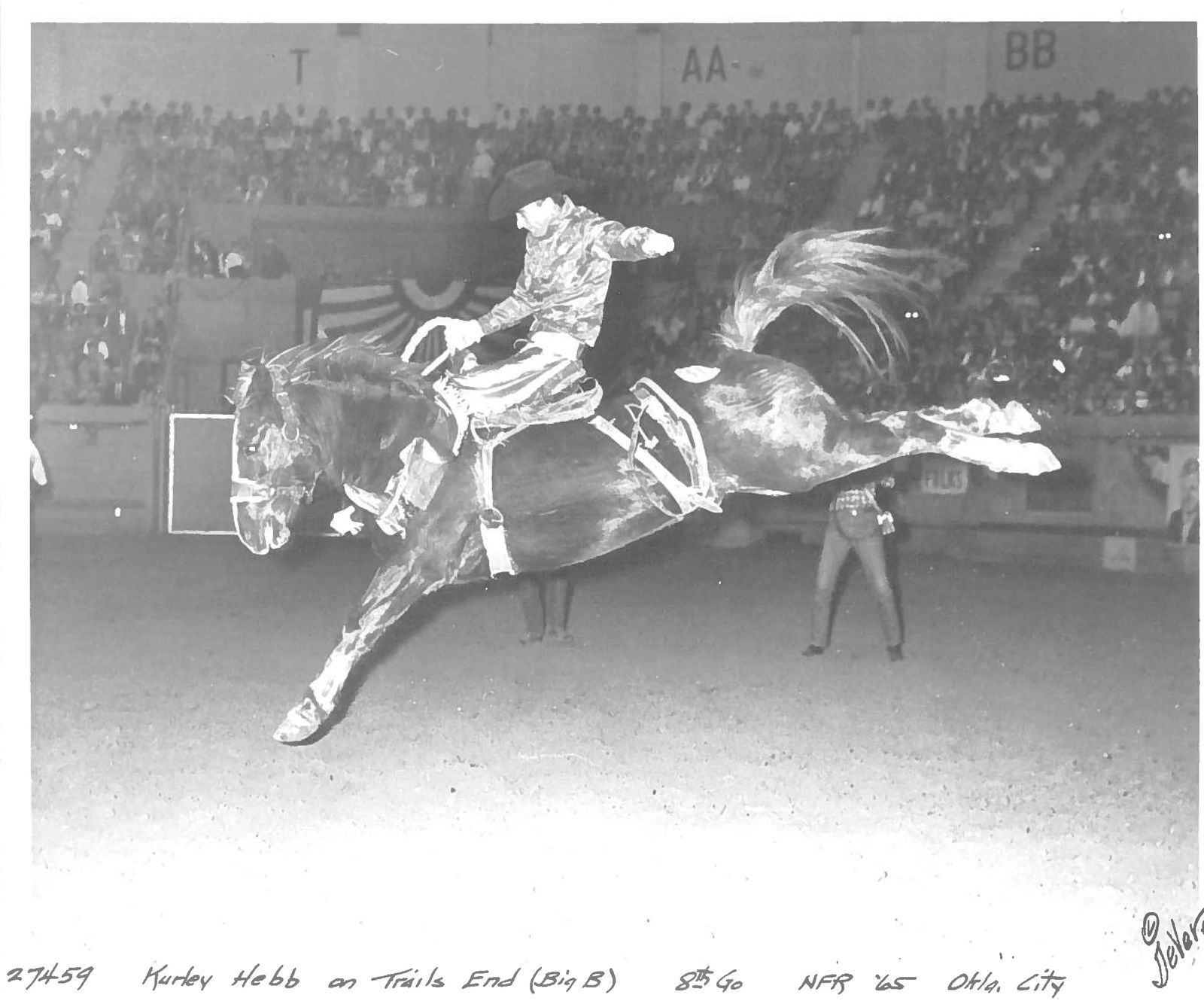 2013 LEGACY INDUCTEE DISTRICT 11
Trail's End (1952-1980)
Saddle bronc Trail's End, aka "Dexter," was foaled in 1952, in the Bitterroot Valley by Walter Sutley. Sutley sold Dexter to Selman Eldridge of Stevensville, Montana, who sold him to Oral Zumwalt of the KO Rodeo Company in Missoula, Montana, thus began an illustrious saddle bronc career for this horse.
In 1958, Dexter began to buck cowboys off. In 1959 and 1960, he was awarded the World's Top Rodeo Cowboys Association Bucking Horse. He made 11 trips to the NFR, from 1959 to 1971, and was named Best Saddle Bronc at the National Finals Rodeo in 1959, 1960, and 1961.
In his greatest season, 1959, he was ridden just four times in 13 tries, with three of those cowboys winning the silver buckle for forking the horse. But before this all came about; he had a quieter start to life.
Lynette Coller remembers that she was 5 years old when she met Dexter, while he and his dam were owned by Selman Eldridge, a sheepherder, whose place was just four miles from her family's. Her dad, Zack Bugli, who was a rancher, cowboy, and excellent horseman, leased some cow pasture where Dexter and his dam were pastured. Since the mare was dog gentle and Dexter was a nice, quiet 3-year-old, green-broke gelding, her dad once used the horses to check his cows. Her mom, Shirley, and sister, Vonnie, rode the old mare, and Lynette rode behind her dad on Dexter. They rode for a couple of hours, checking cattle.
Later on, someone got crossways with Dexter, and he became spoiled and was sent to Arlee, Montana. There, they tried to get Dexter to be a pack horse and to drag Christmas trees. Instead, he demonstrated his bucking ability.
Oral Zumwalt's friend Walter Sutley called Oral about the horse. Walter had kept track of Dexter after selling him to Eldridge. Zumwalt saw the horse when he was a 5-year-old, standing 15 hands and weighing 1,260 lbs. He was a bright sorrel, with a strip on his face and good conformation that hinted of Morgan. Oral took him to his ranch, where a college student offered to give him a try. Oral cautioned the kid to be careful, as "it might be the end of the trail for you."
This prediction came true, as the kid bit the dust in short order, and Zumwalt sent a check for $125 to Eldridge and renamed the horse Trail's End. Bugli and his daughter, Lynette, were two of a very few who ever rode the horse for more than 8 seconds. In fact, during his career he threw off most of the top contenders, including Casey Tibbs, Larry Mahan, Guy Weeks, Jim Tescher, and others.
Trail's End was known to be a lovable, big ham, which made for great rodeo showmanship. He was led in parades, and after a bucking performance, he would stand in the middle of the arena to let Oral unsaddle him. Oral said Trail's End was easy to haul and shoe, and to prove the horse's good disposition, his partner Billy Lawrence sat his small daughter, Wincie (Oral's granddaughter), on the bronc's back, and Trail's End quietly accepted having her there.
Oral considered himself very lucky to have acquired such a sensational bucking horse. Out of a thousand, there may not be even one that will show the exceptional style and class of a horse like Trail's End. They are that rare, and Oral said Trail's End was like a pot of gold.
Oral Zumwalt died in 1964, and the KO was auctioned off. Bud King and his Big Bend Rodeo partners, Ed Ring and Bill Hustell, bought Trail's End for $4,350 — the highest price paid for an animal in the history of professional rodeo at that time
Trail's End was retired from rodeo competition in 1973; however, he made an appearance at the 1976 NFR in Oklahoma City, Oklahoma. The champion bucking horse was led around the arena by George Williams, his caretaker for four years of his life. The great horse received a standing ovation and looked right at home in the spotlight.
Bud King later became sole owner of Big Bend Rodeo Company and owned Trail's End until his death, February 11, 1980. Trail's End is buried at the National Cowboy & Western Heritage Museum in Oklahoma City.
Trail's End has been inducted into the Pro Rodeo Hall of Fame in Colorado Springs, Colorado.
Wes Mapston, former PRCA saddle bronc rider from Arlee, said of Trail's End, "He was awfully fast. He was so snappy, if you got out of time with him, he had you!"
But despite all that impressive bucking ability, Oral and Mae Zumwalt said the saddle bronc was "one of the family."
Trail's End is a true Montana legend. Foaled in the beautiful Bitterroot Valley, he performed at nearly every rodeo grounds across Montana and was a champion saddle bronc, winning top honors at the NFR in Oklahoma City.
Resources: Western Horseman Magazine Trail's End and Oral Zumwalt by Helen Clark, November 1961; Missoulian: Hidden gem: 1959 Bucking Horse of the Year Trail's End was previously a packhorse by Johnna Espinoza, Pro Rodeo Sports News July 12, 2008