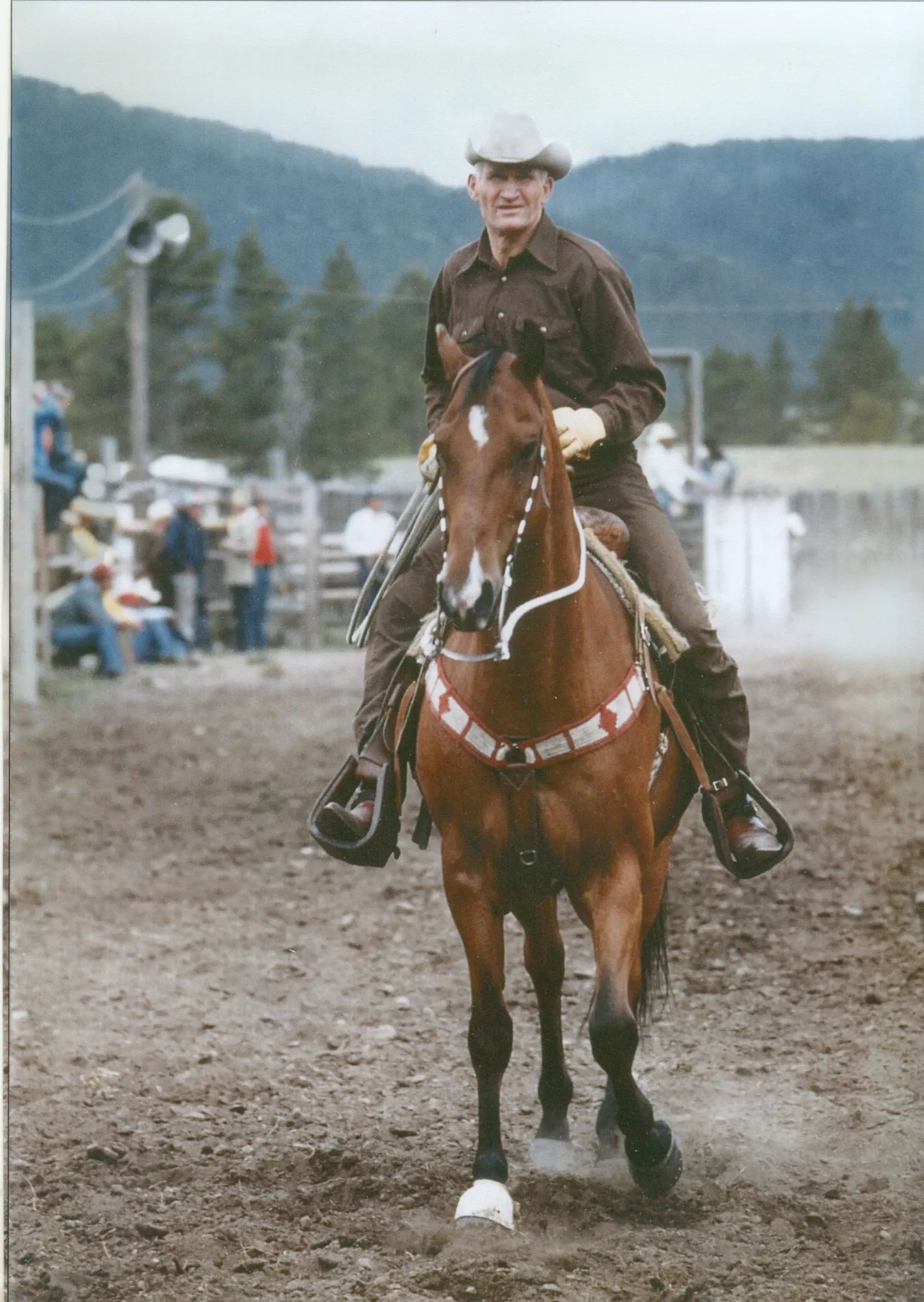 2013 LEGACY INDUCTEE DISTRICT 11
Robert W. "Bob" Olson (1914-1994)
Robert "Bob" W. Olson was born to be a true cowboy. He came into this world on November 5, 1914. From the age of 10 years until his passing he was involved in ranching and rodeoing with a little bit of underground mining thrown in. His great love and compassion for horses and cattle were evident to all who knew him. His daughter, Bobbe Olson, remembers him from when she was a young girl ensuring his livestock had water and feed before he would sit down to an evening meal with his family. His compassion and commitment to his animals inspired many people over the years.
Bob started his rodeo career at age 17 on the 4th of July 1931. During the 1930s and 1940s he worked at various jobs which included mining in Butte and construction work on the Fort Peck Dam. He participated in a few rodeos while he worked in the Butte mines in the early 1940s. To stay in rodeo shape, he practiced roping calves at his friend's ranch. In time, Bob decided to lease his own acreage so that he could own calves to practice on, initially leasing acreage in the Jefferson City and Clancy, Montana, area. Here, he began his first ranching operation and building his cattle herd. Over the years, his rodeo earnings allowed him to realize a lifelong dream. In the spring of 1953, Bob purchased 320 acres in Greenough, Montana, where he provided a home for his beloved family and animals. Living in Greenough provided him the opportunity to serve as a foreman at the Barite Mine. This gave him a three-way income in which to support his family and care for his animals. Bob ran his ranching operation before and after long, hard days at the mine, and he hit the rodeo circuits on the weekends. His work ethic continues to inspire his daughter.
Competing in rodeos took Bob from Montana to Canada, Texas, New York City, Oregon, Washington, Idaho, Wyoming, Utah, and the Dakotas. One of the highlights of his rodeo career came in 1944 when he received an invitation to the World Championship Rodeo held at the Madison Square Garden building in New York, New York. He was invited again in 1946. Gene Autry and Everett Colburn teamed up and together they put on quite an event. They furnished a special train to transport not only all the rodeo contestants, but their family members, competition horses, and livestock, too. The only thing Bob had to do was get everyone to Dublin, Texas. The Olsons lived in the Helena area at that time, but Bob was determined to make it to Texas before that train departed.
Although New York City was a tremendous event and experience, Bob's favorites were his Montana rodeos: Dillon, Helena, Drummond, Boulder, Darby, Augusta, Wolf Point, Polson, Lima, Great Falls, Kalispell, Livingston, Miles City, Choteau, Missoula, Butte, Plains and Ronan. In his era, rodeo was a way of life. Sometimes entry fees would be paid by buddies that had better scores, so they could travel together and cut expenses. This way, luck was always riding on their shoulders because success depended on the livestock the riders drew and how well they performed. Bob made saddle bronc riding look easy with his flamboyant style, but he learned he had to be careful with his strength. Sometimes his shear strength would cost him a high score, from "taking the horse's head away" which would almost always make the horse quit bucking.
Bob was a superstitious man. If he should happen to get bucked off, he would not wear that same shirt again, but fortunately, getting bucked off was quite a rarity. Saddle bronc was his favorite event, and his skill was clear for all to see.
One time at the Great Falls rodeo he drew a rank saddle bronc and during the ride caught his middle finger on the saddle horn and ripped it wide open. To minimize the possibility of this injury occurring again, he sawed the saddle horn off, and interestingly, in this era of rodeoing, no one rides saddle broncs with the saddle horn on their saddles.
Bob also earned several purses in the bull dogging event. He always said he owed it all to an exceptional bull-dogging horse he bought from a man named Benny Binion. Contestants in Bob's era had to work two riding events and one timed event or two timed events and one riding event in order to qualify for the all-around title at each rodeo they entered. According to his daughter he attained the all-around title at the Augusta, Montana rodeo in either 1957 or 1958. Most likely, he attained many more all-around titles throughout his career, but he didn't keep track of those things.
Bob had his favorite rodeo contractors too. The Cremers, the Greenoughs and Zumwalts to name a few. If the contractors offered good rough stock and roping stock he would enter their rodeos wherever they were held even if that sometimes meant driving all night to get to a particular destination. Bob felt that the purses earned outweighed the lack of sleep. Bob liked to have his family with him at all times, and his large circle of rodeo friends made their rodeo weekends guaranteed fun for everyone in the family, both before and after the rodeo performances. If any of the contractors needed help with care of the livestock Bob always offered his assistance, and he often hired out as a pickup man for the stock contractors.
Bob entered his last rodeo on July 4th, 1964, ending a 33-year rodeo career. That same year, his lifelong dedication to rodeo was honored with a lifetime membership into the Rodeo Cowboy Association now known as the Professional Rodeo Cowboys Association. Bob never left the ranching and rodeoing way of life. In his winding-down years he stayed active with judging riding events. What started out as a fun pastime, turned into a chosen and beloved way of life that brought great joy and offered a landscape for incredible memories. Bob passed away in August 1994 at the age 79, but his legacy lives on in the lives and hearts of his children.
References:
"On Becoming a Rancher the Hard Way." Jim Crane, Reporter The Missoulian, November 12, 1967.
"Olson is Satisfied with His 'Cowboyin' Life." Kelly Farven. The World of Rodeo and Western Heritage, February 1981, page 27.
"40 Years Gathering's." Published in cooperation with the National Cowboy Hall of Fame and Western Heritage Center by Spike Van Cleve. Lowell Press, Inc. Kansas City, Missouri.
"Rodeo: The Suicide Trail" H.L. (Lee) Hames. Pictorial Histories Publishing Company, Inc., Missoula, Montana, 1991. Page 30.
"Professional Rodeo Cowboy" by Sherry Compton. Colorado Springs, Colorado.