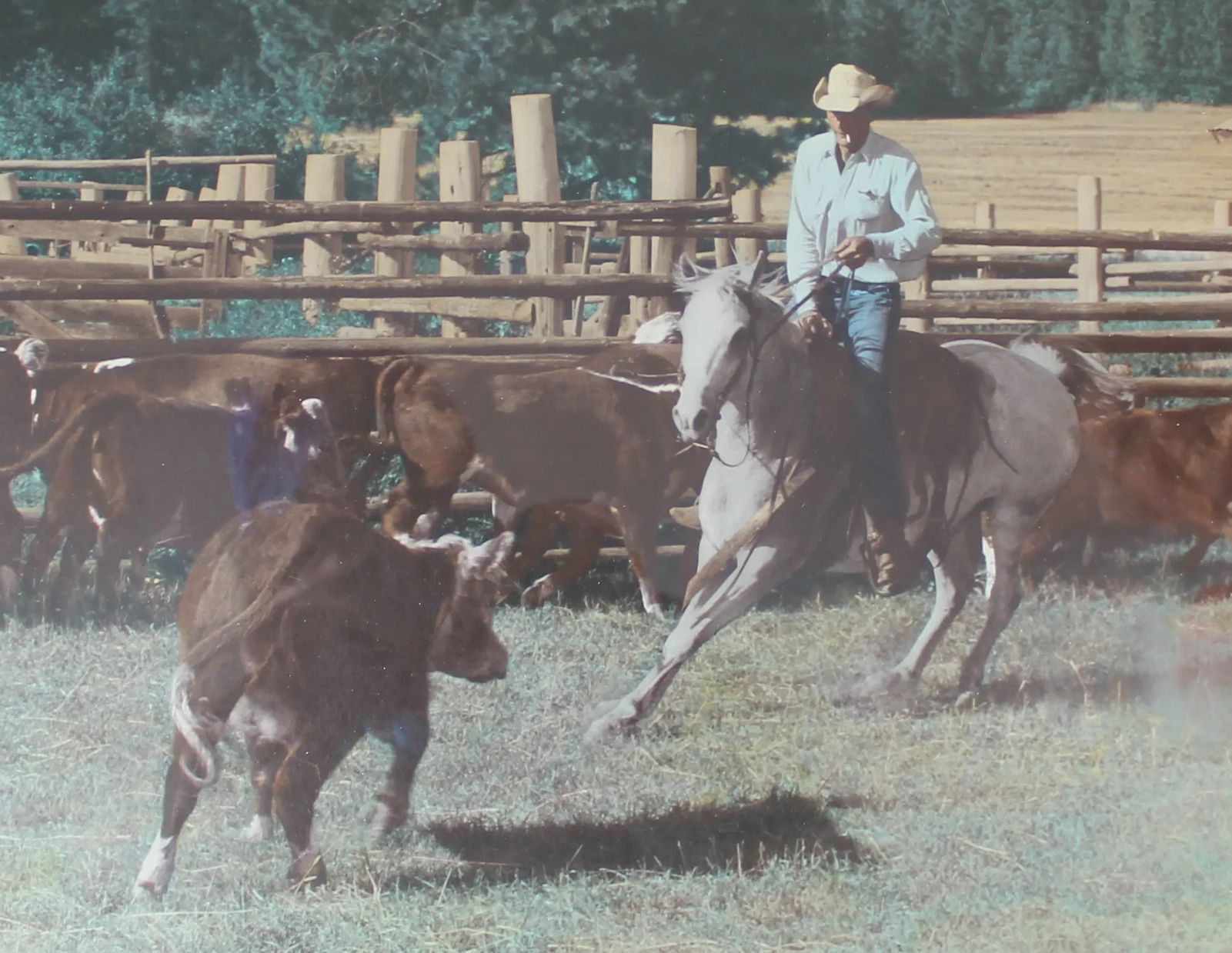 2013 LEGACY INDUCTEE DISTRICT 11
Ed Lambert (1924-1999)
Ed Lambert was born June 29, 1924, in Winnett, Montana. He was raised in the Sand Springs area, and attended school in Benzein and Jordan, Montana. His parents, Della and Hartley Lambert, were ranchers, having both cattle and horses, and Ed grew up in that lifestyle, in tough country, and was well-acquainted with horseback riding and working cattle.
In Great Falls, Montana, in 1946, Ed and Betty Mart were married. They lived and ranched in the Sand Springs area until 1954. They raised sheep, and Ed broke horses for the public. These were horses, not colts. The untrained horses Ed was hired to ride were anywhere from 5 to 8 years old and wild as Mother Nature made them. Ed's reputation as a bronc buster was far flung, and horses were brought to him from miles around. He earned $40 a horse and had all he could handle. He worked them in a round pen for a few days, using a snubbing post as a training aid, and got some basics on them before going outside. He said, "Some of them old broncs had necks on 'em as stiff as 2 x 4s, and they'd stampede quite aways before I could get 'em circled."
Ed and Betty had about 400 head of sheep at that time, and a herder hired to stay with them. Ed put miles on the broncs in the open country, and kept tabs on the herder and his grocery needs from horseback. Betty remembers one spring very vividly. Good Friday was beautiful, then an Easter blizzard blew in with gale-force winds and 20-below wind chills. Ed saddled up and went to check on the herder and his dogs. He found them and got them back to the wagon, then started trying to find the flock. They had split and wandered with the wind. Small groups had huddled in the coulees where they were all drifted over with snow, but Ed found the bunches because of the steam coming up through air holes in the snow. He shoveled them out as he found them and then kept riding. Betty was with their baby in their log cabin for three days, not knowing whether Ed was alive or not. In the end, they lost 100 head, and Ed saved 300. He rode for three days, riding right over the fences, which were drifted over.
In 1955, Ed and Betty moved to Alberton, Montana, where Ed worked two years for the U.S. Forest Service.
Then they moved to Ronan, where they went to work for Mr. H.O. Bell. Betty worked as secretary, and Ed as foreman on the Bar Lazy B Ranch, which raised Arabian horses and purebred Hereford cattle. Ed trained and showed Arabians for Bell, traveling endless miles to do so. He was an all-around hand, competing in stock horse, cutting, Arabian costume, pleasure, English equitation, and showmanship classes. In fact, at a show in Canada, out of 55 entries, the judge selected Ed to demonstrate to the rest of the class how to show an Arabian in hand. Ed traveled to shows in Montana, Washington, Oregon, Idaho, and Canada, and Ed won so many trophies and ribbons that they filled a special cabin made for them by Bell. Some of Ed's proudest moments were when he competed in open cutting contests, riding an Arabian, competing against quarter horses, and he won. He did this three out of four times, riding Khawal. Jack Drew, who knew both Ed and his father, Hartley, said that in the early days they were both "rough hands," which they would have to be to handle the livestock they did. Ed evolved a long way from that into an extremely accomplished and versatile horseman, as his show record proves.
Ed also traveled, buying bulls for Bell, going clear to Nebraska a couple of times. In 1963, Ed and Betty moved to Stevensville, Montana. They had a family by this time, (eventually, five children) and had to travel too much with the horse showing. Ed went to work for his father, Hartley, who had cattle and horse interests but was spending his winters in Tucson following the racing circuit. Ed became his father's foreman.
In 1964, H.O. Bell contacted Ed and asked him to be a representative for Montana at the World's Fair, and to ride his good gelding, Khawal. Ed got on the Centennial train in Billings on April 5, 1964, to travel cross country to New York City. Ed and Khawal stopped in 16 major cities along the way to participate in parades, where they proudly carried the Montana flag. In New York, the parade ended at Madison Square Garden, where the parade members were introduced at a New York Yankees baseball game. An autographed ball was tossed their way, and Ed reached up and caught it. Though the ink has faded on the ball, the memories remain. Ed and Khawal made it back to Billings May 5, 1964.
Ed helped out at the Ravalli County Fair for over 20 years, ponying race horses there every Labor Day Week-end.
While working for Hartley, Ed trained and showed many horses and took care of the cattle. In 1974, when Hartley died, Ed and Betty bought their own place in the same neighborhood and continued to ranch and show horses until Ed's health began to fail, and he had to retire.
Ed passed away November 25, 1999, in Stevensville.