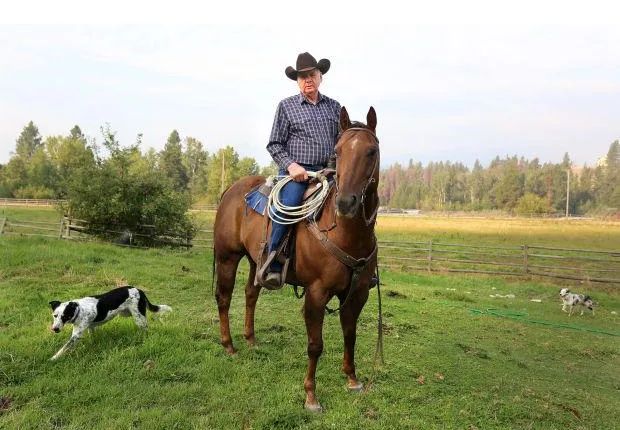 2013 LIVING INDUCTEE DISTRICT 11
Dwain Rennaker
Born July 18, 1937, in Hamilton, Montana, Dwain Rennaker grew up and went to school in Darby, Montana, where he still lives. He hails from a ranching family, and grew up honing the skills which would serve him well in a long and well-enjoyed rodeo career.
By the time he was a freshman in high school, Dwain was skilled enough as a cowboy to start competing and began his rodeo career in 1952 at a high school rodeo in Augusta, Montana. He said that in 1953 he "really caught the rodeo bug," and never recovered from it. Dwain, like many of the early cowboys, was an all-around hand and competed in all five rodeo events for many, many years. He enjoyed riding bulls and saddle broncs the best, and rode bulls until 1979. He kept riding rough horses until 1985, and if you do the math is a total of 32 years.
In 1953, at the National High School Rodeo finals in Texas, Dwain won seventh in the calf roping.
In 1954, he qualified for the National High School finals, in Harrison, Nebraska, competed in all five events, and placed seventh in the nation in steer wrestling.
In 1955, he joined the Professional Rodeo Cowboy Association and competed at that level for five years. 1955 was the year that Lillian said, "I do," and as they began to have children and ranching responsibilities, Dwain began to rodeo close to home, and in 1960 he competed at the pro-am level.
Some highlights of his rodeo career which Dwain is proud of include winning the average in bronc riding, 1961, in Grangeville, Idaho, and winning the matched bronc riding in Hamilton by forking an unridden horse named "The Duke" and pocketing $500. In 1962, Dwain won the calf roping in Kalispell, Montana, competing against 47 ropers, the best in western Montana.
Just to show how it used to be rodeoing: in 1959, Dwain won the go-round in bull riding in Dillon, Montana, and with the $80 he won he paid for his gas ($5), took his whole party out for steak dinner, and bought some beer, and he still had some of his winnings when he got home.
Because of family and ranching responsibilities, he only competed from May until September, but did well during the short season, not getting bucked off any of the 47 broncs he rode in 1961, and only getting bucked off once in 1962. He was sticky.
About his rodeo career, Dwain said, "It was the best thing I ever done."
But Dwain is about a whole lot more than just rodeoing well. From a ranching standpoint, he has been very successful. He and Lillian ran 150 mother cows for about 50 years, putting up the hay to feed them and calving them out. They still run yearlings. Dwain, Lillian, three of his children, and a granddaughter operate Rennaker Cattle Brokers, shipping thousands of head of cattle every year. It has been a close family partnership for many years.
Dwain and Lillian owned and ran Bar RL outfitters from 1956 until 1990, and at times raised and owned up to 80 horses and mules. They had three stallions and a mammoth jack, and they raised and trained many of their animals. They had help on the ranch from their six children. Dwain has seen endless technological changes in his ranching operation. When he started putting up hay, it was with two teams of horses, and they stacked with an overshot. Now he farms with the help of a 100hp John Deere and other modern farm implements.
Dwain organized and spearheaded the Bitterroot Gymkhana Club, held clinics at the ranch, and fostered hundreds of Bitterroot Valley kids, hosting them at the ranch and teaching them the riding and roping skills they would need to compete in high school rodeos. He was the chairman of the Ravalli County High School Rodeo for a number of years. He also hosts 400 Cub Scouts on the ranch each year, letting them have their annual camp out down by the Bitterroot River.
Dwain always helps out with the Ravalli County Fair and with the Senior Pro-Rodeo when it comes to town because he rodeoed long enough to compete at that level. For years he helped open chutes and assisted with the timed events. Dwain helped build the rodeo arena at the Ravalli County Fairgrounds in the 1970s, and when that wore out; he designed and helped rebuild the nice facility that they currently have. He was also instrumental in building two rodeo arenas in Darby and helped build Zumwalt's arena in Missoula, Montana. Dwain and Lillian also host a benefit for the Darby School's Excellence Fund every June.
Dwain has been recognized by many organizations. He has received two award plaques from the organizers of the Chief Joseph Trail Rides for his help and hospitality; in 2011, the Bitterroot Stockgrowers Association recognized him with their Service Continuation Award for Lifetime Contributions to the Livestock Industry; in 2012, he received a Certificate of Appreciation from the Western Montana Stockmen's Association, given to Rennaker Cattle Brokers for support of the cattle industry; and in 2012, Dwain and his family were honored as Ravalli County Fair Family of the year — three generations of Rennaker's have competed in and supported their local fair. For this honor, they hooked up the tractor that Dwain's father, Loyd, bought in 1947, and grandson Loyd drove it and pulled the whole family in the parade.
Asked about his favorite horses he has had through the years; he could name four. The last one, Guyman, he still owns and says he is his best horse, ever. At 27 years of age, Guyman has headed countless steers, has hazed hundreds more, and is enjoying a peaceful retirement with Dwain.
Dwain has lived his life to the fullest, personifying the cowboy spirit.