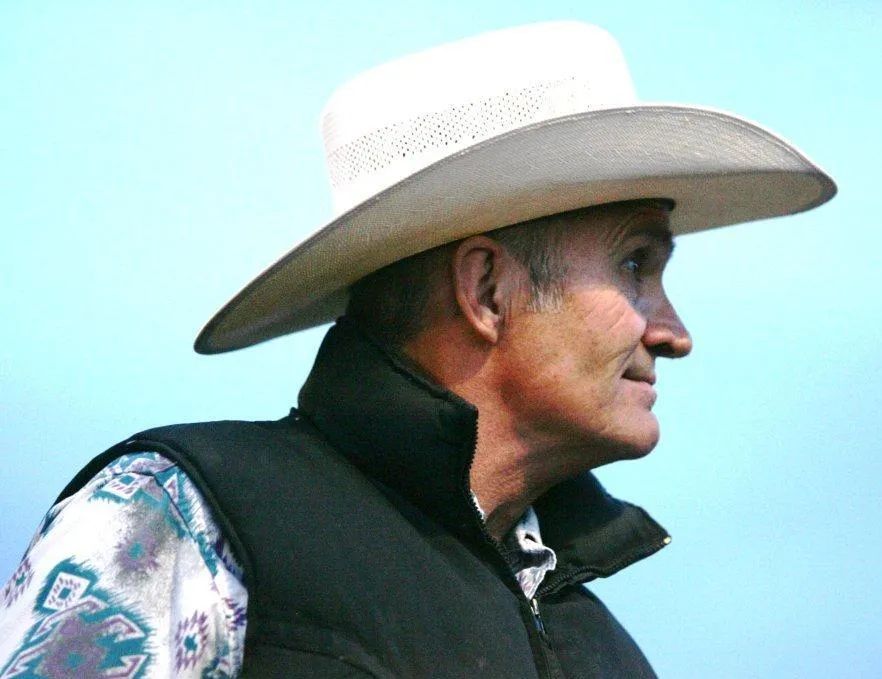 2013 LEGACY INDUCTEE DISTRICT 10
Robert Henry "Bob" Schall, Jr. (1950-2014)
Robert Henry "Bob" Schall, Jr. was born June 25, 1950, in Missoula, Montana, but lived most of his life on and around the land in Arlee that his grandfather Rueben Schall homesteaded in 1910. Bob is a third-generation Montana rancher and grew up in a ranching and rodeo environment. His father, Bob Schall, Sr., ran cattle, buffalo, and horses and was a rodeo contractor for many years. Bob Jr. was steeped in this environment from a very young age.
He entered his first rodeos at the age of 13, riding calves and steers, and by 1966, he qualified for the National High School Finals in Tecumseh, Oklahoma, in three events, bareback riding, steer wrestling, and bull riding.
In 1972, while attending Montana State University in Bozeman, he was on the first National Intercollegiate Championship Rodeo Team, winning the bareback riding, getting fourth in bull riding, and coming in second in the all-around.
Bob joined the Professional Rodeo Cowboys Association in 1970 and competed at that level for three years. During this time, he won a go-round in Houston in bareback riding by 13 points, and won the all-around and a saddle in El Paso, Texas, in 1972.
Ranching responsibilities and financial considerations made him change to competing at the National Rodeo Association level from 1973 until 2002. He won 28 championships during this time: 13 in bareback riding, five in steer wrestling, and one in team roping as a heeler, and he won nine all-around titles.
In 1975, Bob and Shari Delp got married, and they traveled and rodeoed together for the next 12 years. They traveled extensively, and Bob credits Shari's support for much of his success. Shari competed in barrels, breakaway roping and team roping, while Bob competed in bareback, steer wrestling and team roping. They traveled to as many as 19 rodeos in 17 days, one time hitting four rodeos in three states in one day.
Bareback riding is the most physically demanding sport in rodeo, and Bob competed in the sport at a high level for 39 years. At regular rodeos, he once rode seven bareback broncs in one day, and another time at an exhibition riding in Zumwalt's arena, he rode nine bareback horses and seven saddle broncs in one day.
In 1978, Bob and Shari competed in Major League Rodeo. It was organized and put on by Guthrie Packard, and the Schalls competed on the Denver Stars team against five other national teams. Bob and Shari each won "Super Bowl" rings — the only ones ever given, as the league fizzled out the next year. Then the Calgary Stampede picked up the idea and ran their rodeo in a "matched rodeo" style for three years. In the late '70s, Bob won the Guy Weadick Award at Calgary. This was a real "Top Gun" award since the prize was a specially engraved 30-30 rifle. It was at Calgary, that Bob met cowboys from Australia, and in 1982, he and Shari traveled there and for two months, put on rodeo clinics.
In 1986, Bob rejoined the PRCA. He was awarded the Linderman Award, which is given to a contestant who wins at least $1,000, spread over three events, both timed and rough stock. This is a big feather in Bob's hat, as only two Montanans have won this award.
Bob traveled in a 1,000-mile radius from home, including Canada, and was on the road for six plus weeks at a time, coming home only for short periods.
After 12 years together, Bob and Shari parted ways, but he married Pamela Gann in 1991 and they had a daughter, Emily, in 1993.
Bob had continued to rodeo because, he says, he was "too lazy to work and too scared to steal," but anyone who can travel and compete, while continuing to ranch in their spare time, appears to have a very good work ethic.
Also in 1993, at age 43, Bob won the Montana Pro Rodeo Circuit Finals in Great Falls, winning both the bareback riding and the all-around.
Bob has had a long and successful rodeo career. He rode bulls for 17 years, and rode bareback horses for 39 years, quitting at age 52. He rode his last bareback horse in 2002 still having a winning year, receiving six firsts and one second. He hung up his spurs in Superior, Montana.
Altogether, Bob has won 85 saddles. He still has 79, and knows where four more are. He also won over 400 belt buckles, representing six different events, including ribbon roping, which was an early event. His winnings are housed in a special trophy room.
Everyone who is lucky has a "once in a lifetime" horse, and for Bob it was "Neek." He hazed and team roped on him for 22 years, and he was a solid and competitive partner. Although now it's "just Bob and the dog" living at his house, he has had the love and support of four women during his life — first wife Shari, second wife Pamela, daughter Emily, and life partner for 12 years, Jill Ursua. He credits all of them with his success.
He has needed the love and support of his friends and family here lately, as he was given a diagnosis of colon cancer in 2012 and has had a rough last year, undergoing both major surgery and chemotherapy.
Out of this health challenge, though, has come a new chapter for Bob. Around Christmastime in 2012, Emily threw down a gauntlet, challenging her dad to try barrel racing — if he "thought it was so easy." Never one to back away from a challenge, Bob started taking barrel racing lessons from three-time National Indian Barrel Racing Champion Yvette Vega, who is also training his horse. The culmination in this is that recently Bob won the Senior Barrel Race at Sapphire Arena, Corvallis, Montana, and Yvette, on Bob's horse, won a buckle — which he claimed. So, now Bob has belt buckles from every single rodeo event there is — most likely an honor that no one else can claim.