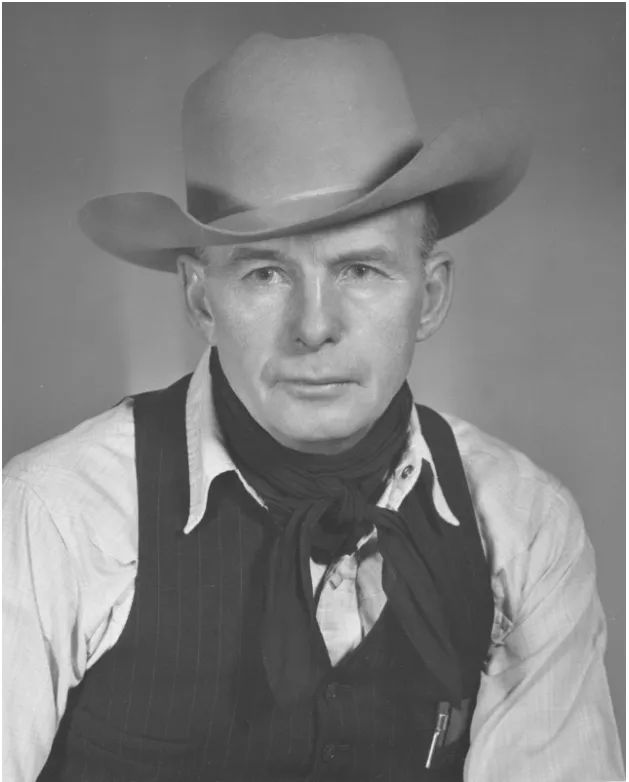 2013 LEGACY INDUCTEE DISTRICT 1
Shirley Bridges (1897-1977)
For over 50 years, Shirley Edward Bridges was a working cowboy and rancher. From pioneering, working for local ranchers and large cattle companies to owning his own ranch, his life mirrors the history of horse ranching in eastern Montana in the Twentieth Century.
Shirley was born November 17, 1897, in Mount Vernon, Illinois. He was the eldest of seven children born to Greene and Metta Bridges. As a young boy, his family moved by horse and wagon to homestead in Lynch, Nebraska. In 1911, loading all of their belongings on an immigration train, they moved further west to Montana where they homesteaded in the Nickwall area southeast of Wolf Point, Montana. At 13 years of age, Shirley went to work at the ranch of William Remley in Wolf Point.
During Shirley's teens, he had several employers while learning his trade, including John Bawden and the CK Ranch. When his family returned to Nebraska in 1916, Shirley made his home in eastern Montana and remained there for the rest of his life. While working for Robert Reid of Poplar during World War I, Shirley registered for the draft. By the time he received the notice to report for service and rode to town, the war was over.
In the 1920's horse ranching was undergoing a change. Motorized tractors were replacing horses, which were being turned out on the range adding to an overpopulation problem; and large ranching corporations were moving into the area. During that time, Shirley was homesteading on the Big Dry Creek, northwest of Jordan. By 1923, he had built a herd of 1200 horses when he hired on with the Frye Cattle Company of Seattle, Washington. Working in the Poplar area, he stayed with them until 1927.
The Chappel Brothers Corporation (CBC) of Rockford, Illinois, hired Shirley as foreman for their Oswego division, headquartered at the former CK Ranch. When hired by the CBC in 1927, he sold them 400 head of his own stock. He was responsible for running 12,000 head of horses in a range covering an area from the Yellowstone to the Missouri Rivers and from the Redwater River to the west of Jordan. He remained as foreman until 1937 when CBC discontinued their Montana operations. Many of the cowboys who worked for Shirley became successful local ranchers. He had a reputation as a tough, but fair, boss and was well respected by his fellow cowboys.
On September 13, 1929, Shirley married Ellen Mae Hill of Frazer and they raised two red-headed daughters Shirley Mae and Elizabeth Iris "Betty". When the CBC days on the open range were over, he sold his place near Jordan and bought a ranch six miles from Oswego, adding a small herd of 100 cattle. Over a ten-year period, he shipped and sold 11,000 horses at the W. H. Bishop Horse & Mule Auction in Anna, Illinois. His horse brand read as TZ and his cattle brand was VX- (V X Bar).
In 1948, Shirley was one of the founding directors of the Wolf Point Charros. A social club, the group was made up of stockmen, who were interested in the improvement of their horse herds. Members often rode in the Wolf Point Wild Horse Stampede Parade.
In the late1950's, Shirley retired from ranching and moved into Wolf Point where he purchased cattle for the S & H Cattle Company of Sidney.
Shirley was an avid reader interested in the history of local ranching. He collected many books and photographs documenting early ranch life and frequently corresponded with people who shared his interest. When visiting with other old cowboys, he would share colorful stories of his ranching days. In a series of weekly articles published in the Wolf Point Herald News in1969, he widened his storytelling audience to the general public.
Shirley passed away in Wolf Point on July 14, 1977, at the age of 79. He is buried at the Nickwall Cemetery.
References:
April 23, 1942, Interview with Shirley Bridges on Livestock History of McCone County conducted by C. F. Campbell
Various published and personal writings of Shirley Bridges