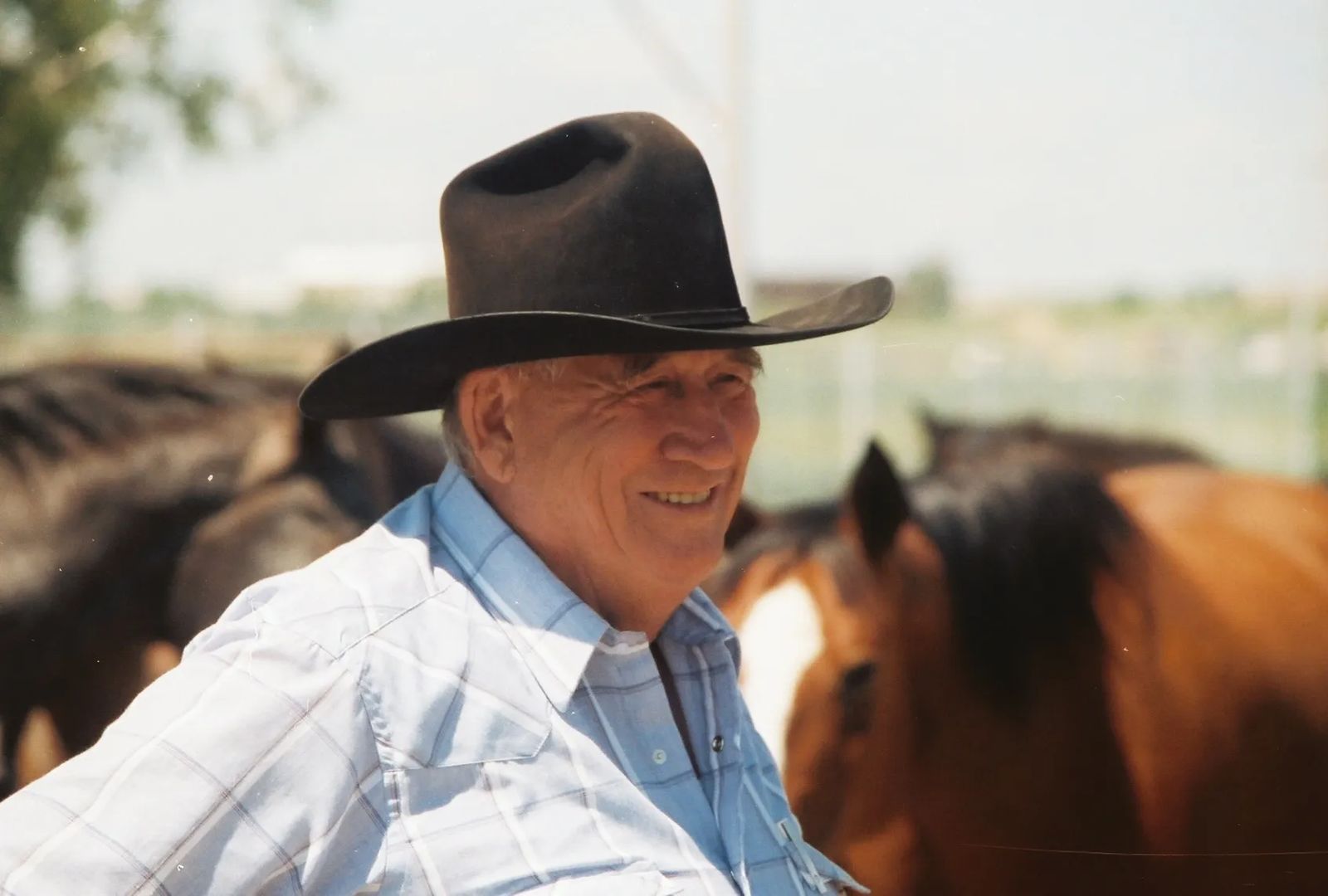 2013 LEGACY INDUCTEE DISTRICT 1
Marvin Brookman (1913-2006)
Decades of excellence in producing bucking horses dominate the name Marvin Brookman, who was a good-hearted and humble man. Marvin was born on September 10, 1913, on a ranch close to the Redwater River near Poplar, Montana to Clyde and Wavie Brookman. As a young man Marvin dreamed of living the cowboy lifestyle.
As Marvin was growing up, his father broke horses for the cavalry. He ran a large horse herd of his own, at times numbering over 500 head, here Marvin learned to wrangle and manage skills that would later be put to good use. Marvin was just a teenager when he was hired on with the CBC (Chappel Brothers Corporation) working in the breaks of the Jordan and Winnett country and the Bear Paw Mountains of North Central Montana. Marvin and a crew of cowboys were responsible for thousands of unclaimed horses abandoned by early homesteaders. CBC cowboys were charged with the duties of sorting mares and colts, branding and cutting young stallions. Many days were spent away from home starting in the spring and ending in the fall.
In 1935, he married Doris Mann and they had two daughters, Reita and Cleita.
Marvin was fascinated with bucking horses and at the age of 23 began putting together his own string of horses chosen from his father's herd. He selected 150 head that became the backbone of his "Born to Buck" breeding program. In 1936, he joined the Cowboy Turtle Association, forerunner to the Professional Rodeo Cowboys Association, obtaining his stock contracting card the same year. Marvin's philosophy was to select the Percheron descent and the thoroughbred bloodlines that he believed gave the horse more size and greater stamina. He had a strong sense of matching the mares and studs to get a natural bucking horse.
In the late 1930's, Marvin worked as a pickup man in local rodeos. As time went on, committees were in need of stock contractors and Marvin took note. Making a dream come true, he started his own company in the day when stock was trailed or shipped by train to area rodeos.
In 1941 he began contracting for the Wolf Point Wild Horse Stampede. He traveled around to different towns producing their rodeos and continued to be active with the business until the time of his passing. For his hometown Wild Horse Stampede, Marvin and a crew of 8 to 10 cowboys would trail the bucking stock to the "Stampede Grounds" each year. For the 75th Wolf Point Wild Horse Stampede, a celebration committee organized a wagon train and outriders that trailed the Brookman bucking horses from Marvin's ranch to Wolf Point. He was named the Grand Marshall for the big celebration.
In 1992, the "Stampede Grounds" in Wolf Point, Montana, was renamed the Marvin Brookman Stadium.
Brookman Rodeo has had bucking stock selected for almost every National Finals Rodeo since it began in 1959. Marvin was inducted into the ProRodeo Hall of Fame in Colorado Springs, Colorado, in July 2005. He was truly dedicated to the world of Pro Rodeo.
Many legendary broncs, such as Power Face, Black Diamond, Oil City Red, Brookman's Velvet, and the great sire Alimony are examples of some of the superstars that Brookman developed on his ranch at Buzzard's Glory. Powder Face was sent to a special performance rodeo that was attended by President Ronald Reagan, while Alimony sired 1980 PRCA Saddle Bronc of the Year, Brookman's Velvet. Marvin had his own special breeding program and was remembered as a great stock contractor in the sport of rodeo. The respect reached all levels of professional rodeo and beyond from the contestants to his peers. The Assiniboine Sioux Indian Tribe made him an honorary member in 1987 and accorded him the name "Rider of the Horse."
Marvin received numerous stock awards in the Professional Rodeo Cowboys Association, the Dodge National Circuit Finals Rodeo, and the Montana Pro Rodeo Circuit Finals. Marvin produced rodeos all over the country, but his heart was in producing rodeos in the great State of Montana. He produced rodeos at Red Lodge, Wolf Point, Glendive, Miles City, Glasgow, Livingston, Chinook, Belt, Stanford, and Culbertson. Brookman Rodeo continues as Marvin's granddaughter, Cathy, and her husband, Dave Wieferich, carry on the family tradition of producing great bucking horses and rodeos.
Marvin often said, "I would rather see a horse, that I raised, buck more than anything in the world!" Raising bucking horses was truly his passion and Marvin cared for his livestock like family from the time they were born.
Marvin Brookman passed away in January of 2006.