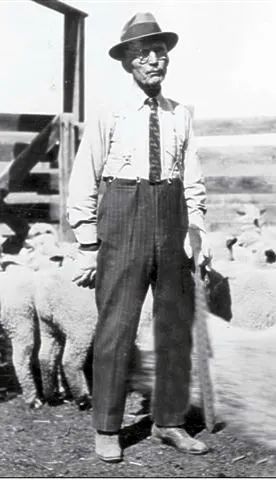 2012 MONTANA COWBOY HALL OF FAME INDUCTEE
DISTRICT 8
Henry Sieben (1847-1937)
"Born in Germany in 1847, Henry Sieben immigrated to the United States with his family when he was five. The family settled in Illinois. His mother, Appollonia, died the year after they arrived. Three years later, when the family's cabin burned, nine-year-old Henry and his brothers were sent out to various farm families in the area. Three years later, at the age of 12, Henry was orphaned when his father, Joseph died.
At age 17, Henry left Illinois with his brother Leonard and two friends. Henry was small and wiry, had no bankroll or formal education, but knew hard work. The young men arrived at Fort Laramie to find the Oregon Trail closed due to skirmishes with Red Cloud. The foursome hooked up with John Bozeman and a 100-vehicle wagon train bound for the mining camps of Montana Territory.
Henry started his business career cutting hay by scythe in the Madison Valley in 1865. From there he migrated to the freight business and spent a number of years freighting goods to Montana mining camps from the steamboat docks at Fort Benton, Montana and from the railhead at Corinne, Utah—all with yokes of oxen.
Eventually, Henry and Leonard bought worn-out oxen from other freight outfits and ran them on free range. This lead to a career that saw Henry ranching on Flat Willow Creek near Winnett, Montana on the Missouri River, near Culbertson at the Diamond Ranch, in the Big Hole Valley, the Little Prickly Pear near Wolf Creek and a ranch on the headwaters of Hound Creek at Adel near Cascade. He had ridden full circle since he began, in Chestnut Valley across the Missouri River from the town of Cascade.
In 1870, Henry and Leonard bought 160 head of cattle in Utah and trailed them to the Chestnut Valley. They repeated their investment again in 1871, buying and trailing 400 cattle from Utah to the valley. They added sheep to the enterprise when their younger brother, Jacob, joined them. The brothers bought 2,200 Merinos near Red Bluff, California, and Jacob trailed them to Montana. They sold their freight outfits and were in the ranching business to stay.
In 1886, Henry Sieben married Alberta Gordon. They lived in Helena and had two daughters: Bernice in 1890 and Margaret in 1895. Henry's wife Alberta died in 1912. In the 1930s, Henry Sieben divided his holdings and passed ownership to his daughters. In 1937, Henry died at age 90.
Sieben's legacy remains in two present day working ranches operated by the fourth and fifth generations: the Sieben Ranch, headquartered south of Wolf Creek and north of Helena, with significant land holdings in the Helena Valley, operated by John and Nina Baucus; and Sieben Live Stock Company near Adel, operated by Scott and Terry Hibbard.
Resource:
"The Weak Ones Turned Back, The Cowards Never Started: A Century of Ranching in Montana," published 2009 by the Montana Stockgrowers Association