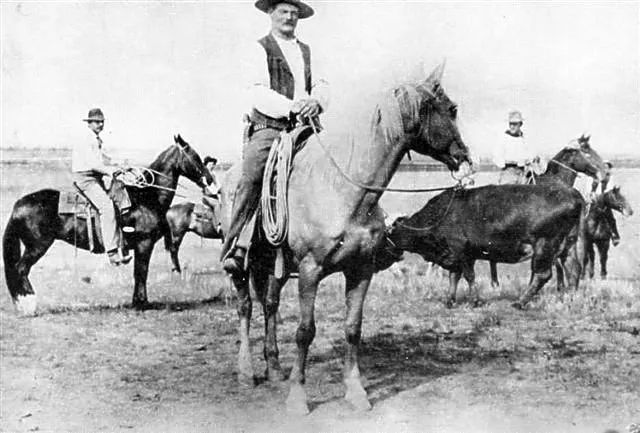 2012 MONTANA COWBOY HALL OF FAME INDUCTEE DISTRICT 6
Ambrose V. "Kid Amby" Cheney (1874-1964)
Ambrose V. Cheney, open range cowboy and highly respected Judith Basin cattleman and rancher was born at LaHarpe, Illinois, on April 4th, 1874, the son of the Civil War veteran Linus Cheney and Hanoria Considine of County Clare, Ireland. At the age of 13 and after two thwarted attempts to ride the rails west to Montana, he was sent by his parents from his home in Illinois to join his cattleman brother-n-law, Perry Westfall, and sister, Ella, on their Wolf Creek ranch, a few miles south of Old Stanford in Montana's Judith Basin. Arriving in time for the start of the spring 1887 Judith Basin Pool roundup at Utica, his brother-in-law, Perry, one of the Pool's cattle owners, helped get him hired on as a day wrangler. Charlie Russell was the night wrangler. Later in life Russell made a famous painting of Utica at the start of the 1887 Judith Basin spring roundup. The Pool's day wrangler can be seen taking a "string" of horses out to the rope corral in the background.
After a summer and winter of practicing riding and roping, 14 year old Amby was hired the following spring as a regular "$40-a-month" working cowboy for the Judith Basin Pool. Because of his age, he was nicknamed "Kid Amby" and was known by that name from then on. He learned the ropes of the cowboy trade from some good teachers. He learned to throw the back hand loop from Pete Vann and how to handle half broke horses from Charlie Russell's friend, Con Price. While Amby went on to become a top hand, Charlie Russell remained the night wrangler. Amby used to say that "Charlie was afoot when it came to real cowpunching, but we hurried in at night just to listen to his yarns and stories and to laugh at the sketches he made of the happenings that day. He stood damn well with the best of them".
Around the same time Amby was hired, homesteaders had begun taking up Judith Basin land and fencing it, denying cattle access to grass and water. Since Indian lands north of the Missouri had plenty of open range and had recently been opened up, some Basin Pool cattlemen began moving cattle across the river into the green grass of the prairies surrounding the Bear Paw Mountains. It was later estimated that cowboys of the Judith Basin Pool, one of whom was Kid Amby, rounded up 40,000 to 50,000 head of cattle by 1890 and moved them to the Bear Paw range by swimming them across the Missouri just below the point where the Judith River empties in. They liked to say they "never lost a single cow or cowboy". Sid Willis, an open range rider himself for the Judith Basin Pool and later the owner of the Mint Saloon in Great Falls, used to say that "there were only two ropers who could throw a back hand loop to pick up both hind legs of a calf, and never miss – Pete Vann & 'Kid Amby' Cheney".
Kid Amby's abilities as a roper and rider soon gained him the reputation as a top hand among the ranches making up the new Bear Paw Pool and it wasn't long before he started being sent out as a representative or "rep" to the other ranches and open range organizations of northern Montana, such as the Circle C ranch of the Colburn brothers south of Malta. It was the reps responsibility to ride through the herds to pick up any of the stray Bear Paw Pool cattle that had gotten mixed in with the others. Reps had to know all the brands of the Pool ranchers, forty five according to Amby, and were also responsible for turning back Pool cattle to the correct ranches. Reps like Teddy Blue Abbott, Con Price, Charley Stuart and Kid Amby Cheney were among the highest paid, most dependable and skillful cowboys of the Pool. They were usually kept on the ranches and the payroll over the winter, when most of the cowboys, including Russell and the "Lousy Seven", holed up somewhere or rode the grub line. Being a rep put them a notch higher than the ordinary cowboy.
The days of the open range lasted as long in northern Montana as anywhere and Amby stayed with the Bear Paw Pool ranchers until the late 1890's. He then returned to the Judith Basin where he, his father and step brother, Gerard Berges, established adjoining homesteads on upper Surprise Creek, about fifteen miles west of Stanford. His brother, Melvin Cheney, joined them later, homesteading nearby. Not long after, Perry Westfall hired a bright young schoolteacher, Elizabeth McGiffin, for his daughter, Nora. Elizabeth, better known as "Bess", was born in 1885 to Montana ranching pioneers Nathaniel and May (Junkin) McGiffin at the McGiffin ranch, near the present site of Sand Coulee, Montana. Nat McGiffin and his brother, Abner, had come up the Missouri by river boat to start the ranch in 1878-79, several years before Paris Gibson arrived and founded the city of Great Falls. During those early days before and after their marriage in 1903, Amby joined with his close friend William Hughes as a jerk line freighter to earn some extra cash. Most of the cash went to buying more white face Herefords, but Amby put a little aside to go in with Hughes on a few longhorns. Bess, Montana's 1955 Mother of the Year, was a prolific writer and published many of the Russell, Kid Curry and other open range stories she heard when Amby and his friends got together and reminisced about their days together in the Judith Basin and Bear Paw Mountains.
Linus Chaney died in 1907 and Amby's half-bother, Gerard, re-settled on land further up Surprise Creek. Melvin, married Grace McGiffin, Bess' sister and it didn't take long before both had started families. Amby and Bess had seven sons and one daughter, with all but the first, Donald LeRoy, being born at the ranch. Melvin and Grace had two sons and three daughters. Needless to say, having nine sons between them was an economic bonus for the Cheney Brothers ranch. Later on, Melvin and Grace took over the Westfall ranch, leaving Amby and Bess sole owners at Surprise Creek. According to Truman Cheney, the third son of Amby and Bess, the homestead grew to approximately 5000 acres of grazing land and pasture, all in one block, with another 2,000 to 3,000 acres a combination of forest service permits and leased land. The herd of white faced Herefords had grown so that the Amby Cheney and William Hughes ranches were the two largest shippers of cattle out of Stanford. When times got tough during the Great Depression, Amby tried bringing in sheep to help make ends meet, but his cowboy and cowman heart was never in it. Finally, the combination of Elizabeth suffering a crippling stroke in 1940 and scattering of the family during World War II forced the selling of the ranch in 1945.
The rancher laid down the branding iron, brushed the dust from his Levis and looked up at the man on the horse. "Amby, you're still the best darn calf roper in Judith Basin County. That's 86 calves in one day and no misses. For an 84 year old kid, you're doing pretty well. I'll be counting on you again next spring." Amby roped calves for friends at branding time and working as a State Brand Inspector until he died July 6, 1964, at the age of 90, one of the last, genuine, open range cowboys of early Montana.