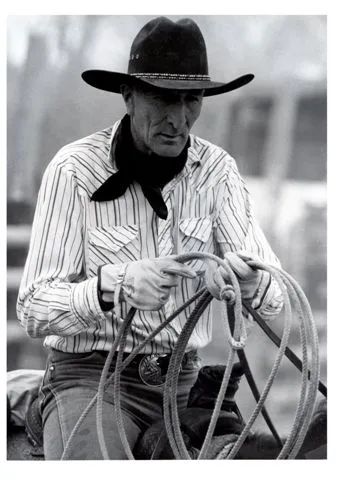 2012 MONTANA COWBOY HALL OF FAME INDUCTEE
DISTRICT 5
Fred Martin "Bud" Connelly
Fred Martin "Bud" Connelly has competed in rodeo for a span of sixty years beginning with high school rodeo. In 1951, Bud was a two year High School District Champion, All-Around runner up for two years, and a national High School Rodeo finalist in 1951 and 1954.
Bud is a 14-time holder of the Indian Rodeo Canadian Association (IRCA) champion title, Northern Rodeo Association (NRA) Bareback champion, NRA Saddle Bronc champion, and NRA All-Around champion. He won over 400 belt buckles, 20 plus saddles, and 10 or more trophies. Not only did he compete in rough stock but has also competed in steer wrestling, calf roping, team roping, and rode a few bulls. He and his horse, "One-Eyed Sam" were much in demand as hazers. Bud was also known for his outstanding skill as a pick up man. Besides Bud's winning record in the Indian Rodeo Associations, he had an impressive record of wins and titles in the Chinook Rodeo Association, North Central Rodeo Association, and the North Western Association.
Bud contributed to rodeo in other ways as well. He judged and produced numerous rodeos, furnished rodeo stock, and served as President of the United Indian Rodeo Association (UIRA). Because of his horse-sense, he has acted in a few movies, including Hidalgo, Cheyenne, and Appaloosa.
Bud has helped many young cowboys perfect the art of their respective event. He provided advice and at times, paid their entry fees.
In 1975, the Kaini News said Bud; the "old veteran" is like a good bottle of wine, which seems to improve with age. This was the year he won the All-Around IRCA steer wrestling title, the Senator Gladstone Memorial Trophy, and the Northern Circuit finals.
In 2008, the Montana Indian Athlete Hall of Fame initiated a Rodeo category. Bud was the unanimous choice for being one of the first inductees within this category. At the induction ceremony Director Don Wetzel commented "Bud's fourteen titles are like being named All-American. He is one of, if not the best cowboys in the history of Blackfeet Country, Montana, and Canada." Nomination endorsement letters revealed the highest level of respect among ranchers and rodeo people alike.
Bud hales from a family of rodeo stock producers. His parents, Brian and Ida Connolly, ranched and breed horses for the U.S. Calvary. The two-year old horses that did not meet the Army's specifications were sold as polo ponies or bucking horses.
Today, at age 77, Bud is recovering from a stroke that he suffered in early August 2011. While he is improving, he will not be able to help friends with annual round up and will need to reminisce about his wild days as a cowboy.
His wife, Loretta, kept the following log from 1959 to 1962. It gives a bird's eye view of Bud's level of competition during his 60 years in rodeo.
Log of Rodeo Entries, 1959 – 1962
Conrad Whoop Up Days: placed in Bareback and Saddle Bronc, received pair of Lee Rider jeans
Blood Reserve Bull Horn Coulee: won Bareback and Saddle Bronc
Browning Memorial Day: placed second in Bareback, Connelly brothers roped and branded five calves in 2 minutes 58 seconds, earning a 1st!
Sweetgrass: events not listed but listed prize money
Fort McCloud: 4th in Bareback, 3rd in Steer Wrestling
Raymond Stampede: won Saddle Bronc
RCA Central Montana Rodeo July 30-31: 3rd in Bareback, 2nd day money in Bareback
Chouteau County Fair: 1st in Bareback
Ronan: 1st in Saddle Bronc
Conrad Whoop Up Days: 1st in Bareback, Saddle Bronc, and Steer Wrestling
Memorial Day: 1st in Saddle Bronc and Bareback
Harlem Chuck Wagon Days: 1st in Bareback and Saddle Bronc, received buckle
Winnet: 2nd in Saddle Bronc, 1st in Bull Dogging (Steer Wrestling), 3rd in Wild Horse Race
Hot Springs: 1st in Bull Dogging (4.0 seconds)
Columbia Falls: split 1st and 2nd in Bareback, 6th in Saddle Bronc, 1st day money in Bull Dogging, 2nd in the average and All-Around Trophy and 3 belt buckles
Birch Creek Roping Club: 1st in Bareback, Saddle Bronc, and Steer Wrestling
Blood Reserve: 2nd in Bareback and Saddle Bronc
Roy: split 3rd and 4th in Bareback
Sandpoint ID: 1st in Bareback day money, 1st in Saddle Bronc average, 2nd Decorating
Bonner Ferry ID: 1st in Bareback and Saddle Bronc, 3rd in Bulldogging
Warrick: 2nd in Saddle Bronc
Fort Benton: 5th in Bareback
Cut Bank: 2nd in Saddle Bronc
Ronan: 1st in Bareback and Saddle Bronc, received two hats
Lincoln: 3rd Bareback, 3rd Bulldogging
Plains: split 2nd & 3rd in Saddle Bronc, 3rd Bulldogging
Browning: 2nd Saddle Bronc, 1st Bareback
Choteau: 1st Bareback, 2nd Saddle Bronc, All Around
Geraldine: 1st Bulldogging, 3rd Saddle Bronc
Hot Springs: 2nd Bareback, 2nd Saddle Bronc
Augusta: 2nd Bareback
Conrad: 1st in Bareback, 5th in Saddle Bronc