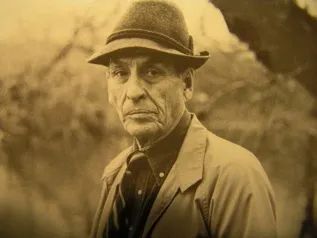 2012 MONTANA COWBOY HALL OF FAME INDUCTEE
DISTRICT 11
Norman Maclean (1902-1990)
Norman Fitzroy Maclean was an American author and scholar noted for his books A River Runs Through It and Other Stories (1976) and Young Men and Fire (1992). Born in Clarinda, Iowa, on December 23, 1902, Maclean was the son of Clara Evelyn (née Davidson; 1873-1952) and the Reverend John Norman Maclean (1862-1941), a Presbyterian minister, who managed much of the education of the young Norman and his brother Paul Davidson (1906-1938) until 1913. His parents had migrated from Nova Scotia, Canada. After Clarinda, the family relocated to Missoula, Montana in 1909. The following years were a considerable influence on and inspiration to his writings, appearing prominently in the short story The Woods, Books, and Truant Officers (1977), and semi-autobiographical novella A River Runs Through It (1976).
Too young to enlist in the military during World War I, Maclean worked in logging camps and for the United States Forest Service in what is now the Bitterroot National Forest of northwestern Montana. The novella USFS 1919: The Ranger, the Cook, and a Hole in the Sky and the story "Black Ghost" in Young Men and Fire (1992) are semi-fictionalized accounts of these experiences.
Maclean attended Dartmouth College, where he served as editor-in-chief of the humor magazine the Dartmouth Jack-O-Lantern; the editor-in-chief to follow him was Theodor Geisel, better known as Dr. Seuss. He received his Bachelor of Arts in 1924, and chose to remain in Hanover, New Hampshire, and serve as an instructor until 1926—a time he recalled in "This Quarter I Am Taking McKeon: A Few Remarks on the Art of Teaching." He began graduate studies in English at the University of Chicago in 1928. Three years later he was hired as a professor at University of Chicago, where he received three Quantrell Awards for Excellence in Undergraduate Teaching. On 24 September 1931 Maclean married Jessie Burns (1905-1968), a red-headed Scots-Irish woman from Wolf Creek, Montana. They later had two children: a daughter Jean (born in 1942), now a lawyer; and a son, John (born in 1943), now a journalist and author of Fire on the Mountain: The True Story of the South Canyon Fire (1999), and two other books, Fire & Ashes (2003) and The Thirtymile Fire: A Chronicle of Bravery and Betrayal (2007).
In 1940, Maclean earned his doctorate from the University of Chicago where during World War II he declined a commission in Naval intelligence to serve as Dean of Students. During the war he also served as Director of the Institute on Military Studies, and co-authored Manual of Instruction in Military Maps and Aerial Photographs. At the University of Chicago, Maclean taught Shakespeare and the Romantic poets, and he produced two scholarly articles, "From Action to Image: Theories of the Lyric in the Eighteenth Century" and "Episode, Scene, Speech, and Word: The Madness of Lear." (The latter essay elaborates a theory of tragedy that Maclean would revisit in his later work; the essay is available here.) From approximately 1959 to 1963, Maclean worked on a book about George Armstrong Custer and the Battle of the Little Big Horn that he never completed, but from which excerpts were recently published. During his last decade on the Chicago faculty, Maclean held an endowed chair as William Rainey Harper Professor of English.
After his retirement in 1973, he began, as his children Jean and John had often encouraged him, to write down the stories he liked to tell. His most acclaimed story, A River Runs Through It and Other Stories was published in 1976, the first work of original fiction published by the University of Chicago Press. This title was nominated by a selection committee to receive the Pulitzer Prize in Letters in 1977, but the full committee ignored the nomination and did not award a Pulitzer in that category for the year. A River Runs Through It was adapted into a motion picture directed by Robert Redford and released by Columbia Pictures starring Craig Sheffer as Maclean, Brad Pitt, and Tom Skerritt in 1992.
Maclean's books and short stories—ending with Young Men and Fire (1992) published posthumously—are noted for their keen adaptation of autobiographical details and lyrical prose. Young Men and Fire, a non-fiction account of the tragic 1949 Mann Gulch forest fire, was the winner of the National Book Critics Circle Award in 1992.
All of Maclean's works remain in print, and The University of Chicago Press published a new volume, The Norman Maclean Reader, a compendium of unpublished as well as published materials, in Fall 2008. Publishers Weekly gave the book a respectful review in Summer 2008, remarking, "Readers of the two earlier books will find, as Weltzien [Alan Weltzien, the book's editor] phrases it, 'new biographical insights into one of the most remarkable and unexpected careers in American letters.'"
Norman Maclean died on August 2, 1990, in Chicago, at the age of 87 of natural causes.
During 1991, a renovated church retirement home was turned into Maclean House, a dorm for undergrad students at the University of Chicago. Maclean House's mascot is the "Stormin' Normans", in honor of its namesake.