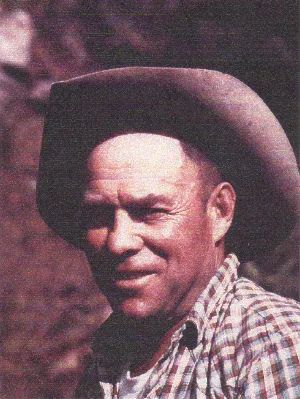 2012 MONTANA COWBOY HALL OF FAME INDUCTEE
DISTRICT 10
Vern E. "Bud" Cheff (1915-2011)
Vern Edmond Cheff, Sr. was born April 2, 1915, the fourth of fourteen children, on his parents' sheep and cattle ranch near Ronan, Montana, on the Flathead Indian Reservation. "Bud" was of French and American Indian descent. He spoke only French and his native Indian language until he started school at which time he was required to speak English. Bud married his school sweetheart on June 10, 1933. Together raised seven children; Viola, Bud Jr., Kenny, Buck, Mick, Roxena and Happy. Bud died on his beloved ranch June 27, 2011, at the age of 96. He lived alone after his wife Adelle passed away in 1999, taking care of himself until the last two weeks of his life.
Bud learned many techniques in breaking horses from his Indian friends. His mentor was Eneas Conko, a full-blood Kalispell who rode rode for the Buffalo Bill Wild West Show in his youth. He taught Bud tricks in roping and horsemanship, as well as hunting and mountain lore. Bud in turn, shared that wealth of knowledge with his sons and anyone who wanted to learn and there were hundreds. He took great pleasure in teaching, especially the youth. He shared his life and unique history with the school tour groups that visited the Ninepipes Museum of Early Montana. He was still helping shortly before his death – the children loved him.
Bud had a special way with horses and cattle. He could be riding through a herd and point at a cow, and tell you, "She's out of Old Crooked Horn, always bring a calf in. That one's grandma was the red line black cow. She raised some good calves."
He might say, "See that filly, she must be out of that standard bred stud. You can bet she'll run. See how that horse picks up its feet. It will be a tough horse but hard riding. You'll be beat to death in a long days ride." He was always observing the hundreds of head of livestock he raised in his lifetime. He has castrated a thousand horse colts, his own and his neighbors.
In the early years when there were no fences and horses could range over a big area mixing with untamed horses. Many of them were unbranded and often running with an undesirable stallion. A number of times he would rope the studs, castrate and turn them loose. As a young man he and a couple of cowboys caught wild horses in the Camas Wild Horse Plains area. Bud always carried some loose salt and medicine in his saddlebags for doctoring livestock if need be.
When Bud was a small boy he watched the great Nez Perce Jackson Sundown ride broncs, later becoming a World Champion at 53. Jackson's daughter was a neighbor and friend of the Cheff family. Bud enjoyed riding in local rodeos.
Bud started breaking horses for pay at he age of 15 and broke hundreds in his lifetime including work teams and pack mules. He broke his last colt at the age of 93. He was still using teams for ranch work until the mid-1950's when he began using a tractor. He always said, "It was the horse that won the West, they are wonderful animals." He rode until he was 95 and was quoted saying, "I wore out a lot of good horses in my life." Bud was the truest Montana cowboy in every respect. He could not only ride or handle any kind of a horse, but could doctor sick animals, assist a calving heifer or dig out a hole to plant a post. He had a special calming way of handling livestock and made it a priority to feed them before taking care of his own needs.
Bud worked as an outfitter and guide. In 2010, he was recognized by the Forest Service and Montana Outfitters Association with a plaque honoring him for being the oldest outfitter and having the longest continuous operating outfitting business in Montana – 1932 to 2010. His son Mick and family continue to run the business and the ranch today.
With the help of his wife, Bud wrote two books. The first Indian Trails and Grizzly Tales was a book on his life. How he benefitted from being part of both the Indian and white cultures. He was invited to speak at a number of schools and universities about his life and the changing West. There have been countless newspaper and magazine stories written about him, including a four-month series in Outdoor Life. He was a remarkable Montana historical treasure. It is easy to see how much he was loved and respected when nearly one thousand attended his funeral. The final words he spoke were, "Open that gate and turn that horse loose."
Reference:
The Missoulian, Wednesday, June 29, 2011, Missoula, Montana.
Outdoor Life Magazine, Issues dated: Dec. 1968, Jan. 1969, Feb. 1969, Mar. 1969.
Dale Burk, Stonydale Press, Stevensville, Montana