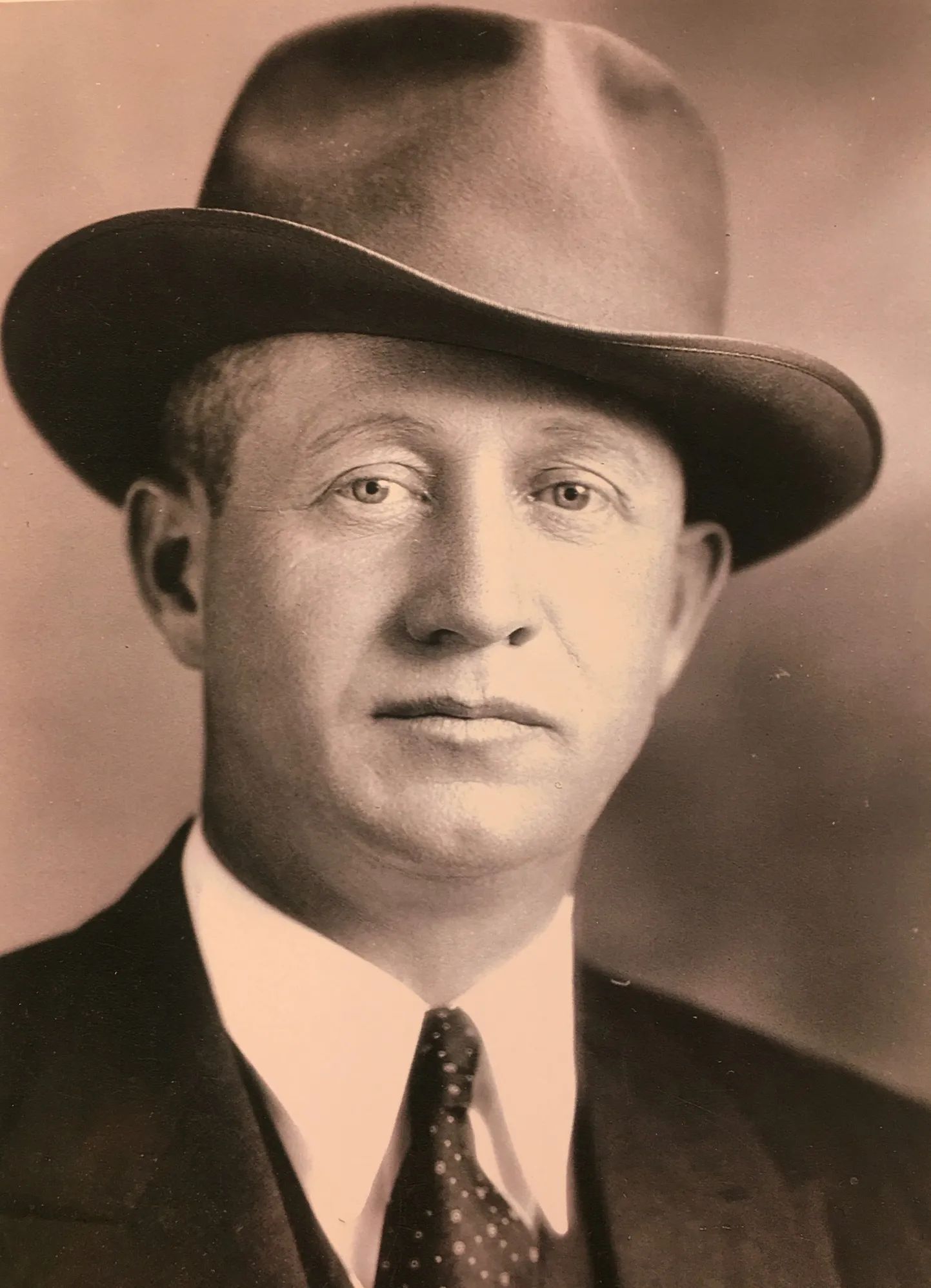 2011 MONTANA COWBOY HALL OF FAME INDUCTEE
1860 – 1960 LEGACY AWARD DISTRICT 8
Brian D. O'Connell (1896-1983)
Brian O'Connell was born in Marysville, Montana on October 15, 1896, to Thomas and Mary (Sullivan) O'Connell who arrived in Montana from County Cork, Ireland with their family. Brian was the youngest of ten children in this mining family. Unfortunately, his mother died when he was seven, and his father passed a year later. He and his two young sisters then came to live with their oldest sister, Mamie, who was then married to Wolf Creek rancher Harland Herrin. Brian received his education in a one room school at Wolf Creek. Often when he was not at the Herrin ranch, he had gone to cowboy at C. B. Power's Rock Creek Ranch, where the cow boss, Coon Dixon, took him under his wing. Both men were known for their innate sense of livestock.
An excerpt from Dearborn Country: When Brian was fourteen, he rode with fellow cowboy Mai O'Mara on a frightening ride he was to remember the rest of his life. He recalled a pack of ten or twelve wolves finishing off a cow they had downed in a coulee up Rocky Fort near the present day Sterling Ranch. The men rode for days, finding cattle they felt had been deliberately pushed from their rightful areas. Enroute they came upon a gathering of riders manipulating some cattle. The sight caused Brian to worry, as the outfit had to be faced. Brian recalled that on this ride they spent the night in Craig. The next day, Brian continued on the Beartooth Range, about twenty-five miles in below zero temperatures. He spent the night in the Beartooth and the next morning forded the Missouri below the Sleeping Giant, making a treacherous three foot jump off of ice on horseback into the icy river. Upon reaching the other side of the river, he rode down Indian Trail back to the Herrin Ranch.
Brian enlisted in the Marines at a young age, in order to join one of his older brothers in World War I. He was noted as an excellent marksman and in 1919, was honorably discharged with a Good Conduct Medal.
Brian cowboyed, intending to save money to go to school. However, his love of the ranching life took precedence. He worked with several livestock buyers and trailed herds they had purchased over long distances. He himself purchased livestock and bought his first ranch in the Helena Valley in the 1930s.
In 1934 Brian ran for sheriff of Lewis and Clark County and served eight years in that position. On June 2, 1936, he married Canadian-born Hazel Richardson whose parents moved to East Helena where her father, a pharmacist, opened a drug store.
He purchased a ranch in the Bears Paw Mountains in 1941 and the Rock Creek Ranch from C. B. Power in 1946, where his cowboying had started. In 1957, he purchased the adjoining ranch to Rock Creek. He ran a cow-calf operation and spoke livestock language - this last observation witnessed numerous times by his crew and his daughter. In the mid-1960s Brian was badly injured while doctoring a lame Angus bull; he was told he would survive about six months. Fifteen years later the Irishman was still horseback, riding through his favorite Wolf Creek country, with his daughter.
Brian and Hazel had three sons, twin boys Michael and Thomas, Richard and daughter Patricia. Brian died on May 30, 1983, in Helena.
Brian was a lifetime member of the Montana Cowboys Association, Montana Stockgrowers Association and served on the Montana Livestock Production Credit Association for thirty years. He was a supporter of people and communities in need and he did this in a very unassuming way.