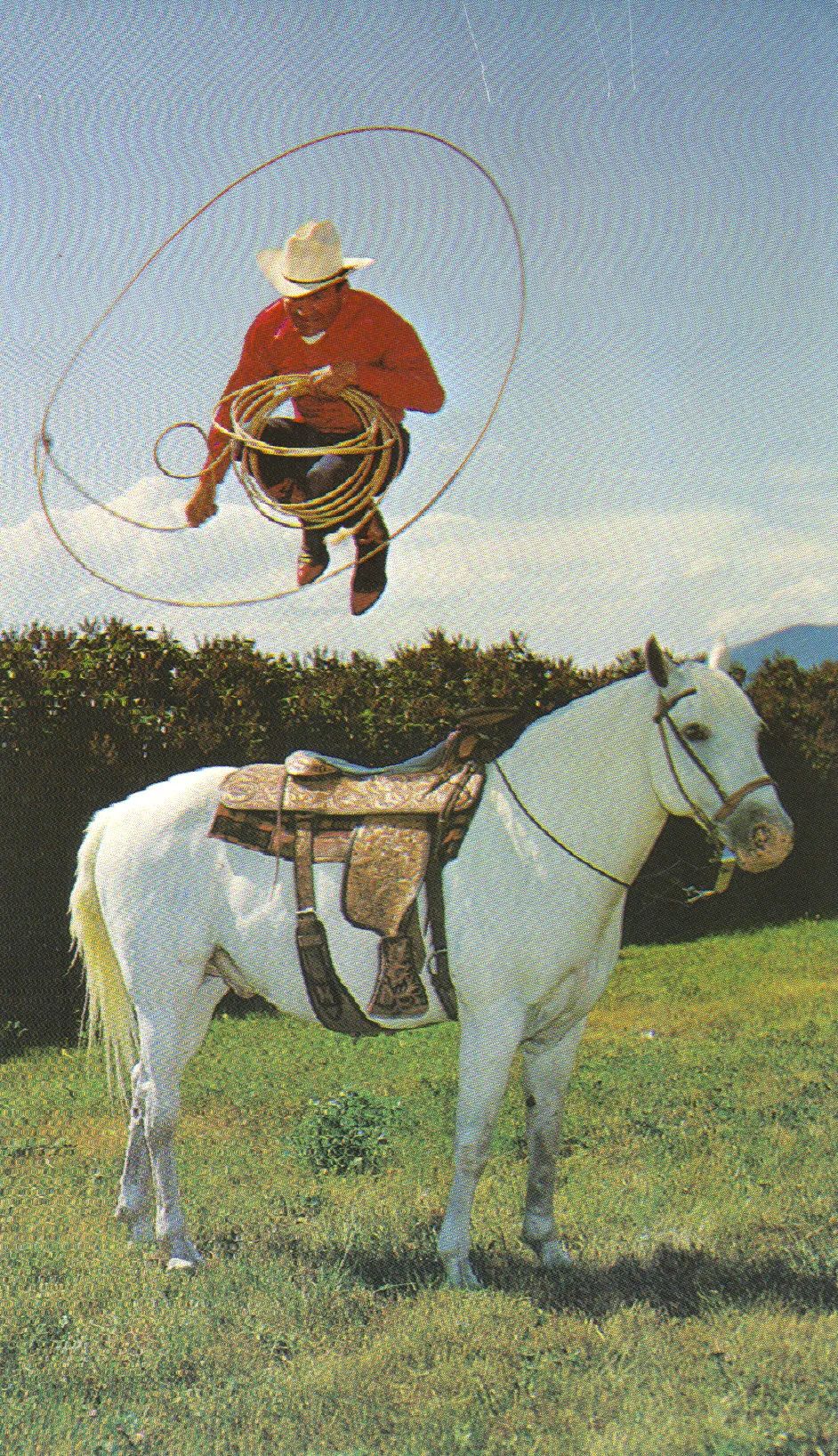 2011 MONTANA COWBOY HALL OF FAME INDUCTEE
1860 – 1960 LEGACY AWARD DISTRICT 6
James W. "Jimmy" Kaaro (1860-1960)
James W. "Jimmy" Kaaro was born in Great Falls, Montana, June 21, 1917. He was adopted by John and Ellen Kaaro when he was three months old and raised at Fergus, Montana. He received his education at the Fergus School and attended Fergus County High School in Lewistown, Montana.
Jimmy Kaaro was one of the finest trick ropers in the world. His performances included circuses, rodeos, fairs, and the Johnny Carson Tonight Show in 1965. He was one of nine trick ropers in the world selected to rope at the only world's trick roping contest ever held in Oklahoma, at the National Cowboy & Western Heritage Museum in Oklahoma City in 1966. That trick roping contest was won by Jim Eskew of Ardmore, Oklahoma. When Jimmy was going on the Tonight Show, his friend Jack Dempsey, said, "You teach Johnny how to rope, and I'll teach him how to fight".
In 1930, when he was in the ninth grade, he quit school to break horses for $2.50/head. He rode his first bucking horse at a rodeo in 1933, at age 16. He trailed horses from the Fergus/Roy area to Lewistown, about 40 miles, for different ranches and the Chappell Outfit which ran 10,000 head in "The Breaks" north of Roy. He got $2.50 a trip while the horses sold for $5.00/head.
He spent two summers in Glacier Park working for the Park Saddle Horse Company that ran between 1,500 – 2,000 horses. Along with other cowboys, his job was to break them and make them tourist friendly. In between seasons, he rode for Ervin & Arnold Smith of Winifred, Montana, in their Wild West Show in Wisconsin. In 1934 he went to Fresno, California and worked on a dude ranch. It was there in California that Jimmy got his first taste of trick roping, a true love that never left. It was then he started practicing and learning tricks.
In 1936, he participated in the saddle bronc riding at the Roy Rodeo and was featured in a photo with Ernie Emery of Polson, Sonny Smith of Grass Range, and Larry Jordan of Roy. He was not only an entertainer but a rodeo cowboy as well.
In the 1930s, he served in the United States Calvary and was stationed in California and rode jumpers. This unit was disbanded in 1942. He enlisted in the Army during WWII and was discharged in October 1945 due to a motorcycle accident in which he received a badly broken leg and spent more than a year in a hospital. While in the Army, he roped and performed at USO shows to entertain fellow troops. After the war, he performed in a Wild West Show in Georgia, the Cole Bros. Circus in Louisville, Kentucky, and the first televised circus in Buffalo, New York.
Jimmy entertained many rodeo audiences every rodeo season all over the western states. When all was said and done, Jimmy had performed his trick roping in all the states except Alaska and Hawaii. He taught the first spade bit school at the Colonial Inn in Helena, Montana, with 50 students signed up, 15 of them being Canadians. His co-presenter was renowned horseman Ed Connell from California.
In 1942 he married Betty Moyer in St. Paul, Minnesota. Jimmy trained elephants, zebras, monkeys and other animals that were leased to the King Bros. Circus for five seasons. Winter quarters were in Canton, Ohio. At this time, he was featured in American Magazine, Grit, Ford Times and other publications. In 1952, he performed in the Super Circus with zebras in Chicago. This was the first nationally televised circus.
In 1953, Jimmy, Betty, and daughters Bonnie and Debbie moved back to Lewistown. He was involved in law enforcement as Fergus County undersheriff for ten years and Fergus County sheriff for two years. After retirement he worked as a car salesman for Courtesy Pontiac Buick. In 1972, he became Superintendent for the State Home for the Aged and left there on June 6, 1974. Jimmy and Betty divorced. On July 30, 1973, he married Shirley Egger Hansen, a widow with two daughters, Vickie and Laura. He then joined the staff of the National Recreation Service in Cherokee, North Carolina. He was performing his trick roping four to five times a day. After a short time, he returned to Montana. At that point he went to work for the Montana State Labor Department in Helena.
Summers still found him performing at rodeos and fairs. In March 1965 he performed in the Colossal Circus World Museum Parade in Milwaukee, Wisconsin, on his Appaloosa horse, Arapahoe. Arapahoe was a free-range horse he caught near Fergus, Montana, and trained. Arapahoe lived to be 25 years old, with his last performance at 24 years at the Helena Last Chance Stampede and Fair.
Jimmy became a Professional Rodeo Cowboys Association (PRCA) Gold Card member.
When he wasn't horseback he was professionally speaking and entertaining audiences at any given function. He had a great sense of humor, rolled with the punches and was well known for his one-liners, such as, "When I had my first case of puppy love, I got fleas'; "My name probably doesn't mean much to you folks, but it does mean poverty to my wife and kids"; "I got so excited when I was asked to speak that I lost my acceptance speech. In fact, I am so nervous that my throat is tighter than a cheap pair of shorts"; "I was raised on a ranch in Montana. My dad had great plans for me, but I cut my way out of the sack"; "My dad said, 'Son, I would like to see you get ahead, because you sure need one'; I started at the bottom and I stayed there".
James W. "Jimmy" Kaaro passed from this life while trick roping at the Sheriff & Peace Officers Association Convention in Hamilton, Montana, on June 30, 1979, one day after his retirement from the State Labor Dept.
Reference: Western Horseman by Bill Yaeger, Mar 1965; Helena Independent Record Ap 27, 1977; Denver Post Feb 18, 1979; Lewistown News Argus.