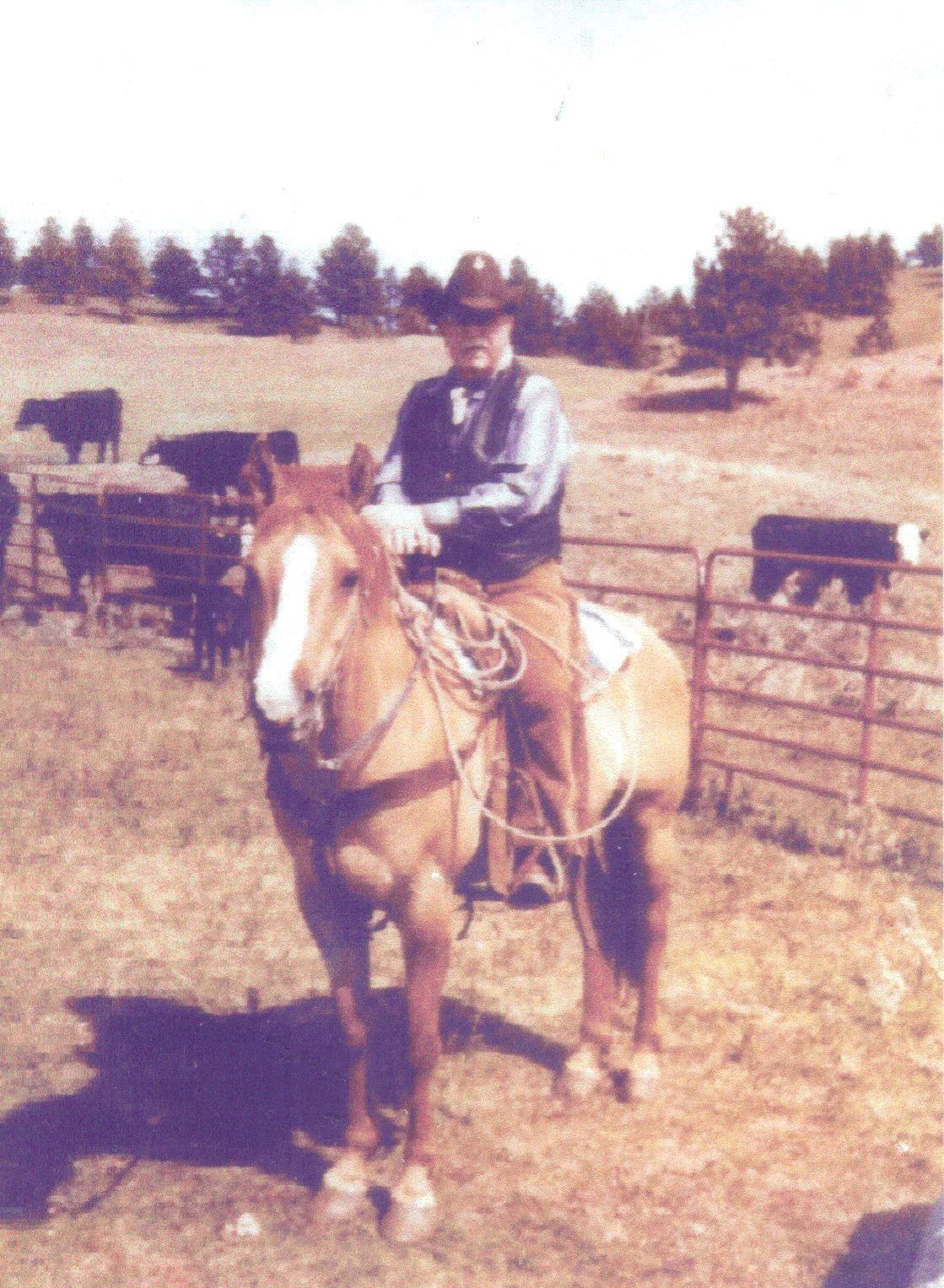 2011 MONTANA COWBOY HALL OF FAME INDUCTEE
1860 – 1960 LEGACY AWARD DISTRICT 4
Gregory Joseph "Buck" Henderson (1919-2004)
Gregory Joseph Henderson was born to Fred and Allie Henderson on August 4, 1919, on the family homestead in the Bears Paw Mountains near Warrick, Montana. He received his nickname, "Buck," from his uncle when he was in his jumper at six months old. His uncle would say "buck, buck, buck" and the handle stuck with him until they day he died. It was told that when he was one day old, he accompanied his dad to picket a horse for grazing.
At five years old, Buck began his formal education at the country school in Warrick. He rode his horse, Toney, the five miles to and from school. Ambrose Phalen came to the ranch where he helped Buck at the age of six learn to rope calves for doctoring and branding. He went to work at the IX Ranch when he was twelve. One year when school let out, he was part of the crew that roped as many as three-thousand head of calves one branding season. He was wrangling horses and joining cattle drives at fourteen. Buck enjoyed rounding up cattle and trailing them to the "big pasture" - seven miles wide and twenty-two miles long. He enjoyed the fall gather each year just as much. Buck wrangled and broke horses for several ranches, including the Macamore, Seiferd, Whitcraft, Phalin, Kulr, and Boyce. He also rode broncs and roped calves at all the local rodeos.
After he married, Buck bought two ranches in the Bears Paw Mountains in 1940, the Rue place and the Norden place. He managed the ranches, broke horses on the side, and continued to participate in rodeos .
Buck, along with his father and uncle, started the Warrick Rodeos.
He roped calves at brandings for his neighbors the Clair Boyce family, Descheemaekers, Martins, and Delainies, until he was eighty-two years young. No matter how long the branding day was, Buck offered his time.
Buck passed away December 3, 2004.
When he was three years old he learned his favorite poem:
"My horse's name is Bonnie and my dog's name is Rex,
and I'm Buck Henderson from the WX."