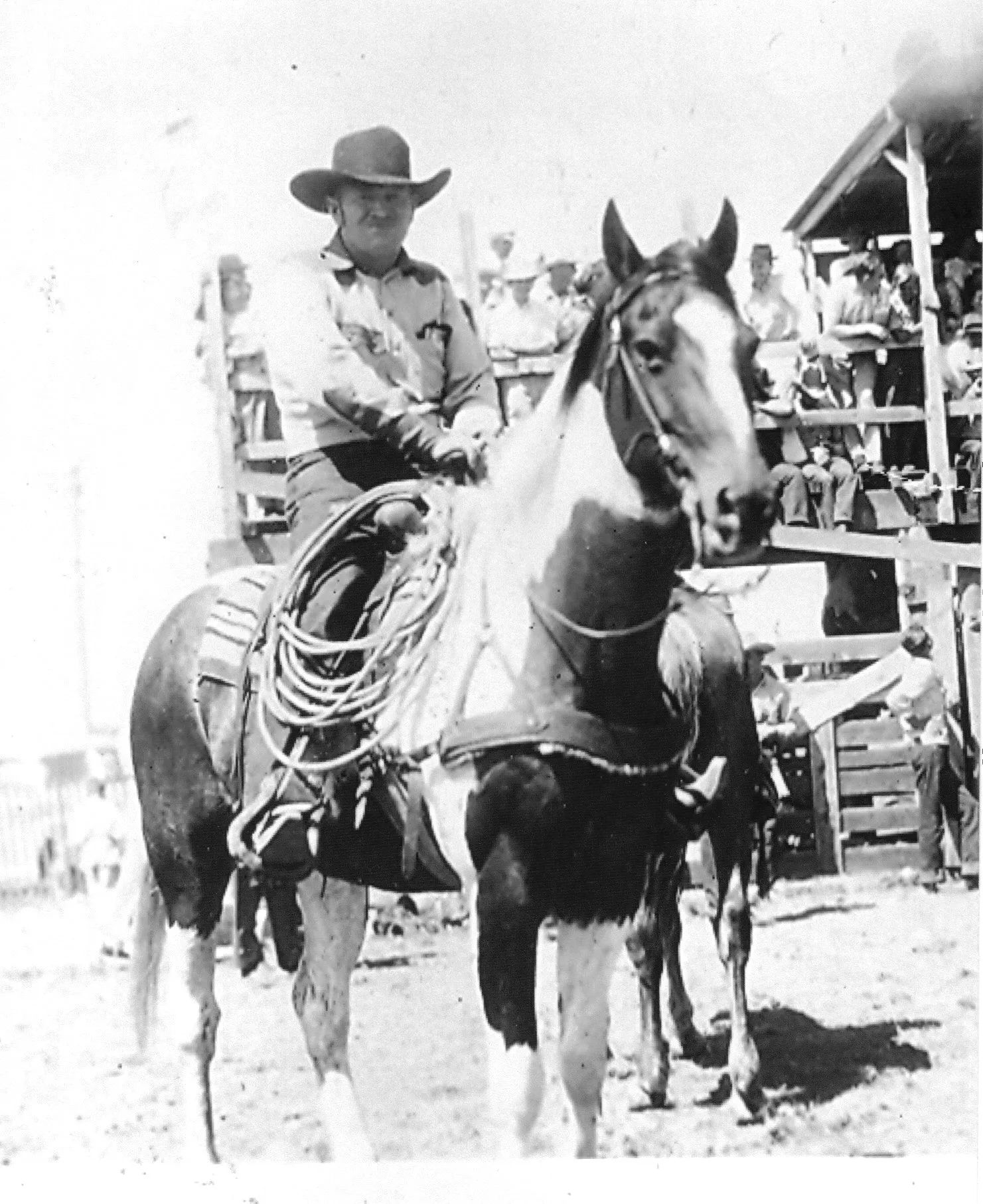 2011 MONTANA COWBOY HALL OF FAME INDUCTEE
1860 – 1960 LEGACY AWARD DISTRICT 3
Chandler "Feek" Tooke (1909-1968)
Chandler "Feek" Tooke was born at Redfield, South Dakota, in 1909. His parents Earl and Bessie moved to a homestead 13 miles west of Ekalaka in 1913 where they raised six sons: Frank, Fay, Chandler (Feek), Granville (Red), Dick, and Bill.
Chandler's nickname came from an aunt who didn't care for the name Chandler, so she called him "Felix". Fay pronounced it Feek and the name stuck.
The Tooke brothers were interested in rodeos, so they built an arena at the ranch and held their own rodeo, Memorial Day, 1931. Headed by Feek, the Tooke brothers branched out and produced rodeos in Ekalaka, Baker, and Miles City, Montana; Belle Fourche and Deadwood, South Dakota; Dickinson, Hettinger, and Bowman, North Dakota. They leased bucking horses to other rodeo producers and bucked Tooke broncs in arenas from Salt Lake City to Chicago and New York's Madison Square Garden.
Feek was a horseman. He broke horses to ride and work as well as bought, sold, and traded horses. To his way of thinking any work worth doing should be done with a horse, and often rode horses the other cowboys couldn't handle.
Pat O'Kane, a Powder River ranch foreman, developed a horse breed in the 1920s he thought would have the agility, size, and stamina to stand up to hard riding in the rugged badlands. He crossed a Shire stallion to Thoroughbred mares. The colts grew to be ideal for what Pat had in mind, but they all had a bucking horse mentality and only a handful of cowboys were able to ride Pat's rough string.
Feek bought Pat's horses when Pat retired in 1936. At the time, no one raised horses solely to buck in rodeos. Feek's ambition was to create top-of-the-line broncs. There were thousands of bronc prospects available, but Feek could see a time in the future when the almost endless supply would dry up.
In 1938, Feek purchased a Shire stallion and mares from General Marion Sweeney. The big change came when Feek bought King Larrygo from an Iowa Shire farm in 1943. King was three years old, registered, and a blue-ribbon winner in Show Class at the Iowa State Fair.
In 1945, Feek dealt for an albino Arabian stallion named Snowflake. The horse was broke to ride, but he was a man-hater, a terrible bucking horse, and his colts inherited his disposition. The Arab was crossed with Prince mares, and Snowflake mares crossed with Prince. The combination produced a bucking horse bloodline unequaled in rodeo history.
King sired Prince; Prince sired General Custer and Timberline; General Custer sired Gray Wolf. Custer and Wolf were full-blood Shires; Timberline was part Snowflake cross.
Described as "the Henry Ford of the bucking horse industry," Feek proved to all skeptics that great bucking horses can be successfully bred and raised.
One of his best was Sheep Mountain, voted the 1967 National Finals Rodeo (NFR) Best Saddle Bronc and was the first "bred to buck horse" to win a major award. Major Reno won back-to-back NFR Best Saddle Bronc trophies in 1968-69.
The Tooke bloodline has produced more than 6,000 bucking horses. Eighty percent of them selected for the National Finals Rodeos are related, and most world champion broncs since 1987 shared the same bloodline. Three legendary Pro Rodeo Cowboys Association (PRCA) bucking horses are Harry Vold's Bobby Joe, Saddle Bronc of the Year three times; Bennie Beutler's Commotion, Bareback Horse of the year three times; and Calgary's Grated Coconut, Bareback Horse of the year six times.
Rodeo Hall of Famer Clem McSpadden put it in perspective when he said, "Without Feek Tooke and his bronc stallions, we wouldn't have bucking horses...he was years ahead of his time."
The Miles City Bucking Horse Sale is world famous, and the first bucking horse sale was Feek's idea. Bill Linderman, top all-around rodeo cowboy, expressed an interest in rodeo production during a conversation with Feek in June 1946. Feek brought up the idea of horses bucking out of a chute and sold at auction but said he didn't have the time to put an auction together and suggested Bill give it a try. Bill Linderman promoted the "World's Premier Bucking Horse Auction" at Billings, Montana, in May 1947, and Miles City's Bucking Horse Sale was first held in 1950.
Feek promoted a matched bronc riding in Ekalaka, Montana, on July 28,1948. A second match was held at Dickinson, North Dakota, in September 1948. The matches were the first rodeo events of the kind held in the northwest and became an annual event at the Home on the Range in Sentinel Butte, North Dakota.
The ultimate reward for any man or woman who participated in rodeo is enshrinement in the National Cowboy Hall of Fame's Rodeo Hall in Oklahoma City, Oklahoma, or the Pro Rodeo Hall of Fame in Colorado Springs, Colorado.
Several men and women have been elected into both halls, but an honoree's selection into both in the same year is quite rare. Prior to 2008, only three people had accomplished this: Andy Jauregui in 1979, C.R. Boucher in 2001, and June Ivory in 2004. Feek Tooke from Ekalaka, Montana, became the fourth when he was inducted into the Pro Rodeo Hall of Fame on July 12, 2008, and the National Cowboy Hall of Fame Rodeo Hall on October 26, 2008. That same year Rodeo Hall of Fame honors were given to Feek's family members.
On December 7, 1968, at the National Finals and after Clem McSpadden presented a special award to Feek for Sheep Mountain as the National Finals Best Saddle Bronc, Feek rode from the arena and was stricken with a fatal heart attack at age 59.
Feek Tooke's bucking horse legacy lives on as each year hundreds of Tooke bloodline broncs buck in rodeo arenas from Florida to Canada and all places between.