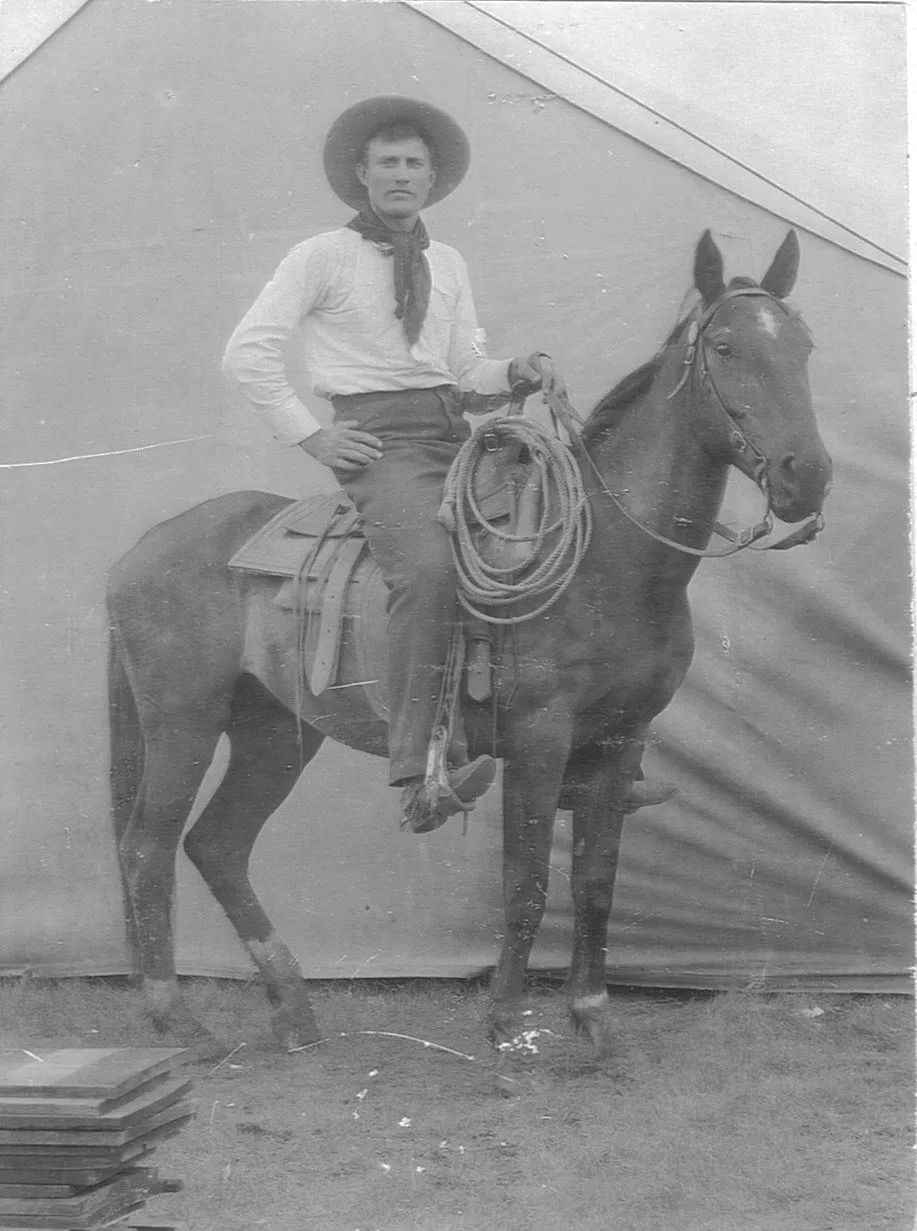 2011 MONTANA COWBOY HALL OF FAME INDUCTEE
1860 – 1960 LEGACY AWARD DISTRICT 2
Montana Bill (1872-1956)
Albert 'Bill' Roberts was born in Gallia County, Ohio, on July 20, 1872, the youngest of ten children. His father, born in 1811, served in the Union Army during the Civil War. As Bill's parents were elderly and needed his help on the farm, he didn't leave home until the age of 21. From the age of 16 he kept a diary and recorded his desire to go west. In October of 1895 he wrote, "decided to set out to be a roving blade."
After leaving Ohio, Bill spent a few years with relatives in Iowa, but by his twenty-seventh birthday, he was working for the TV Ranch in Mandle, Wyoming. That fall, Bill and a companion, and three head of horses, headed for Texas. A few of his diary entries read as follows:
10-25-99 camped at a lake10-26-99 camped under a big cottonwood
10-26-99 camped under a big cottonwood
10-28-99 camped with a Mexican
10-31-99 reached Plainview, Texas
11-4-99 commenced work for A.B. Rosser, Yellowstone Division XIT Ranch, in Texas.
Bill started as a windmill greaser and later became a freighter. In the winter of 1901, he transferred to the XIT's Red Tower division. He worked for Wagon Boss Len Boyce where the XIT boys called him "Rawhide Roberts." Bill was fascinated by the stories that cowboys told of trailing cattle to Montana. One day Bill was approached by the Texas XIT manager A.G. Boyce about going with the next trainload of cattle to Montana. The boys immediately began calling him "Montana Bill," the handle that stuck with him throughout his life. On June 7, 1902, Bill journaled "the cattle were inspected at Running Water, Texas by Pat Garrott, stock inspector." The following day, "I bid goodbye to old Texas." He arrived in Glendive, Montana, on June 14, 1902, and turned the cattle loose to graze near Thirteen Mile Creek. He worked for XIT manager O. C. Cato until 1906, and as his diary states "stood my last guard watch from Midnight to 2am December 7, 1906." He later wrote about returning to Texas and riding a horse named Billy the Kid from Texas to Montana. Other ranches mentioned in his diary that he may have worked for around this time included the 151 and the CK outfits.
During the years Bill worked for the XIT, he noted in his diary several well-known XIT cowboys including John Armstrong, Bill Mushfeller, Phelps White, A.B. Blocker, Jack Potter, Niggar Bob, Charlie Clements, and John "Bugger" Marsh. Bob Fudge in his book, "Texas Trail Driver," mentions working with Montana Bill in the fall of 1902. Fudge was the XIT wagon boss. Fudge, Montana Bill, and seven other cowboys rode to the upper Missouri Breaks to gather 500 "wild" steers and trail them 100 miles to the rail to be shipped. It was early December and the weather turned cold. Fudge said in his book, "a cowboy is usually in the best of humor in the worst of weather, he knew his calling, but this Montana Bill was the best natured cowboy I ever worked with. He was always in good humor."
While working for the XIT, Bill made several trips from the Fallon area to Chicago accompanying cattle to market. On one of these trips he met a young girl from Norway in route to spend the summer on the Crackerbox Pete Ranch at Glendive. She spoke no English and he no Norwegian, but the language of love knows no boundaries. Montana Bill and Anna Vaule were married in Glendive December 22, 1906. He went to work as foreman for the Haywood Daily EY also known as the Bird Ranch. Their first child, Daisy Mae, was born the next year. In 1909 Bill moved his family to Ismay and started a livery barn that grew to 130 head of driving and saddle horses that carried his brand 7-U (reads 7HU). In 1916 he ran a stage line from Ismay to Cabin Creek and worked as a homestead "Locator" for a time. During the years Bill owned the livery, he taught local kids how to handle horses. He enjoyed watching horses buck, and Ismay's young boys were eager to try to ride them. Local boys he taught included Bob Askin and Paddy Ryan. Both went on to be World Champions rough stock riders. For years, a stuffed mountain sheep shared Bill's office in the livery barn. The mount was the first-place saddle bronc rider trophy at the Belle Fourche, South Dakota rodeo and won by Bob. In 1912, Montana Bill took George Askin to Camp Crook, South Dakota, to try the famous local bucking horse Tipperary. George failed to ride him - as Tipperary was retired never having been ridden.
In 1932 Bill closed the Ismay Livery Barn, as the automobile had beat out the horse for transportation. He moved to Miles City to work for the Montana Highway Department. Montana Bill was a member of the Montana Cowboys Association, a founder of the Range Riders, and was on the original board of directors for the Range Riders Museum. He was the first curator of the Range Riders Museum at its opening in 1948 and was involved annually with the Range Riders Reunion and Roundup until the early 1950s when his health began to fail. The museum was Bill's life in his later years. Many of the museum's western artifacts have handwritten descriptions made in Bill's beautiful scroll handwriting. Although he had only a sixth-grade education, he loved writing about his beloved west and cowboy life. The art of storytelling was second nature for him. He was a prolific poet and writer who published poems in many magazines and newspapers. Former Miles City Star newspaper editor, Lee Hannify, called him Miles City's "Cowboy Poet Lariat."
Montana Bill died June 13, 1956, in Miles City. He was found outside his apartment in the old Brath Hotel on a park bench. His ten-year-old grandson Mike Correll had been sitting with him earlier as he often did, virtually absorbed in the words of a cowboy canvas which his granddad painted of a time gone by. The boy had left for just a short time to play across the street. When he returned, he found Bill slumped over on the park bench, dead. He was eighty-three-years-old. Bill remains his grandson's hero, as Mike has read and re-read Bill's letters, articles, diaries, and recited his poems at cowboy poetry gatherings. All of Bill's children, Daisy, Ralph, Lillie, Rolla, Ray, Violet, Rose, Mary, Jim and June, have all passed, but many descendants still carry his memory. In fact, Mike's son, KC, named his daughter Ismay which would have pleased both Bill and Mike's Mom.
Montana Bill was indeed an interesting breed of man who truly loved Montana and the cowboy way of life. There were only a few of Montana's cowboys who were the caliber of "Montana Bill Roberts."
The Cowboy - by Montana Bill Roberts:
He's just an old-time puncher with a flying head of hair
And a rough and ruddy manner and a way of shooting square.
He's a type that disappearing from the ranges of our west
With his Durham and his papers in the bosom of his vest.
With his rope, Cayuse and saddle and a skimpy old war-bag.
He goes laughing into action but he ain't much on the brag.
He believes in plenty smilin' it's a habit he has got.
When he meets life's double-crosses he knows it helps a lot.
He don't believe in growlin' when the grub piles running low.
And you never hear him grumble cause his luck is comin' slow.
With a rousing cowboy; Whoopee! Each day he ushers in.
He's a mighty welcome feller with his ever pleasant grin.
He's a rootin, tootin spender when he goes upon a spree.
But if anybody needs it his money's mighty free;
He's a rearin', tearin' rider but he never spills his woes.
When some sun fishing bronco gently lands him on his nose.
He's a roller, yes; I know it never gathers any moss,
But when a friends most needed he'll always come across.
Seems as though his happy habits is life's best philosophy
For a grouch it costs a-plenty while a grin is always free.
Sure, he's ready when he's needed
With an eye that's keen and grim
For he's never shirkin' trouble when it comes a-hunting-him.
And when the battle's over be it lost, or be it "win",
He'll look at you, and take it with his regulation grin.
References:
History of Montana by Stout, 1921
Bit and Spur Magazine, Billings, Mt. 11-21-49
Miles City Star Newspaper, Miles City, Mt. 1-23-40, 8-31-52, 5-20-54, 6-13-56
Great Falls Tribune Newspaper, Great Falls, Mt. 11-16-39, 12-28-41
The Billings Times, Billings, Mt. "Montana Bill Roberts Recalls XIT Trail Drives from Texas
Panhandle to Miles City, Mt. in the 90s"(no date on article)
Tipperary Still Unridden (Article with no name or date)
The Dalhart Texan, Dalhart, TX. "A Cowboy's Tribute to the XIT Ranch"8-7-37
The Diary by Albert "Montana Bill" Roberts dated April 1890-March 1908
Single paper document by Albert "Montana Bill "Roberts carried in saddle bag 1895-1900