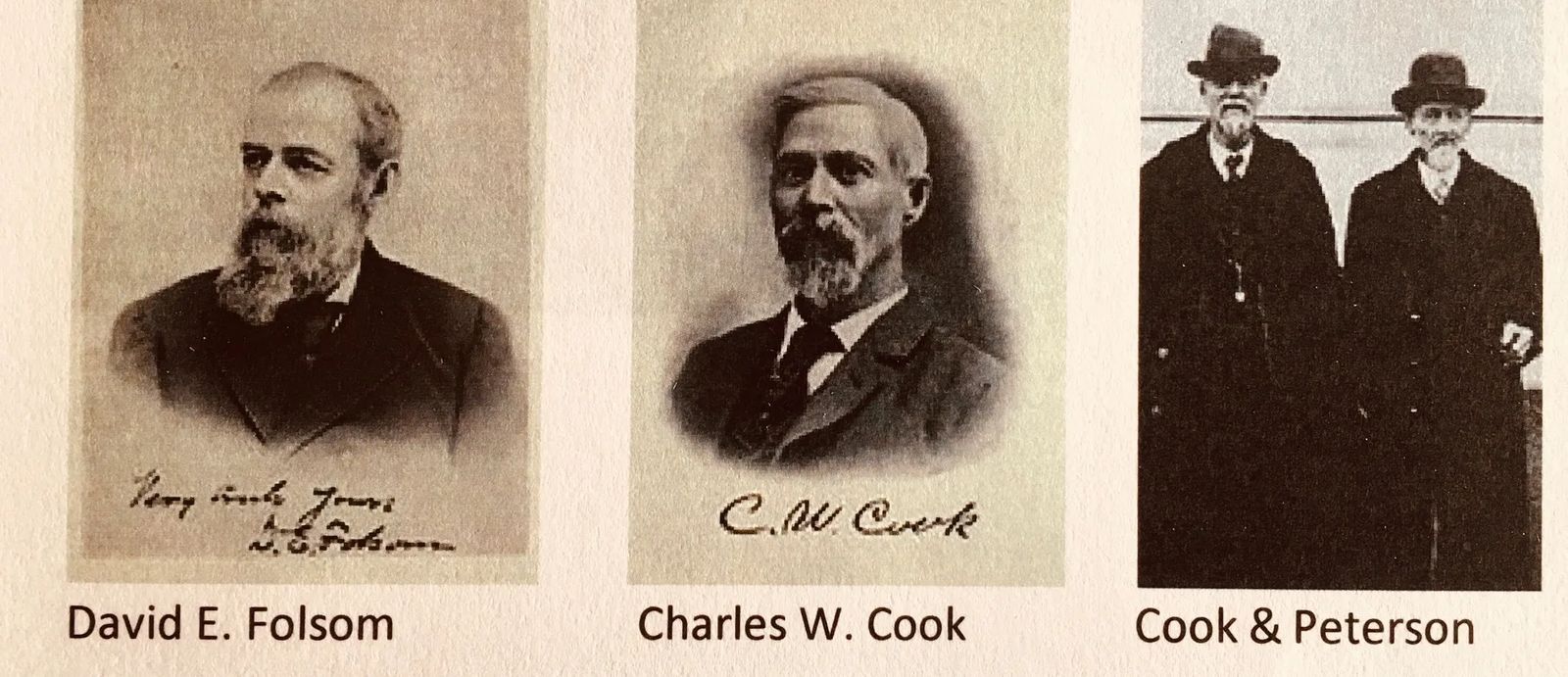 2010 MONTANA COWBOY HALL OF FAME INDUCTEE
1860 – 1940 LEGACY AWARD DISTRICT 9
Yellowstone Expedition (Wm. Peterson, Charles Cook & David Folsom) (1869)
Lifelong friends and adventurers Charles W. Cook and David E. Folsom came west in 1862 with the Fisk Expedition. The two expeditioners lived for a time in what is known today as Gallatin Valley, Montana working as miners. When mining began to fail, they turned to ranching.
The Cook property was under Mount Edith near the headwaters of what is now Deep Creek in the Smith River Valley of Meagher County and is still known as the Cook Ranch. The Folsom Ranch which is still remembered by that name is west of current day White Sulphur Springs, Montana near Birch Creek.
In 1869 an expedition consisting of Charles, David and a ranch hand named William Peterson along with a dog, Flora, traveled to present day Yellowstone Park for the purpose of exploration. The first map to illustrate their 36 day journey around the great lake, later known as Yellowstone Lake, and many geysers was published in 1870 by W. W. deLacy, civil engineer and Montana Territory surveyor.
Charles and David collected and recorded information from this region and after the expedition Folsom wrote an article that accurately described the area to American readers for the first time. It was published in the Western Monthly Magazine of Chicago, Illinois but mistakenly credited Charles as the author. A translation of that account was published in the Contributions to the Historical Society of Montana. The Great Chicago Fire of 1871 destroyed the magazine's back files and the only copy retained by the fledgling Montana Historical Society also burned in a fire in 1874. As a result, subsequent expeditions became better know and credited with facilitating the 1872 legislation that established Yellowstone National Park. In 1904 Charles was visited by a professor of the Montana College of Agriculture and Mechanic Arts who came to do some surveying on the Cook Ranch. When he became interested in the 1869 expedition, Charles loaned him his surviving notes of The Western Monthly article, but they were never returned. They, too, were destroyed in a fire in 1916, which consumed the professor's office.
David E. Folsom served in the 1893-95 Montana Senate sessions. He ran for governor in 1900 but was defeated by Joseph K. Toole.
Around 1900, William wrote A Reminiscence of William Peterson which was published sometime later in 1964 in the Yellowstone Interpreter.
In 1922 Charles W. Cook who outlived David and William participated in the 50th Anniversary celebration of Yellowstone's creation. At that time, he authored the Reconstructed Diary of the Cook-Folsom Diary, which was published in the Haynes Bulletin. He spent his declining years in White Sulphur Springs where he died on January 30, 1927 at the age of 88.