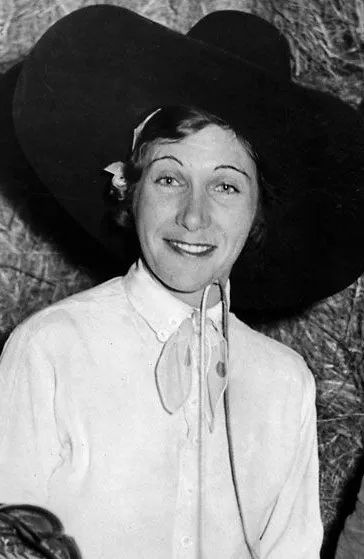 2010 MONTANA COWBOY HALL OF FAME INDUCTEE
1860 – 1940 LEGACY AWARD DISTRICT 7
Alice Greenough (1902-1995)
Alice Greenough busted broncs and busted ranks in the masculine world of rodeo. She was the first woman to be inducted into the National Cowgirl Hall of Fame in 1975 at Hereford, Texas and was named to the National Cowboy Hall of Fame in Oklahoma City in 1983. She was hands-down the first queen of rodeo.
Alice was born at her family's horse and cattle ranch in 1902 near Red Lodge, Montana. She learned to ride horses from her father Ben, whose philosophy, she was fond of telling reporters, was: "If you can't ride 'em walk." Ben was known in the Red Lodge area as "Pack Saddle Ben" as he guided seasonal sportsmen into the Beartooth Mountains to hunt and fish. The Greenough's kept horses at their rock littered base camp. Alice's sister Marge reflected often that their father expected all his children to ride the wildest of horses and they did, ride quite well in fact, as they weren't sure that they'd live if bucked off onto those rocks.
Alice first began riding bucking horses in a public venue at the Forsyth Rodeo on a dare by a handful of the rodeo cowboys. "These cowboys decided I ought to ride a bucking horse, so they brought over a gray bronc and saddled him and turned me loose in front of the grandstand," Alice wrote in a personal essay. "I didn't buck off." That was the beginning of her lifelong wild ride that would take her to rodeos at Madison Square Garden, to Boston, and on to trick riding around the world. She would go on to perform in exhibitions and rodeos in 46 states as well as Canada, Mexico, Spain, France and England.
Alice won the Word Champion Saddle Bronc Rider title in 1933, 1935, 1936 and 1941. During this time, the event was called "Saddle Back Riding" rather than Saddle Bronc Riding, a more modern term. "Alice won titles in America and Australia, and was invited to Europe to ride steers there," said Coy Huffman, a close friend of Alice's. "When she arrived in Spain, she found the word "toro" on her contract meant bull, but Alice stood by her signature and rode the bull." She married Ray Cahill and two children were born to this marriage. Some years later she married Joe Orr and together they operated their own rodeo business. Her work in the business featured the invention of the first women's barrel-racing event.
Alice's skills as a horsewoman gained her an international following that included royalty, the friendship of American heavyweight boxing champion Jack Dempsey and well-known socialites such as Cornelius Vanderbilt. She entered Hollywood when she performed trick riding in numerous western movies, including a 1937 film "The Californians." Her stunt work included the television series, "Little House on the Prairie." She was honored as "Best Woman Athlete by Birth State-Montana," as reported by Sports Illustrated and CNN. She was also named as one of Montana's 100 most influential persons.
Alice established the Carbon County Museum at Red Lodge in 1959 to house the Greenough and Linderman rodeo collections. Her siblings Turk and Marge were also Bronc Riders. Turk won three Saddle Bronc Riding championships in the 1930s and was one of a very few who rode the notorious broncs Midnight and Five Minutes to Midnight. Marge also won a Saddle Bronc championship and was a bull rider. Four of the Greenough siblings, Alice, Turk, Marge and Bill, were known as "The Riding Greenough's," though all the Greenough children were expert riders and world renowned as a rodeo family.
Alice Greenough died in August of 1995 at the age of 93. She is credited with clearing a path for other women to become professional horse trainers and rodeo competitors.
References: