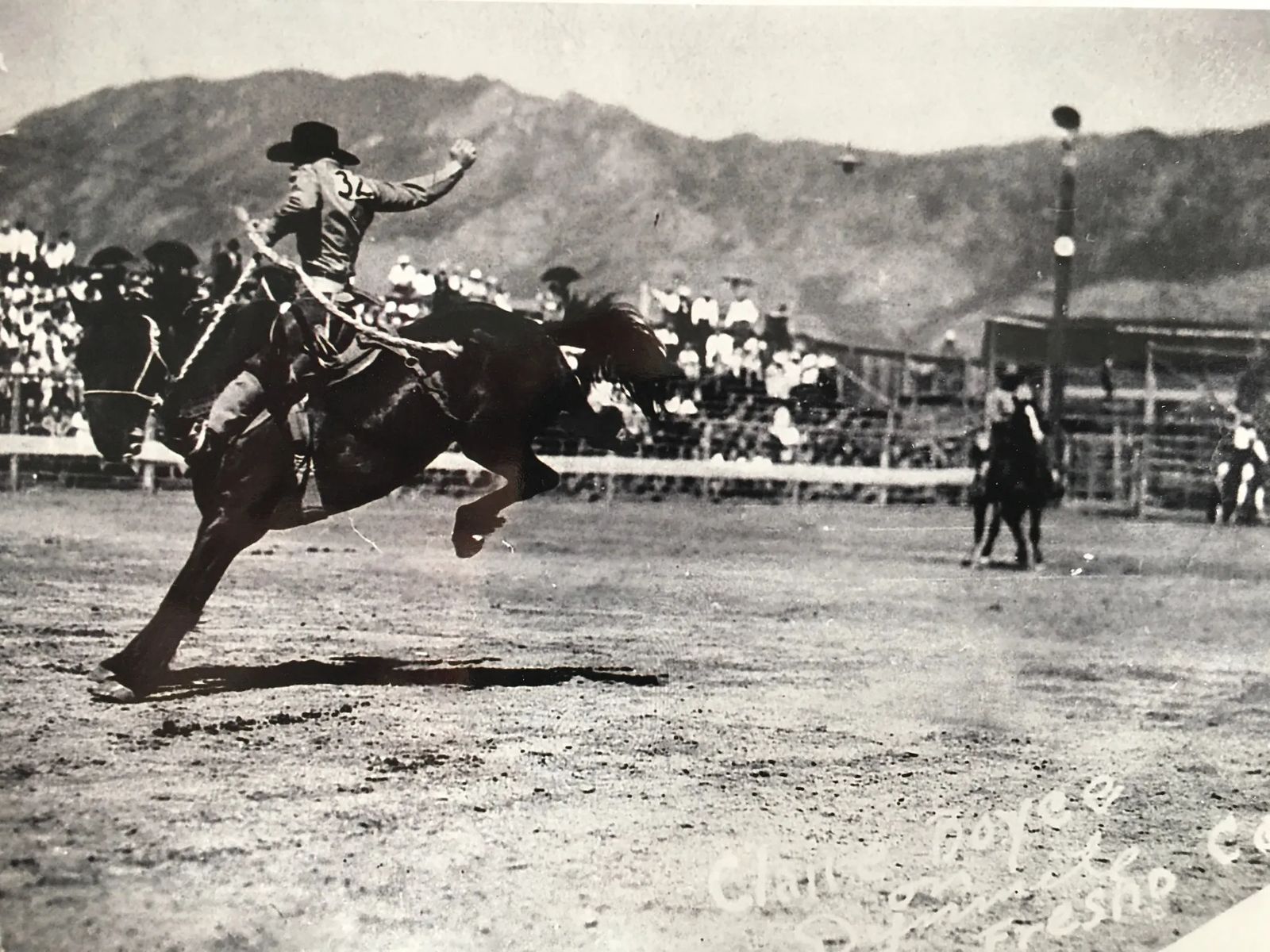 2010 MONTANA COWBOY HALL OF FAME INDUCTEE
1860 – 1940 LEGACY AWARD DISTRICT 6
Claire R. Boyce (1913-1998)
Claire Boyce was born December 24, 1913, south of Havre, at Warrick, Montana. When he was two years old, the family moved to northeast Montana where he grew up and attended school at Flaxville and Scobey.
With the move to northeast Montana, his father turned to farming to make a living. This was much too slow for Claire, so at 13 years of age, he quit school and left home to ride broncs and cowboy for his older brothers, Steve and Earl. Both men were top ranch hands and 20 years older. They had a lease on the Marias River west of Big Sandy. This is where Claire got his love for the cowboy way of life. They weren't the kind of men that would cut a kid any slack, so he had to grow up and get tough pretty fast. Earl most likely taught him to ride broncs and Steve taught him to understand livestock. Through Claire's teenage years, he worked on various ranches in northern Montana, including the Etchart Ranch at Glasgow and Miller Brothers at Chinook. Both of these were large sheep operations, that also ran between 6,000 to 9,000 mother cows. In those years Claire broke a lot of horses and more often than not took the rough string for his own use.
By the time he was 15 years old, he was getting a reputation as a hell of a bronc rider, both on the range and in the rodeo arena. Ira Chipman, who was a rodeo stock contractor, took Claire on buying trips. Ira would start to deal on a horse that someone thought could really buck by offering $25.00. If the seller wanted more, he would say "If he can buck this kid off, I'll give you $50.00, but if he can't, I get him for $25.00." They usually took him up on the offer, thus Ira usually got the good end of the deal and rarely had to pay $50.00 for any horses. Through the years, Claire also tried a lot of prospective broncs for rodeo stock contractor Leo Cremer of Big Timber.
As soon as he turned 21 years old, he went to work for the CBC (Chappel Brothers Cannery - Musselshell Division). The CBC outfit was the biggest horse operation in the United States. East to west across Montana they ran 60,000 horses between Winnett, Montana and the North Dakota line, and north to south from the Missouri River to the Yellowstone River. There has been nothing like it before or since. There were three CBC divisions made up of the wildest, toughest, and most reckless bunch of cowboys that ever assembled in one place; they had to be to survive. Claire worked there from the spring of 1934 to the fall of 1935. After that, he was with the CBC Wagon most of the years they were in business. In the off-season, he broke horses in the Winifred, Roy, and Winnett areas. During most winters, he crossed the Missouri River and rawhided for the Miller Brothers by picking up range cows that needed more feed and moving them to that location. Of course, his love of rodeo was running fast through his blood, so he entered local rodeos and often left the arena as the winner.
After the CBC closed out in 1937, Claire broke horses and entered rodeos in Nevada and California through the winters of '37 and '38. For the next two years, he won money-riding broncs at rodeos from Madison Square Garden in New York to California and from Montana to Texas. At that time, the Madison Square Garden rodeo was the biggest and most prestigious rodeo in the world. All of the rodeo stock and cowboys arrived by train, and the crowds would be entertained with a rodeo every night for nearly two weeks. He won the bronc riding there several times. Claire understood the need to have a professional organization to help stop the corruption and maintain the image of rodeo in order to keep rodeo alive and well in the United States. So, it is of no surprise that he was a charter member of the Cowboy's Turtle Association, which was the beginning of the PRCA (Professional Rodeo Cowboy's Association). Rodeo records for that era are scattered and sketchy, but if there had been a world champion bronc rider, he would have been a contender.
Late in 1939, Claire went to work for the Kendrick Cattle Co. at Decker, Montana, riding the rough string and breaking horses. He was well known from the Canadian line to the Wyoming line as a top hand, a fine bronc rider, and a horse breaker. He had a reputation as being able to do a day's work on just about any horse somebody wanted to point out to him.
On December 24, 1940, he married the love of his life, Edna Knobloch. She captured his heart and he quit his wandering. They went on to put together a large cattle operation consisting of three ranches, near Birney, Hardin and Lewistown as well as a motel, café and bar in Billings. They had three children, Dee, Sherry and Lora and five grandchildren. Claire was extremely proud to have lived to be a great grandfather. He died of cancer in 1998, at age 84, and was still riding his favorite horse during the last year of his life. He lived his life as a cowboy and left a legacy of Claire Boyce stories commonly heard at local cafes, brandings, and rodeos.