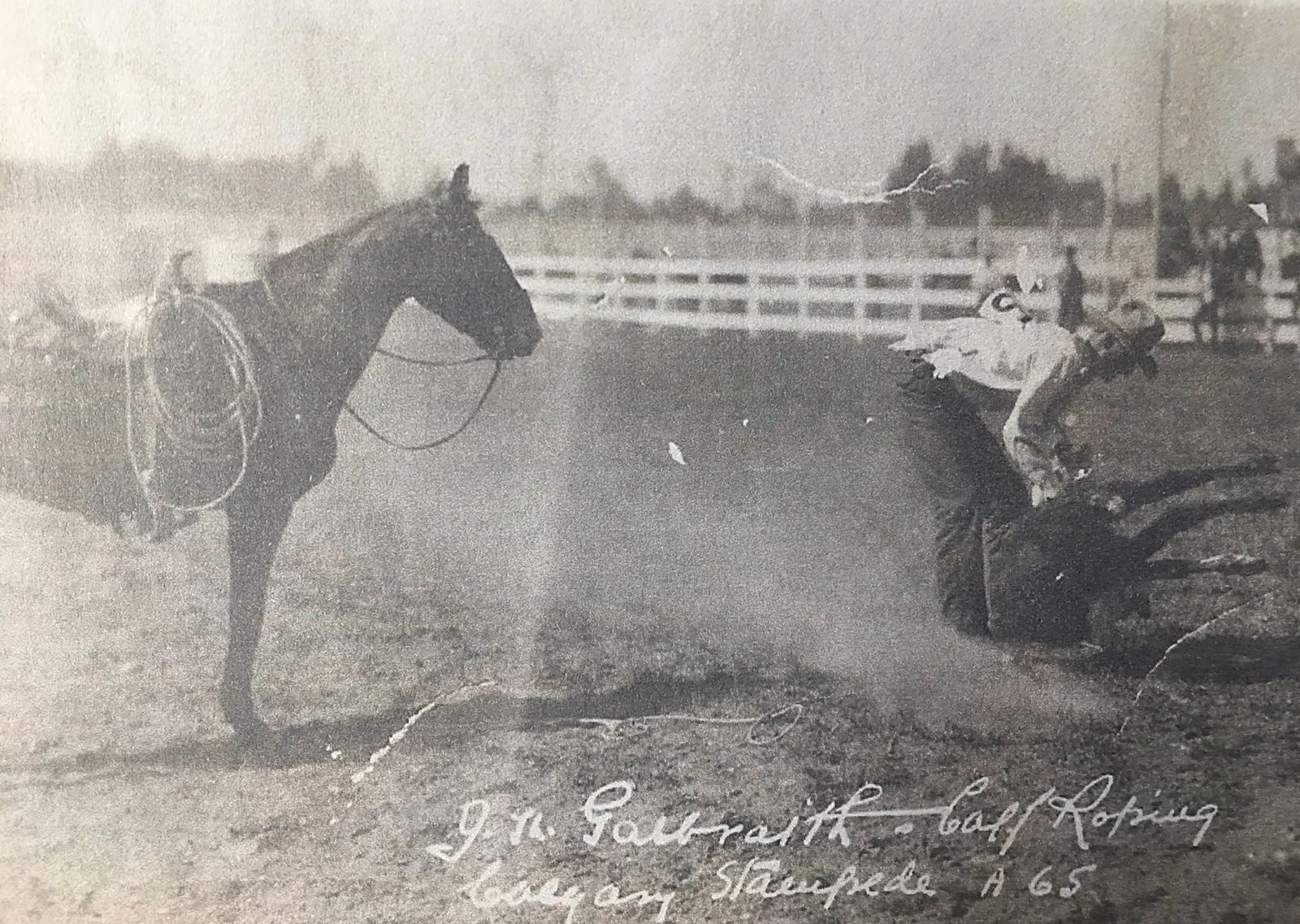 2010 MONTANA COWBOY HALL OF FAME INDUCTEE
1860 – 1940 LEGACY AWARD DISTRICT 5
Kenneth H. Galbreath (1911-1997)
Kenneth Hudson Galbreath was born in Cardston, Alberta, Canada, on October 18, 1911. Kenneth, or "Duffy" as he was known, grew up on an 18,000-acre ranch on the North Fork of the Milk River near Browning, Montana and the Canadian border. The Galbreaths raised Hereford cattle and horses which were purchased by the United States Army for their re-mount program. Duffy's father also owned a string of bucking horses. Galbreath Ranch became well known for its fine horses.
Duffy worked alongside ranch hands in the workings of a large ranch. At an early age, he worked with the round-up wagon camping, branding and gathering cattle away from the ranch. There was hay to be put up each year and other tasks to operate a working ranch. It was hard work, but at the same time an adventure for a young boy. The work ethic Duffy exhibited as a man was instilled in him while growing up on the very ranch he would in later years inherit.
Duffy attended elementary school in Cardston, Alberta. His parents owned a home there as the family was involved in that community as well as north central Montana. When Duffy was 16 years old he transferred to Chemewa Indian High School in Salem, Oregon, for his later education. This was the norm for young native people to attend out-of-state Native American boarding schools.
During summer vacations, Duffy would travel back to Browning and the home ranch to immerse himself in rural life. Being around livestock his entire life enabled Duffy to start rodeoing. He attended many rodeos throughout Canada and parts of the western United States. Duffy's interest was in timed events, especially calf roping. Duffy being tall and lanky was a natural in this event. His horse was a homebred six-year-old brown gelding named Trophy. Duffy had several different horses throughout the years but used Trophy for calf roping.
In 1931, at age 17, Duffy entered the Calgary Stampede and won the calf-roping title. He'd performed in front of royalty, as the Viscount Willingdon and Lady Willingdon, from England, were seated in the audience. Duffy won a buckle and a watch. The buckle is still with the family, the watch is believed to be on exhibit in a Calgary museum.
The following fall Duffy returned to Chemewa for his senior year of high school. He met a young lady named Alice Slater from North Dakota. They were together for one year and married in Oregon and moved to the family ranch. Of this union four children were born and raised; Ken Jr., Shirley, and Jerry are still living in the area. Sheila is deceased.
Duffy took over the ranch management and continued to raise cattle and horses for the next 65 years, where operations evolved from team and wagon to modern equipment. In 1976 Duffy and Alice retired to Cut Bank. The Galbreath Ranch lands are now leased to a nearby neighboring ranch.
Kenneth "Duffy" Galbreath lost his battle to cancer in May of 1997. Alice joined her cowboy shortly afterward. Duffy left behind a legacy that to this day is still remembered in ranching and rodeo circles.