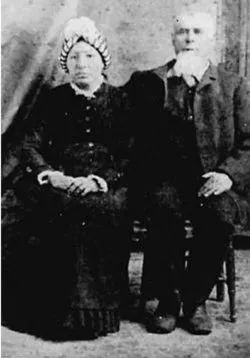 2010 MONTANA COWBOY HALL OF FAME INDUCTEE
1860 – 1940 LEGACY AWARD DISTRICT 4
Joseph Cobell (1828-1890)
Joseph Cobell was a fur trader, hunter, trapper, miner, stock raiser, farmer, mountain man and civilian scout for the U.S. Army. 'Joe' was described sometimes as "more Indian than White" and he could speak the Piegan language fluently.
Jospeh was born in Bardonecchia, Italy in 1828 and immigrated to America in 1848. He began his employment with The American Fur Company in 1852 and subsequently was employed by Campbell & Co.
In 1858 Joe married Mary (Many White Horses), the sister of Piegan Chief Little Dog and half-sister to Yellow Dog. She passed away in 1865. Thereafter he traveled to Silver City, Montana where he took up mining and raising cattle. In 1866 he took his second wife, In-Is-Kin-Aki (Buffalo Stone Woman) also known as Mary, who was a sister to Mountain Chief, last chief of the Blackfoot. Eighteen children completed the family of these two marriages.
In 1867 Joe and his family took up a ranch on Rock Creek where he built a stage station on the Old Helena and Benton Road. Three years later he became a scout for a military expedition. In 1871 Joe took his family to Deep Creek where he took up ranching.
Settling in the Shonkin area north of the Highwood Mountains in 1874, Joe became a farmer and stock raiser. The Cobell ranch had the reputation of being "one of the finest ranches in the territory," and Joe had the distinction of being "one of the very first to grow such crops as onions and potatoes in this part of Montana, as well as grain. The fact that garden produce and other crops would grow in this section was a matter of some amazement to old time residents." In 1882, the Helena Independent noted, "Joe Cobell, a Shonkin farmer, raised 3,036 bushels of oats." Joe held the first water right in the Shonkin Valley.
In 1888, Joe sold the Shonkin ranch and moved to Cut Bank Creek on the Blackfeet Reservation. There he built an irrigation ditch to water crops that is still in use today. Speculation is that Cobelle Coulee near Cut Bank Creek on the Reservation was named for Joe.
On January 19, 1890, Joseph Cobell died of pneumonia in Fort Benton. He is buried at the Riverside Cemetery in Chouteau County. Joe was an honorable and upright man, respected by his neighbors in all the places he lived.
References:
Robert Ege, Tell Baker to Strike Them Hard!
Daily Helena Independent, September 8, 1882
The River Press, December 29, 1982
Nora Lukin, Tales & Trails of Highwood