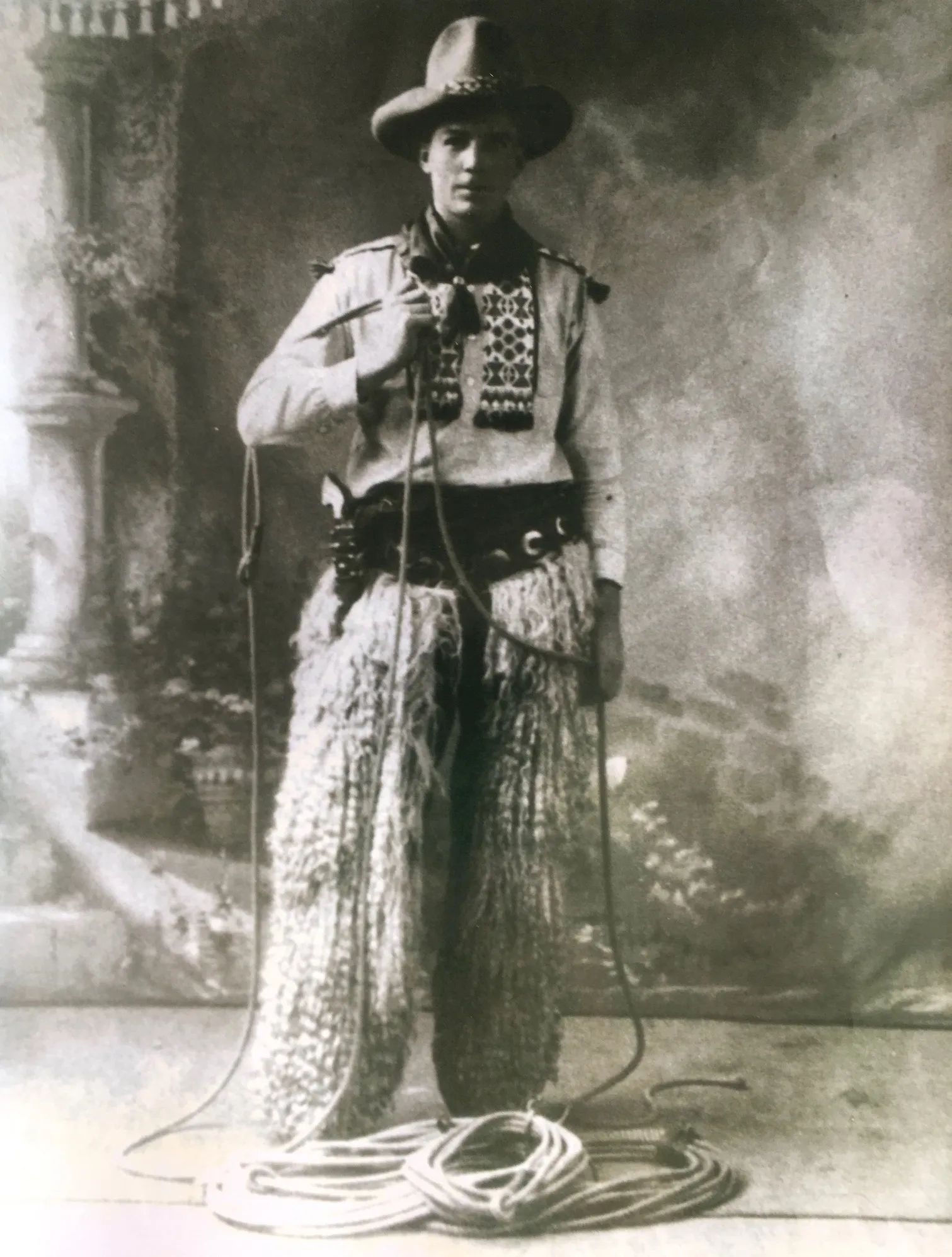 2010 MONTANA COWBOY HALL OF FAME INDUCTEE
1860 – 1940 LEGACY AWARD DISTRICT 1
Truman Stanton 'Jack' Goldberg (1888-2001)
Truman Stanton 'Jack' Golberg was born on July 10, 1888, in Grand Meadow, Minnesota. He was the eldest son of Andrew T. and Julie (Nopson) Golberg. He attended schools in St. Paul, Minnesota where he was active in the sport of boxing, wrestling, and hockey.
During the summers, Jack spent a great deal of time on his uncle's farm near St. Paul. At the age of 18 he left home to work on the Bill McCarty Ranch on the Custer Trail near Medora, North Dakota. While there he also worked on other ranches and roundup camps in the Little Missouri country. It was here he met the late great Tom Mix, who was also working in that area.
Jack became interested in rope spinning when he met George Gardner and his wife, former rodeo performers of the Buffalo Bill Cody Wild West Show, on the Old Elkhorn Ranch that Teddy Roosevelt once operated near Medora. About a year and a half later, Jack got his chance to show how talented he was when a Wild West Show appeared in Belfield, North Dakota. He joined the show, traveling the rest of the season, and finished up on the Gulf of Mexico. Other shows in which he appeared included The Young Buffalo and Texas Rangers Wild West Show, The F.C. Schoruel Railroad Show, Geraldine Reninger C.I.L. (Cowboy, Indians and Lady) Show and the Jack King Wild West Show, which finished in Jacksonville, Florida. In 1909 Golberg performed for the Queen of England in Toronto, Canada. In 1913 he joined the Arlington & Beckman's Oklahoma Ranch Wild West Show. He also appeared with Florence King IXL Wild West Show, Wortham & Allen Carnival Company and The Buffalo Bill Cody Wild West Show.
When traveling with the different shows he appeared in nearly all the principal cities in the United States and Canada, including Madison Square Garden. He had several chances to go to Australia and Europe but did not like the idea of crossing the ocean.
Jack kept adding to his act over the years becoming not only a great rope artist, knot throwing half hitches, but also a bronc rider, pony express rider, auto polo player and pistol juggler. He could spin eight ropes at one time; three with each hand, one with his teeth and one on his belt. With two lariats, he would rope a rider from each direction. Another rope trick was to rope five horses running abreast – and these were just a few of his many spectacular rope tricks.
Jack enjoyed performing and working on new acts, and soon became an expert trick rider. His most spectacular and dangerous trick was to leave the saddle on the left side, working his way under the horse and then back into the saddle on the right side, with his horse running at top speed. He was fortunate over the years that fractured ribs and a broken nose were the extent of his injuries.
For sixteen consecutive years he appeared at the Wolf Point Stampede where he was billed as the "King of Stunt Artists."
During the later years he appeared at many places in Montana and North Dakota, including the Great Falls Fair, Labor Day celebrations, rodeos and fairs. During the off-season, early in his career, Golberg worked on ranches in Montana, North Dakota and Nevada – for Gorham Rankin of the famous Double Square Brand, Winnemucca, Nevada, the Bar P Roundup Camp, Square Butte, Montana, and the Swing H Ranch, Mona, Montana.
On September 8, 1917, Golberg married Esther Minnie Sherman, daughter of Henry Sherman, who homesteaded in the Mona community South of Culbertson, Montana. Shortly after their marriage, Golberg joined the Army and was assigned to the Calvary Artillery Remount Division where he was in charge of the horses. He had a special way of handling and breaking tough horses. His unit was ready to go to France when the Armistice was signed. Upon his return from the Army, both he and his wife Esther worked for Henry Miller at Mona. During the summer months, they appeared in rodeos, fairs and exhibitions around the state and North Dakota. Later on, a season was spent touring Canada with a team and wagon and their horses. It was while they were in Canada that Esther was severely burned in a cooking accident and later moved to a hospital in St. Paul, Minnesota. After her recovery, they moved to Coeur D'Alene, Idaho, and in March 1925, they had a daughter, Charlotte May. Later that year they returned to the Mona community where they took over the Henry Sherman place where they ranched and farmed for several years. In October 1934 their son, Jack Marvin, was born in Sidney, Montana.
In 1937 the family moved to the Greenfield Bench near Fairfield, Montana, where they farmed. Periodically during the summers they appeared in rodeos and fairs in the state and North Dakota. In 1938, Jack and his son Jack Jr. performed for the Crown Prince and Princess of Norway in Helena.
In 1956 they moved to Great Falls where Golberg lived until his death in December 1969 at the age of 81. In August of 1969 he received a trophy for the "Oldest Rider in the Great Falls Parade." Esther passed away in April 1971.
Their daughter Charlotte Golberg passed away in August 2001. Their son Jack has lived his entire life in Montana, currently living in Monarch. Jack has four children, Janet Reed of Wichita, Kansas, Marlene Preston of Great Falls, Montana, Terri Trettenbach of Anaconda, Montana, and Bruce Golberg of Red Lodge, Montana.
References
Home Range, A History of the Elmdale Community, 1986. Page 96, Page 189.
The Sidney Herald, November 1, 1934. Hospital News.
Roosevelt County's Treasured Years, Copyright 1976, Page 277-278.
Wolf Point, A City of Destiny, Copyright 1997, Page 46.
Cambridge City Tribune, Cambridge City, IN, April 23, 1914 "Uluster Light Benefit."
The Havre Daily News Reporter, August 29, 1927, "Special Attraction."
The Havre Daily News Reporter, February 4, 1930. "Fair Amusement Program in '30 to be Increased."
The Havre Daily News Reporter, February 11, 1930, "Blaine County Fair Attractions Signed for the Fall Show."
The St. Paul Daily News, February 21, 1912. "By Miss Parkay."
The Great Falls Tribune, December 30, 1969. Obituary "Veteran Rodeo Performer, Jack Golberg, Dies at 81."
The Sidney Herald, December 31, 1969. "Jack Golberg Dies Recently."
The Great Falls Tribune, January 12, 1958. Montana Parade "Montana Rope Artist"