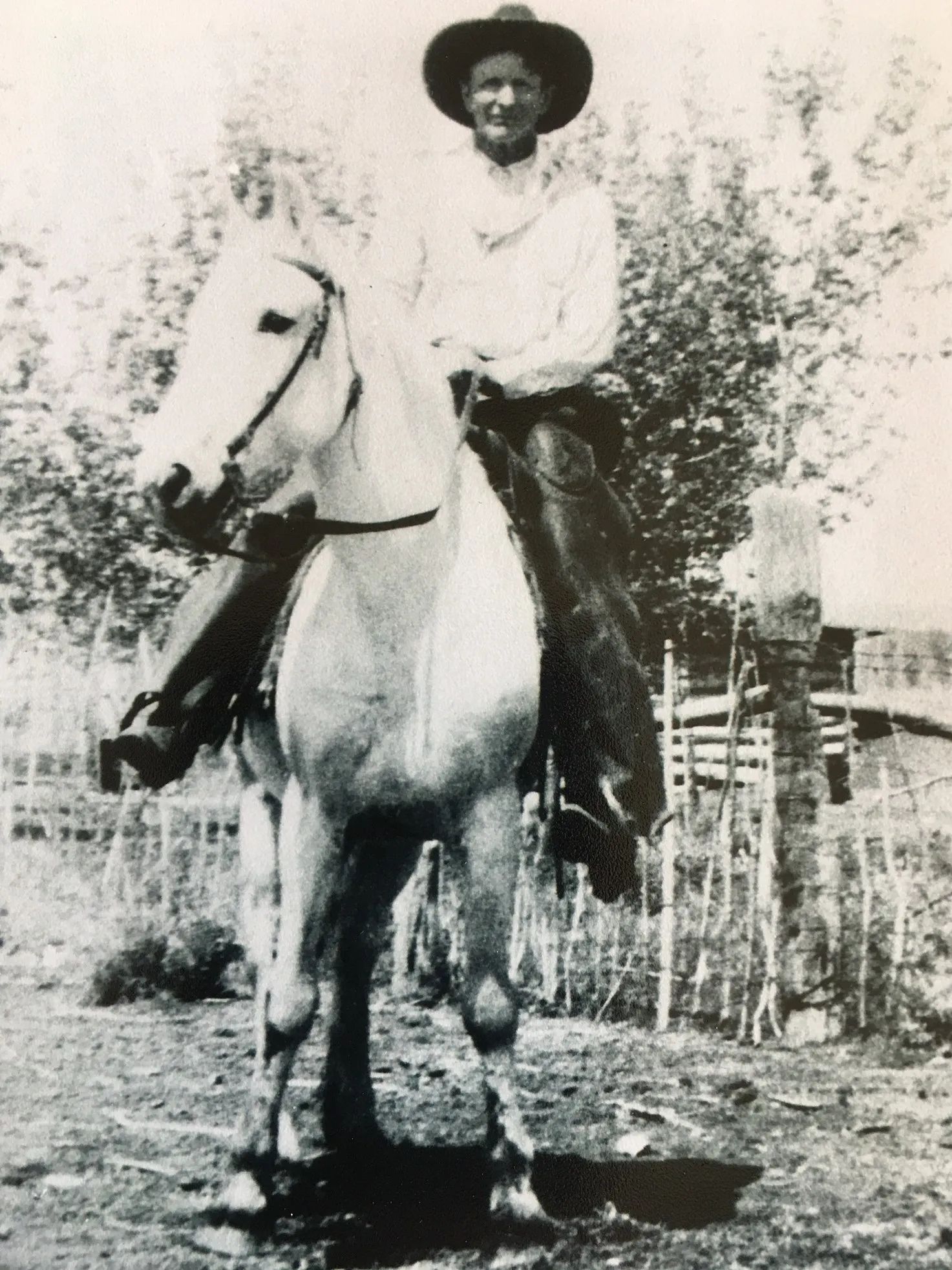 2009 MONTANA COWBOY HALL OF FAME INDUCTEE
1860 – 1920 LEGACY AWARD DISTRICT 3
Andy Jones (1876 – 1958)
Andy Jones was born on July 2, 1876, at Ferris, Illinois, to John and Annie (Denny) Jones. Annie was Cherokee Indian whose mother died on the Trail of Tears in Oklahoma. When Andy was five years old, his parents moved to Texas where Andy was farmed-out to work for his keep. The workplace became so unbearable that at age fourteen he ran away and for the next two years he learned everything he could about horses and how to be a cowboy. In 1892 at the age of sixteen, he lied about his age and joined a trail herd with the XIT outfit as a nighthawk (a night horse wrangler) and a roustabout for the camp cook. The XIT, had gathered a herd of 10,000 cattle to trail north to Miles City, Montana. The herd was split into five bunches for easier handling along the trail. The trip north made a man out of the kid and established Andy as a 'trail driver from Texas to Montana'. Andy worked at jobs in and around Miles City until in 1896 he heard of another big herd that would be driven from Texas north to Montana and he did not want to miss out. After the cattle were delivered and obligations met he decided to stay in the vicinity and make Miles City his home.
Andy punched cows for the XIT Ranch in the Miles City area for many years. He also rode for the WL and SH brands, moving cattle and horses in spring and fall roundups. Andy rode with several old timers and knew many more as friends, such as Bob Fudge, Calamity Jane, Bill Roberts, Teddy Blue Abbott as well as Dan, Tom and Mike Gilmore and Indian woman Ijkalaka Russell - the town of Ekalaka's namesake. Andy was a stagecoach driver from Miles City to Ekalaka and drove the Powderville stage in 1898 and 1899. He was also Quartermaster for the U. S. Army at Fort Keogh at the time of the last Indian uprising and in charge of supplies on excursions in which the Army returned Indians to the reservations.
Andy married Nella Maude Van Damant in 1907. Before they married, Nella and her sister Myrtle made and sold ladies hats in a mercantile store in Miles City. Andy and Nella had two girls, Lealta Edna and Jetta Laverna.
Andy worked as a teamster for the Shore Newcomb General Store from 1908 until 1914, the year he filed a homestead claim. The claim was on land across the Powder River three miles south of what is now the Biddle Store. Nella also took a claim next to Andy's. On August 10, 1914, Andy purchased twenty-four cow calf pairs and a bull from O. C. Cato of the XL brand. The note was to be paid by sale of the steers sold each fall. When the $1,975 note was paid in full Andy retained half of the herd and O. C. Cato received the other half. This was the start of Andy's cattle ranch at Biddle, Montana.
Andy bought a two-year-old dappled Morgan in 1919. He owned the grey for about 20 years before he gave him to the Range Riders organization as the Empty Boots and Saddle horse. Andy broke and trained his own horses and those owned by his neighbors. A cutting horse that Andy owned and trained was known as one of the best in the region. In the late 1920's Andy milked as many as fourteen cows twice a day to enhance the family income, selling the cream for $5 a can.
In 1931, Nella, after being ill for nearly two years, died on December 14. Three years later Andy married Estella Thrailkill. They lived at the ranch until 1942, when Andy could no longer hire help as World War II was taking all the young men for enlistment. He sold the ranch, where he had been so contented, to Hugh Kendrick. Soon thereafter the couple moved to Renton, Washington, where Andy worked in the shipyards as a fitter. They moved back to Miles City in 1945 when Estella became ill. Sadly, she passed away that same year. Andy gained employment as a guard at the Miles City Airport until the war ended, and later, as a welder and a fine carpenter.
Andy loved to tell of his life in the saddle and of his many lifelong adventures. He led an extremely colorful life horseback and driving herds of cattle, back in the day. He was enjoying life to the fullest when on October 21, 1958, Andy, had a heart attack on the operating table while at the hospital for a minor surgery. This timeworn cowboy was laid to rest in the Custer County Cemetery in Miles City.
Andy was a big man, who stood six foot four inches and strong as a bull, but it was well-known that a tearful woman or a child could bring this one cowboy, who had a heart of gold, to his knees.
Story by Merna P. Martelle, granddaughter and Cliff Wolfe