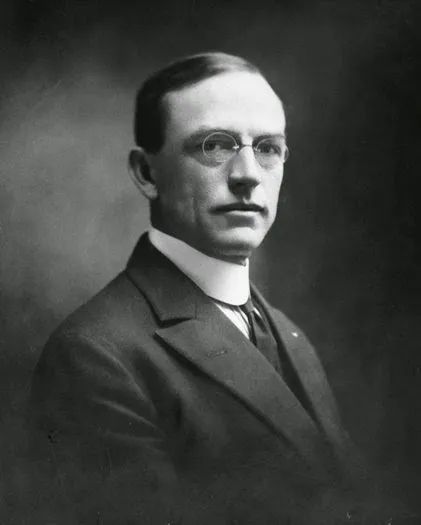 2009 MONTANA COWBOY HALL OF FAME INDUCTEE
1860 – 1920 LEGACY AWARD DISTRICT 10
Frank Bird Linderman (1869 – 1938)
Frank Bird Linderman, was an archetypal Montana pioneer who lived many of the legendary roles associated with the settlement of our state: trapper, miner, assayer, newspaperman, politician.
While his actions in those capacities helped shape the early history of the state, his literary work influenced much of what has come to be known as Montana literature.
Born on September 25, 1869, to James and Mary Ann (Brannan) Linderman, he attended schools in Ohio and Illinois.
In 1885, Linderman came to the Flathead Valley in Montana Territory at age 16, where he lived as a hunter, trapper and guide for seven years. While there he befriended a band of Cree and Chippewa Indians who were survivors of the Riel Rebellion in Canada. In 1892, three years after Montana achieved statehood, Linderman left the open life for civilization and became an assayer and miner, living in Victor, Butte, Brandon, and then Sheridan, where he became the owner of The Sheridan Chinook newspaper at the turn of the century. In 1893 Frank married Minnie Jane Johns in Missoula.
He served in the Montana Legislature from Madison County in 1903 and 1905. The eighth legislative assembly of 1903, was the first to sit in the new Capitol in Helena.
Linderman moved his family to Helena and served as assistant Secretary of State from 1905-07. He opened an assay office at 38 S. Main St. (now Last Chance Gulch) in 1907, and was an organizer of the Montana Mining Association, serving as secretary in its first years, 1908-09. He also was an honorary member of the Montana Press Association and was a member of the prestigious Montana Club of Helena.
For more than a decade, Linderman led the efforts of a coalition of influential citizens, including Montana artist Charles M. Russell and Great Falls' founder Paris Gibson, in support of his Cree and Ojibwe (Chippewa) friends who had been pushed from their homeland and had no treaty rights. The Rocky Boy Indian Reservation was established by law in 1916, an amazing achievement at the height of the homestead rush, due in part to Franks advocacy. University of Montana English professor H.G. Merriam, who knew Linderman personally, noted in 1968: "It is safe to say that without his efforts the reservation would have been established years later, if at all."
Frank and his wife, moved with their three daughters Wilda, Verne and Norma from Helena to Goose Bay on the west shore of Flathead Lake in 1917. There he devoted his attention to writing. In 1924, with his limited writing income, he bought the Hotel Kalispell and managed it for two years before selling it at a profit.
Linderman dedicated the second half of his life to preserving the Old West, as he knew it, "in printer's ink." In 1927 he was awarded an honorary doctorate from the University of Montana for his literary work and research in the field of Indian customs, beliefs and traditions. During the 1920s and '30s, he was a contributing editor to the northwest literary magazine, The Frontier, published by Merriam, and was a frequent guest lecturer at the university.
When Merriam edited Linderman's memoirs for publication in the 1960s, he wrote: "Frank B. Linderman remains one of the few authentic and truly competent Montana writers. ... His books of Indian tales and myths and beliefs are the result of wide knowledge and true respect for Indian life and beliefs.'"
Linderman's best known works are the life stories of 'Plenty-Coups, Chief of the Crows in 1930 and Pretty-Shield, a Crow Medicine Woman in 1932, which remain in print today. Plenty Coup's interpretation, "I am glad I have told you these things, Sign-Talker. You have felt my heart, and I have felt yours." Pretty-Shield's stories are especially significant, because it is rare to have an Indian woman's memoirs from that era, and even more so, that they should compliment the stories of a man from the same tribe. Linderman's fluency with sign language added great depth to his renderings of these stories about life on the plains before the demise of the buffalo. The Sign-Talker with a Straight Tongue was adopted in the Blackfeet, Cree and Crow tribes.
Linderman had met Charlie Russell in 1896, and their friendship lasted 30 years. Russell illustrated Linderman's first two books of Indian legends, Indian Why Stories (1915) and Indian Old-man Stories (1920). These friends inspired each other's artistic works and they shared a mutual appreciation for nature. In Linderman's own words: "I believe in the cultivation of appreciation for the work and beauties of nature as a firm foundation for better citizenship. Such appreciation is a special grace – a favor that is the real parent of every noble impulse."
Frank died in 1938 in Santa Barbara, California.
A miner, trapper, newspaperman and politician, Frank Linderman was admired as a chronicler and storyteller of Indian life and culture.
Resource by CELESTE RIVER for the Missoulian (taken in whole from a Special for The Missoulian Online, The 100 Most Influential Montanans of the century, )
The Museum at Central School