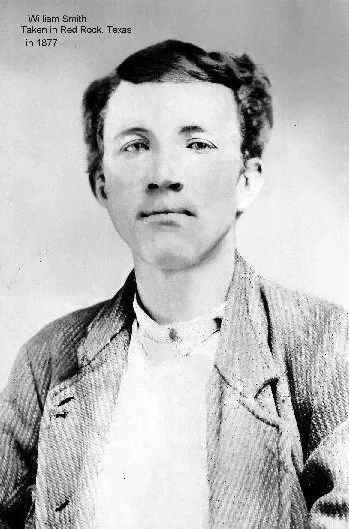 2009 MONTANA COWBOY HALL OF FAME INDUCTEE
1860 – 1920 LEGACY AWARD DISTRICT 1
William Henry Smith (1855 – 1917)
William Henry Smith was born in Llano County, Texas on September 10, 1855, and died in Wolf Point, Montana on January 1, 1917. During his lifetime, he lived a life that defined our Western heritage and was instrumental in the early cowboy and ranching way of life in eastern Montana. In the early 1870s, he was a member of the legendary Texas Rangers, the oldest state law enforcement agency with statewide jurisdiction, founded in 1823.
He trailed cattle to Montana four separate times with his brothers, James and Drew. After his final trip up the trail, he decided to stay in the Big Sky Country. He had ridden the well-known historical trails, pushing cattle north, helping to establish the cattle industry into Montana's demographics. In 1884 he began work with the Montana Stockgrowers Association, a newly organized group to protect livestock from Territory rustlers, working with cowboy pioneers Granville Stuart and Teddy Blue Abbott.
Of German lineage, William married Fannie Trexler who was of half-German and half-Assiniboine descent. They had four children. With the beginning of a young family, Fannie became ill and passed away, leaving William with four young children to raise. As was often the case in those days, William married Fannie's sister Nellie and they had seven children of their own while raising his older children. As was also custom at the time, William and Nellie took on the responsibility of raising children of one of Nellie's sisters, Molly. The William Smith family soon became a family of fourteen lively children. Life at the Smith's was busy to say the least. The children grew up loving each other - especially their life at the ranch on Wolf Creek west of present day Wolf Point.
William built one of the first homes, in what was known at the time as "New Town", near the corner of Benton Street and Fifth Avenue South. The two-story home was completed just before Christmas in 1910. The first public school was built in 1912 with supplies furnished by William, John Listrud and Walter Everett. In 1913 William built a rooming house on the south side of Main Street which was managed by his brother Ed and his wife, Hattie. It was later sold to Jim Terry and became known as the Terry Rooming House, the Terry Hotel, and later the Point Hotel.
William was featured in a Western Horsemen article describing his early years in the Rangers as well as the experiences, obstacles and tribulations of herding thousands of cattle along trails stretching the length of the United States - from the Mexican border to just below the Canadian border.
His love for the cowboy and ranching way of life was passed on to his family, the majority of them with their own farming and ranching operations and living a western lifestyle.