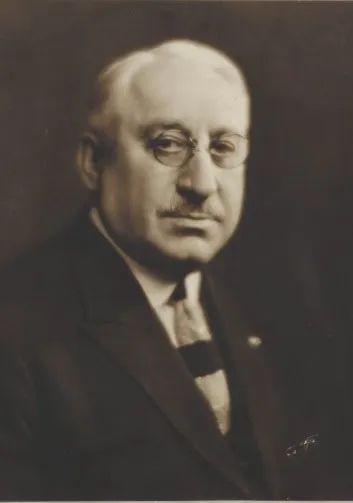 2008 MONTANA COWBOY HALL OF FAME INDUCTEE
1860 – 1920 LEGACY AWARD DISTRICT 9
Charles M. Bair (1857-1943)
Montana's economic history was written by a succession of opportunists, "barons" who cashed in on one natural resource or another and then made a hasty retreat back to "civilization" with their newfound wealth, leaving the state to suffer through further cycles of boom and bust.
Charles M. "Charlie" Bair, Montana's "sheep baron," was a notable exception to that take-the-money-and-run theme.
Born in 1857, to farmers William and Mary Ann (Unkifer) Bair of Stark County, Ohio, Bair came to Montana in 1883, at the age of 26, as a conductor for the Northern Pacific Railroad. An astute businessman, he invested in land and sheep, leaving the railroad to become a rancher near Lavina, Montana in 1891. Bair continually expanded his holdings and invested in new business ventures. By 1895, he owned a ranch near Billings where he grazed as many as 40,000 sheep, according to Don Spritzer's "Roadside History of Montana."
Three years later, Bair sold his entire flock and journeyed north to Alaska during the Klondike gold rush. He made a fortune selling a machine, invented by a friend, that quickly thawed frozen ground, making hydraulic mining easier. He returned to Montana a millionaire and resumed sheep ranching with a large lease on the Crow Indian Reservation. By 1910, he was reputed to have the largest sheep operation in North America, running about 300,000 head. That year he sent a trainload of 1.5 million pounds of wool to Boston, Massachusetts.
After losing his lease on the Crow Reservation, Bair bought a ranch near Martinsdale, Montana. During the drought of the '20s and '30s, he was able to expand his property by buying out homesteaders who had gone bust. Ultimately, in addition to ranching, his business interests made him a Montana pioneer in banking, oil, coal and land development. "Unlike many of the settlers who made their fortune in Montana and returned to the East or California, Charlie Bair always contended that he made his money in Montana, and it would be there that he would live and spend it," wrote Lee Rostad, author of "Fourteen Cents and Seven Green Apples: The Life and Times of Charles Bair."
"He passed that love of the state along to his daughters, Marguerite and Alberta," Rostad added. Bair also passed on a legacy of philanthropy, dating back to the days he personally handed out gold nuggets like candy to Billings children. He was also a supporter of the Shriner's children's hospitals.
Bair's daughters, in turn, made provisions to give the one-time conductor's fortune to the people of Montana. They turned the family home in Martinsdale, which they had filled with art and antiques bought on their shopping trips to Europe, into a museum. And they created trusts that have given millions of dollars to a variety of cultural and charitable causes in the state.