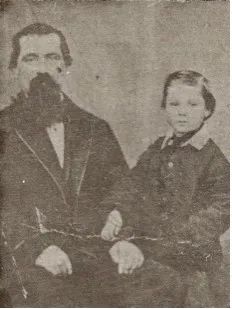 2008 MONTANA COWBOY HALL OF FAME INDUCTEE
1860 – 1920 LEGACY AWARD DISTRICT 9
Charles Anceney (1826-1895)
Charles Leon Anxionnaz, his wife Marie, and their son moved from Alder Gulch to Hamilton, in Montana's Gallatin Valley, in 1869. They immediately founded the Meadow Brook Ranch, growing cereal crops, horses, and cattle. When Charles got involved in politics, their name was anglicized to Anceney for ease of pronunciation and spelling.
Anceney brought the first registered Shorthorn bull to Gallatin City along with a herd of Shorthorn cows from Kentucky, naming his son Charles manager of the cowherd. Father and son worked to keep the herd intact, often skirmishing with the Sioux, Blackfeet, and Cheyenne who were hunting food. They eventually sold the remaining herd for $50/head in 1884, and bought back 500 wethers. After one winter of hand dipping, the sheep were sold.
In 1887, the Anceneys borrowed the money to buy 12,000 head of cattle to turn loose in the Bull Mountains on open range. Between a dry summer and intense winter, they only had 76 head left in the spring. The Anceneys then borrowed $125,000 on 12.5% interest from a bank in Helena to bring the herd up to nearly 6,000 head of cattle and 2,000 head of Percheron draft horses. They managed to pay the bank all of the interest and $58,000 on the loan but were denied an extension, which left the ranch with just $5.75 in operating funds.
The pair was immediately able to borrow $38,000 from a Bozeman bank and while the young Charles rode horseback to Nevada to trail a new herd of cows home, the elder Charles purchased more land on Elk Creek in Madison County. The younger married and the two families had expanded the ranch to 11,000 head by 1900, when the elder Anceney died of wounds sustained from a milking accident.
By 1910 the ranch was paid off, boasting the reputation of having some of the finest Shorthorns in the country. Horses used in Yellowstone National Park in summer months were wintered at the Anceney ranch. The owner, HW Child, was so impressed at the condition of the horses after the winter that he agreed to help Anceney build his ranching empire by putting up the money to buy an additional 80,000 acres. When the question of collateral came up, Child took a coin from his pocket and told Anceney that if he called it, he would get the $14,000 to buy the land, and if he was wrong, he would lose his ranch. Anceney won on heads and so came to be the Flying D ranch, which still remains in the Gallatin Canyon today. As many as 14,000 head of cattle have roamed the 24-mile-wide and 26-mile-long ranch in the years since.